Lauren Boebert Says Donald Trump Arrest Democrat's 'Only Hope' of Winning
Representative Lauren Boebert (R-CO) has hit out at Democrats and said the party's "only hope" of winning in 2024 is if former president Donald Trump is arrested.
The Republican firebrand hit out at Democrats amid Trump's claim that he will be arrested on Tuesday as part of an ongoing investigation into an alleged hush payment he made.
Trump is being investigated by Manhattan District Attorney Alvin Bragg over an alleged payment he made to adult film star Stormy Daniels during the 2016 presidential campaign.
Prosecutors believe the payment to Daniels violated campaign finance law. Trump has denied he had an affair with Daniels.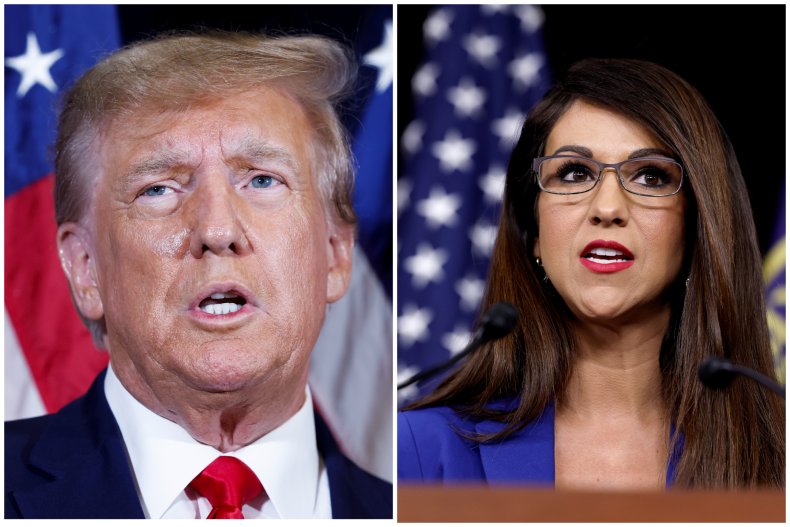 Boebert, an outspoken supporter of Trump, took to Twitter where she lashed out at Democrats, in particular 2016 candidate Hilary Clinton.
She added: "It's ridiculous that Hillary Clinton and others walk around without a care in the world while President Trump is put through hell on Earth.
"The Democrats know they won't be able to beat our ideas at the ballot box in 2024 so think this is their only hope.
"We are living in truly perilous times."
While Boebert did not explain her reference to Clinton, the losing 2016 candidate is a figure of hate for many Republicans.
Clinton, who has not been charged with any felony or misdemeanor, did use a private email server for official public communication.
Republicans also hold the former Secretary of State responsible for the deadly September 11, 2012, attack on U.S. government facilities in Benghazi, Libya, in which four Americans were killed.
Since being shared on Saturday, March 18, Boebert's post has attracted more than 1 million views and has had 31,200 likes.
Boebert is one of numerous Republicans who have jumped to Trump's defense after he said he was going to be arrested.
House Speaker Kevin McCarthy told GOP committee chairs on Saturday to launch investigations into the possible indictment of the former president.
McCarthy tweeted on Saturday: "Here we go again—an outrageous abuse of power by a radical DA who lets violent criminals walk as he pursues political vengeance against President Trump."
Even Trump's rivals were outraged at the prospect of a possible indictment, with former Vice President Mike Pence comparing it to the Robert Mueller investigation, which was branded a hoax.
He told Breitbart News on Saturday: "You have literally a Democratic party that's literally dismantled the criminal justice system in that city, undercut the NYPD, and this is what the Manhattan DA says is their top priority? It reeks of the kind of political prosecution that we endured back in the days of the Russia hoax and the whole impeachment over a phone call."
Newsweek has contacted a Boebert representative for comment via email.