Lauren Boebert Sued for Blocking Constituents on Twitter: 'Trampling on First Amendment'
A former state lawmaker has filed a lawsuit against Republican Congresswoman Lauren Boebert of Colorado alleging that she violated the First Amendment by blocking constituents on Twitter.
Boebert has blocked at least 12 people on Twitter, with most of the accounts belonging to constituents residing in Colorado's 3rd Congressional District, according to Colorado Politics.
Former Democratic State Representative Bri Buentello, one of the blocked constituents, sued Boebert in federal court on Sunday for infringing on her free speech rights. In the lawsuit, filed by attorney David Lane in the U.S. District Court in Denver, Buentello said that she was blocked by the @laurenboebert Twitter account after calling the House Republican's actions seditious.
Boebert prevented Buentello "from viewing her Twitter account, replying to her tweets or otherwise engaging with those who interact within the replies to her tweets," according to the suit.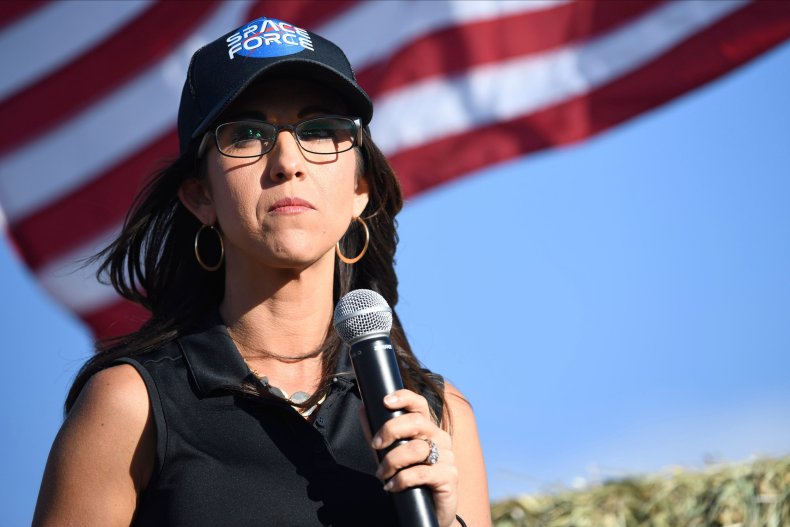 Buentello is seeking a preliminary injunction mandating that Boebert stop violating the Constitution "she swore an oath to 'preserve, protect and defend'" by unblocking critics from her district.
Jeff Small, Boebert's chief of staff, told Newsweek that the congresswoman's office "will not be commenting on any pending legislation."
Buentello asserted that Boebert is "not above criticism" in a Sunday interview with Colorado Politics. "I know that better than most as a former representative myself. My hope is that she wakes up one day and stops trampling on the First Amendment and stops blocking people," she said.
In a Sunday statement, Lane said: "Our client, Brianna Buentello, is a former elected state legislator who lives in Boebert's district and is very concerned that Boebert has no knowledge of, nor concern with, the United States Constitution beyond the notion that somehow everyone can carry guns anywhere they so desire. Boebert has blocked Buentello, along with many other people, who are critical of her authoritarian politics."
Lane referenced a similar case filed in New York against President Donald Trump. "Boebert has not learned that lesson," he said.
In 2018, a federal court judge ruled that it was unconstitutional for Trump to block people on Twitter over their dissenting political opinions. Judge Naomi Reice Buchwald in New York City ruled that the president's personal social media accounts, and those of other government officials, were public forums, and that blocking critics was in violation of the First Amendment.
Days after the ruling, Eugene Gu and Brandon Neely, two plaintiffs who were blocked by Trump, told Newsweek that the president still hadn't complied with the ruling. He eventually unblocked the critics weeks later.
On January 8, Twitter permanently banned Trump from its services following the Capitol siege that left five dead.