Lauren Boebert Throws Down Gauntlet to Instagram in Latest Big Tech Battle
Rep. Lauren Boebert (R-CO) has questioned whether Congress should revoke protections for big tech companies when it comes to online speech.
Appearing on Newsmax TV's Greg Kelly Reports, Boebert outlined her concerns with Instagram's announcement that it would target hate speech in DMs.
She also discussed whether Section 230 of the Communications Decency Act, which protects big tech companies from being sued for content users post on their sites, should be repealed.
Boebert said: "There are a lot of overreaching privacy issues that are very concerning when it comes to these big tech companies.
"If Instagram wants to look into DMs and see where hate speech is coming from, well maybe they should start with one of my Instagram accounts because I get hate speech on a regular basis. They could clear out a lot of accounts just by looking into my messages. But, you know, this is a complete overreach.
"This is why Congress needs to look at Section 230 and the protections that these companies have. We have to get to the bottom of this. We have to see if this is something that is the government's role to continue to protect."
Boebert's words came just days after Instagram said in a post it would be cracking down on hate speech in DMs.
An Instagram spokesperson said: "The abuse we're seeing is happening a lot in people's DMs, which is harder to address than comments on Instagram. Because DMs are for private conversations, we don't use technology to proactively detect content like hate speech or bullying in the same way as we do in other places. But there are still more steps we can take to help prevent this type of behavior. So, today we're announcing some new measures, including removing the accounts of people who send abusive messages, and developing new controls to help reduce the abuse people see in their DMs."
Instagram also said it would disable existing and new accounts, made to get around the initial ban, if the user sent abusive messages.
Boerbert's remarks about Instagram is just the latest in an escalating battle between leading conservative figures and big tech. In the wake of various social media platforms banning or suspending individuals, numerous conservative figures have spoken out about what they consider to be the encroachment of big tech companies on freedom of speech.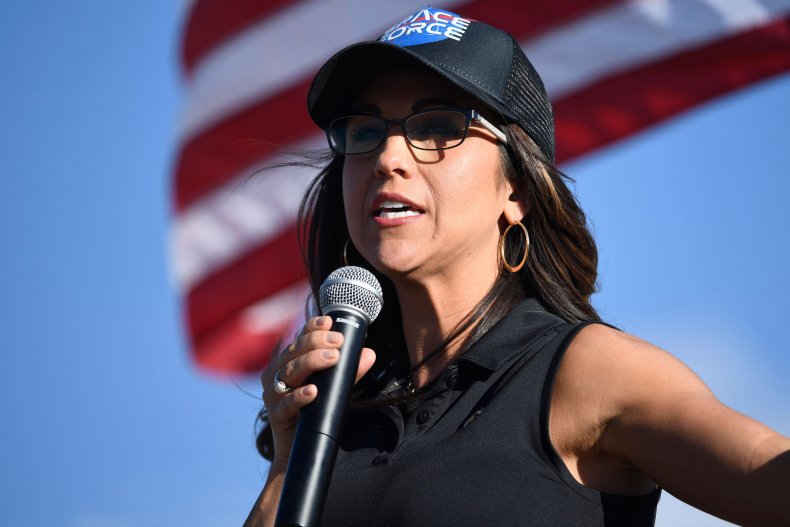 The most high profile instance was when former President Donald Trump was banned from multiple social media platforms following the insurrection at the Capitol building.
On January 8, two days after the riot on Capitol Hill, Twitter explained their decision to permanently suspend Trump. The company cited two tweets from the former president as both calling into question the legitimacy of November's presidential election and encouraging others to take violent action at the U.S. Capitol.
"We assessed the two Tweets referenced above under our Glorification of Violence policy, which aims to prevent the glorification of violence that could inspire others to replicate violent acts and determined that they were highly likely to encourage and inspire people to replicate the criminal acts that took place at the U.S. Capitol on January 6, 2021," the statement read.
After the suspension, Rep Matt Gaetz (R-FL) warned removing conservative voices from their platforms damaged open debate.
Appearing on Fox News days following the storming of the Capitol, Gaetz said: "There have been many of us who have been warning for years about the power of these tech companies to define the truth is very dangerous. They no longer want to create an opportunity for everyone to be able to contribute their ideas.
Twitter also banned MyPillow CEO Mike Lindel and attornies Sindey Powell and Lin Wood among others over unfounded allegations of voter fraud and promoting conspiracy theories.
The company's said its mass purge of profiles was due to policy violations. Following the storming of the Capitol, a spokesperson said: "The accounts have been suspended in line with our policy on Coordinated Harmful Activity.
"We've been clear that we will take strong enforcement action on behavior that has the potential to lead to offline harm, and given the renewed potential for violence surrounding this type of behavior in the coming days, we will permanently suspend accounts that are solely dedicated to sharing QAnon content."
YouTube also blocked Trump's attorney Rudy Guiliani from monetizing his videos after he uploaded clips with titles such as 'The Biden Crime Family's Payoff Scheme' and 'Election Theft of the Century.'
YouTube has a policy of banning or demonetizing videos that allege "widespread fraud or errors changed the outcome of a historical U.S. Presidential election."
Newsweek has approached Boebert and Instagram for comment.