Lauren Boebert Divides Internet With Twitter Committee Conspiracy
Colorado congresswoman Lauren Boebert has received mixed reactions after suggesting it is a "huge coincidence" that Twitter went down after a number of former executives were grilled by Republicans during a House committee hearing.
Twitter users across the world saw the platform glitch on Wednesday, with the social media site wrongly telling people they were over the "daily limit for sending tweets" when they tried to post.
The platform has since returned to normal, with Twitter owner Elon Musk stating "multiple internal & external issues simultaneously" were the cause of the problems.
In a tweet on Wednesday, Boebert suggested that the outage may have had something to do with the criticisms the platform received by members of the House Oversight and Accountability Committee beforehand.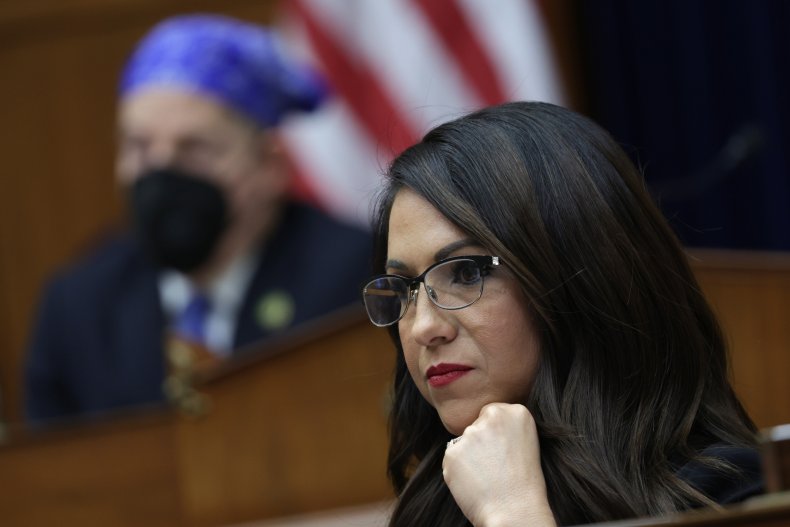 Vijaya Gadde, Twitter's former chief legal officer, former deputy general counsel James Baker and former head of trust and safety Yoel Roth appeared before the committee on Wednesday to answer questions about the social media company restricting users' access to a New York Post story about a laptop belonging to Hunter Biden in the days before the 2020 Election.
"Twitter goes down right after we have our hearing with worst of the Twitter 1.0 crew," Boebert tweeted.
"It might just be a coincidence, but that's surely a HUGE coincidence."
In response, a number of Twitter users have criticized the Republican for posting the conspiracy theory.
"The stupid, it burns, as we used to say in the OG blogging days," tweeted cartoonist Dan Perkins with his Tom Tomorrow account.
Journalist Aaron Rupar added: "Did they use a time machine to resume working at Twitter or what's the conspiracy theory here?"
Political commentator Robert Elisberg added: "Please explain what the 'coincidence' was. The committee heard from FORMER employees. People who don't work there. What on earth does that have to do with Twitter's problems today, that they have NO PART OF?? Maybe if they *were* there, the problem wouldn't have happened!"
However, a number of other Twitter users agreed with Boebert's assessment, with many urging Musk to look into the matter.
A similar claim was also made by Texas GOP congressman Troy Nehls.
"Former Twitter executives testified before the Oversight Committee, and the power went out. Now Twitter is facing widespread issues. Coincidence?" Nehls tweeted.
During the hearing, Gadde admitted it was "wrong" to block Twitter users for accessing or sharing the New York Post story, but denied that they did so under orders from the FBI.
Criticizing Twitter Executives
Boebert also criticized the Twitter execs for censuring its users and asked why they "shadow banned" her account for a "joke" tweet suggesting Hillary Clinton wanted to rig the 2020 Election.
"You silence me from communicating with the American people over a freaking joke," Boebert said. "Now who the hell do you think that you are?
"The Hunter Biden laptop story was suppressed, a sitting member of Congress was suppressed, a sitting president was banned from Twitter," Boebert added. "You know, I bet that Putin is sitting in the Kremlin, wishing he had as much election interference as you four here today."
Boebert also alleged that there was "collusion" between Twitter and the FBI to keep the Hunter Biden laptop story from being accessed from its users.
"I am angry for the millions of Americans who were silenced because of your decisions, because of your actions, because of your collusion with the federal government," Boebert said.
"We don't know where the FBI ends and Twitter begins."
Speaking to The Hill, Democratic congresswoman Alexandria Ocasio-Cortez, who also sits on the House Oversight and Accountability Committee, called Wednesday's hearing an "embarrassment" and "abuse of public resources."
"Despite all their mentioning of the First Amendment, they have not even made any sort of legal or legislative argument as to what the tie here is behind a personal grievance," she said.
"The Republican side is not even making any sort of request, no matter how partisan it is, about what the course of action, what we're even doing here is. Why is the Oversight Committee even relevant to Twitter's content moderation policies?"
Twitter has been contacted for comment.