Congresswoman Lauren Boebert is using her outburst at the State of the Union for fundraising.
Boebert heckled President Joe Biden during his speech just as he was about to discuss the death of his son Beau. Biden was calling on lawmakers to pass legislation to help military veterans exposed to deadly toxins while serving in Iraq and Afghanistan.
"A cancer that put them in a flag-draped coffin" Biden was saying when Boebert interrupted him.
"You put them in. Thirteen of them," Boebert said, referring to the servicemembers who were killed in a suicide attack during the military withdrawal from Afghanistan last summer.
CBS4 in Denver reported that in an email to her supporters after the address, Boebert said she "couldn't help" but interrupt Biden. The Colorado representative has defended her comments amidst criticism from both sides of the aisle.
"When Biden talked about flag-draped coffins I couldn't help but call him out for causing the deaths of 13 brave members of our military who lost their lives because of his gross incompetence during the withdrawal from Afghanistan," the email read.
"We expected bad, but the #SOTU is worse than we ever could've imagined," the email continued, according to a screenshot from Punchbowl News. "Let's take our country back in 2022 -donate today and help us ensure victory!"
Newsweek reached out to Boebert's campaign for additional comment but didn't receive a response before publication.
Boebert, first elected to Congress in 2020, is up for re-election in November.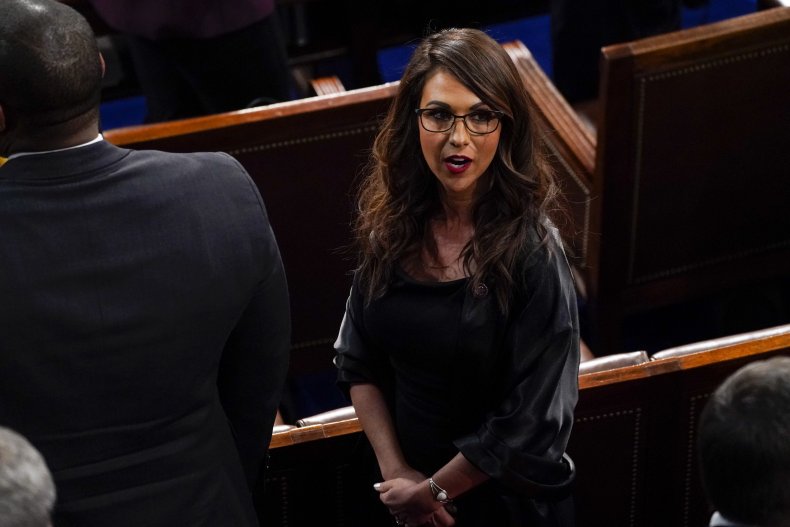 Boebert's outburst was met in real-time with boos from Democratic members gathered at the event.
Republican Senator Mitt Romney later called Boebert's interruption "totally inappropriate."
"We typically sit with respect for the president regardless of their party, and yelling out accusations ... it's just really repugnant and repulsive," he told reporters.
White House press secretary Jen Psaki said Boebert's heckling, as well as the comments from Georgia Representative Marjorie Taylor Greene, says "a lot more about them than it does about how important these priorities are."
Greene yelled "build the wall!" when Biden discussed immigration and the need to secure the southern border. Greene and Boebert turned their backs as the president entered the chamber. A viral photograph from the address showed Boebert and Greene standing up together shouting at the president.
Boebert told Fox News it's "never wrong to stand up and speak out for moms and dads who've lost their children" and accused Biden of taking "zero responsibility" for what happened in Afghanistan.
"You're darn right I spoke up," she said, "and if I could redo last night, I would absolutely do it again."