Lauren Boebert's Veteran Comments Slammed as Frisch Details 15 'No' Votes
Rep. Lauren Boebert has been slammed by her Democrat rival Adam Frisch for repeatedly voting against expanding veterans' rights.
Boebert, who's running for re-election in Colorado in November, wrote on Saturday about her commitment to veterans' rights and those she called "America's heroes."
"I voted for four pro-veteran bills that were signed into law and led several amendments to provide funding for mental health and other important services for our veterans," she wrote on Twitter.
The Colorado representative has voted in support of the Veteran's Compensation Cost-of-Living Adjustment Act of 2021, the VA Transparency and Trust Act of 2021, the John M. McHugh Tuition Fairness for Survivors Act, and the Department of Veterans Affairs Expiring Authorities Act of 2021.
But only a few hours after Boebert's post, Frisch took to the same platform to denounce how many bills expanding veterans' protections and rights the Republican representative has voted against.
In a Twitter thread, Frisch listed all the 15 times Boebert, whom he accuses of lying in her claims she support veterans, actually voted at veterans' disadvantage.
"Lauren Boebert voted AGAINST the PACT act that gives Vets exposed to burn pits access to VA healthcare," Frisch wrote. Boebert voted against a bipartisan bill—the Honoring Our PACT Act—expanding health care and benefits for toxin-exposed veterans.
Despite Boebert's opposition, the House overwhelmingly approved the bill, which was later shut down by a majority of Republican senators before a U-turn.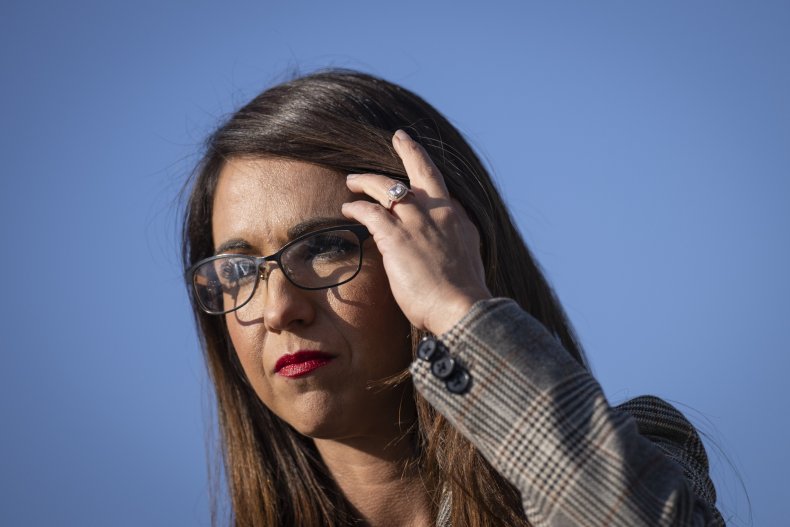 Boebert also voted against the H.R. 6052 Department of Veterans Affairs Office of Inspector General Training Act requiring all employees of the Department of Veterans Affairs (VA) to "undergo training developed by the Inspector General of the VA regarding the reporting of wrongdoing to, responding to requests from, and cooperating with the Office of the Inspector General."
She voted against a bill streamlining veterans' access to their own records—H.R. 7337—, a bill making education assistance more accessible for veterans in case of programs or school closures—S. 4089—, and an act providing automatic enrollment for veterans into the VA—H.R.4673.
The Colorado representative also voted in opposition to the Equal Access to Contraception for Veterans Act, whose goal was to prohibit the VA from "requiring payment from a veteran for any contraceptive item that is required to be covered by health insurance plans without a cost-sharing requirement." The bill passed the House even without Boebert's support.
In other occasions, Boebert voted against passing an expansion of eligibility for veterans within the VA to receive work-study allowance—the Student Veteran Work Study Modernization Act—, against a bill updating the VA system to fund veterans' education—H.R. 7375— and in opposition to a bill introducing a maternity care coordination program within the VA—the S. 796 Protecting Moms Who Served Act.
Boebert also voted against a bill improving the hearing process of those involved in military sexual trauma—the H.R. 6961 Dignity for MST Survivors Act—, against expanding eligibility of the GI bills, against appropriations for federal agencies, including the VA, against an act promoting recruiting veterans into apprenticeships, against expanding mental health care for veterans and against strengthening the VA's Inspector General's ability to provide fair legal defense for veterans.
"Lauren Boebert is no friend of Veterans. I will protect their interests once in Washington," Frisch concluded.
Newsweek has contacted Boebert's team for comment.
Frish, who's campaigning to replace Boebert in the November midterms, has defined the current Colorado representative as a "national embarrassment" who "does not represent Colorado values," using for her the nickname "Boebert the Betrayer."
Opinion poll website FiveThirtyEight estimates that Boebert has 98 chances out of 100 to win over Frisch at the November midterms.