Lauren Boebert vs Biden White House on 'Flat' Inflation—Who Is Right?
U.S. inflation figures are still bad news for the Biden Administration after prices failed to move in the direction the White House had clearly been hoping for.
The Consumer Price Index (CPI) measure of inflation increased in August by 8.3 percent over 12 months, worse than analyst predictions of an 8.1 percent rise, sparking a negative reaction across the markets and fueling yet more criticism of President Joe Biden's economic record.
However, the CPI, which measures the cost of a wide-ranging basket of goods and services, increased by only 0.1 percent in August, after having not moved at all in July.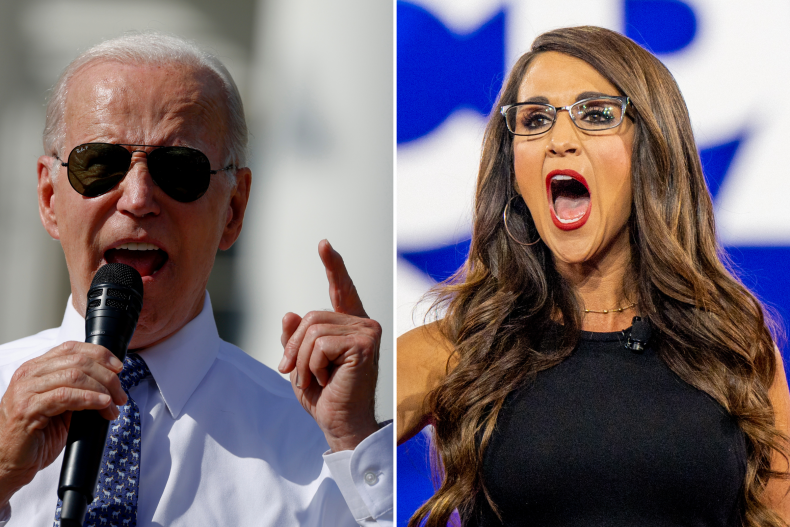 This was seized upon as a measure of some success by the White House. "Overall, prices have been essentially flat in our country these last two months: that is welcome news for American families, with more work still to do," Biden said in a statement.
This was echoed by White House Press Secretary Karine Jean-Pierre, who told journalists at a press briefing that prices overall were "essentially flat in our country these last two months."
Congresswoman Lauren Boebert (R-CO) jumped on the "flat" claims, calling the assessment "elitist."
"Karine Jean-Pierre, the worst Press Secretary [in] the history of press secretaries, thinks that prices have been flat in our nation for the past two months," Boebert tweeted. "Clearly KJP doesn't get out of her elitist bubble much. Try a grocery store, K."
There is little hope that America's cost of living crisis will abate significantly at least in the short term. So who is right here on inflation: The Biden Administration or Boebert?
While the cost of goods and services has increased recently, this is not what Jean-Pierre or the White House were referring to.
Each month, the Bureau of Labor Statistics releases CPI figures, which measure changes over time in the prices paid by "urban consumers" for a market basket of consumer goods and services. It is commonly used as an indicator of inflation.
The most recent figures, for August 2022, showed CPI inflation (usually referred to simply as inflation) had risen by 8.3 percent over 12 months. In other words, prices in the CPI basket of goods and services increased by 8.3 percent from the same time last year.
Inflation rates have been steadily rising throughout 2022, hitting a peak of 9.1 percent in June. This fell to 8.5 percent in July, decreasing again to 8.3 percent in August. Inflation has not fallen below 8.3 percent since February 2022.
However, month-on-month, the CPI only rose by 0.1 percent between August and July and there was no change between July and June. This is the measure that compares price changes across a month instead of a year.
So, this is what the White House meant when it said prices remained "essentially flat" for the past two months, as prices (measured by the CPI) did not alter dramatically over that period.
On this basis, Boebert's attack on Jean-Pierre and the White House falls short; while inflation has risen sharply over the past year, and so prices are generally elevated compared to a year or two ago, it has been more or less flat over the past two months.
Still, Boebert's tweet has a point. While the White House welcomed flat month-on-month CPI figures, this was supported by consistent decreases in the cost of fuel. Food prices have continued to increase.
Therefore, Boebert's "Try a grocery store" comment is supported by underlying CPI analysis—the data showed a 0.8 percent monthly rise for food in August. Though prices at the gas pump may have improved, the cost of feeding a family is still rising and will cause financial pain for many Americans.
Inflation excluding food and fuel also rose month-on-month from July by 0.3 percent, suggesting further pressures elsewhere in the economy. Biden acknowledged this in his remark that there is "more work still to do" on inflation.
However, as explained above, the Colorado congresswoman's tweet still appears to conflate prices on the supermarket shelf with the overall CPI calculation for all consumer goods and services to which the White House was referring.
Newsweek has asked Boebert's office for comment.