Lauren Boebert's Campaign Sends Email Saying 'Hell No' to Taking Guns Hours After Boulder Shooting
Hours after a mass shooting in her home state of Colorado, Representative Lauren Boebert's campaign sent a fundraising email to supporters telling them to join her in rejecting gun control measures in Washington D.C.
First reported by journalist David Gura on Twitter, the email had a subject line that read: "I told Beto 'HELL NO' to taking our guns. Now we need to tell Joe Biden."
The message goes on to name House Speaker Nancy Pelosi (D-Calif.), Senate Majority Leader Chuck Schumer (D-N.Y.) and Representative Alexandria Ocasio-Cortez (D-N.Y.) as leaders in "attacking our freedoms" with their eyes on the Second Amendment.
The "radical liberals" in Congress, the campaign stated, "are trying to violate your due process and criminalize the private transfer of firearms."
The email was sent at 7:10 p.m. on Monday, just hours after a gunman opened fire at King Soopers grocery store in the city of Boulder at 4:30 p.m. Eastern time. Ten people were killed, including police Officer Eric Talley.
A suspect was arrested after being injured during the shooting, according to Boulder Police Department Commander Kerry Yamaguchi. Officials did not share the suspect's identity or state what had prompted the attack.
Boebert issued a statement on her official Twitter account after the shooting, stating her "prayers are with the shoppers, employees, first responders & others affected."
Boebert, a first-term Republican congresswoman, has made a name for herself for her pro-gun stance. She is the co-chair of the Second Amendment caucus who has pledged to carry a firearm in Congress, and has clashed with Capitol police over metal detectors and new safety measures taking in the wake of the January 6 insurrection.
She is also the owner of Shooters Grill, a Colorado restaurant that is known for staff that "proudly open carry as they serve their customers."
The shooting in Boulder comes less than one week after a gunman in Atlanta killed eight people, including six Asian women, at three metro-area spas. The suspect, 21-year-old Robert Aaron Long, admitted responsibility for the attacks. Long purchased his firearm just hours before the shootings, sparking renewed debate about gun control measures.
The gun control advocacy group Everytown for Gun Safety said the shooting in Boulder was at least the 246th mass shooting in the United States since January 2009, according to the New York Times.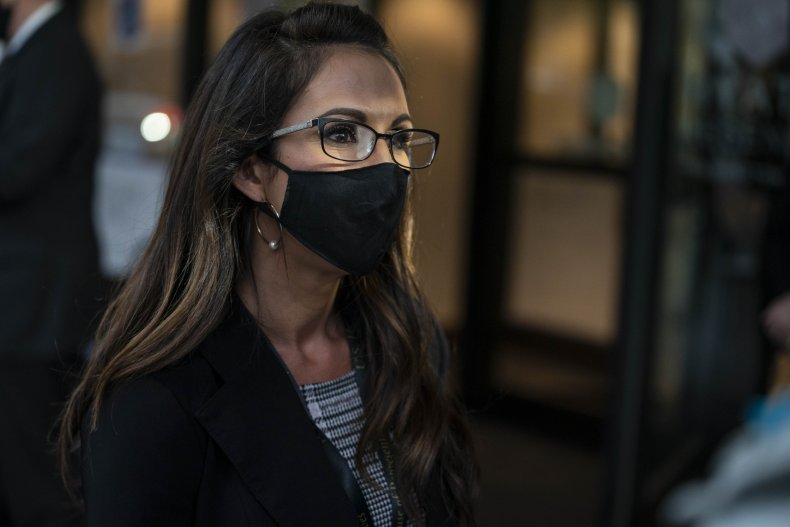 Representative Joe Neguse (D-Colo.), whose district includes the King Soopers grocery store, wrote on Twitter that "Congress must act" in the wake of the Boulder shooting.
"One thing is clear—we need #gunreformnow," Neguse wrote.
The state's two Democratic senators, Michael Bennet and John Hickenlooper, also joined calls for stricter measures that might have prevented the gunman from obtaining a deadly weapon.
"Enough is enough," both lawmakers said in separate statements.
Newsweek reached out to Boebert's campaign for comment on the fundraising email sent on Monday but did not receive a response before publication.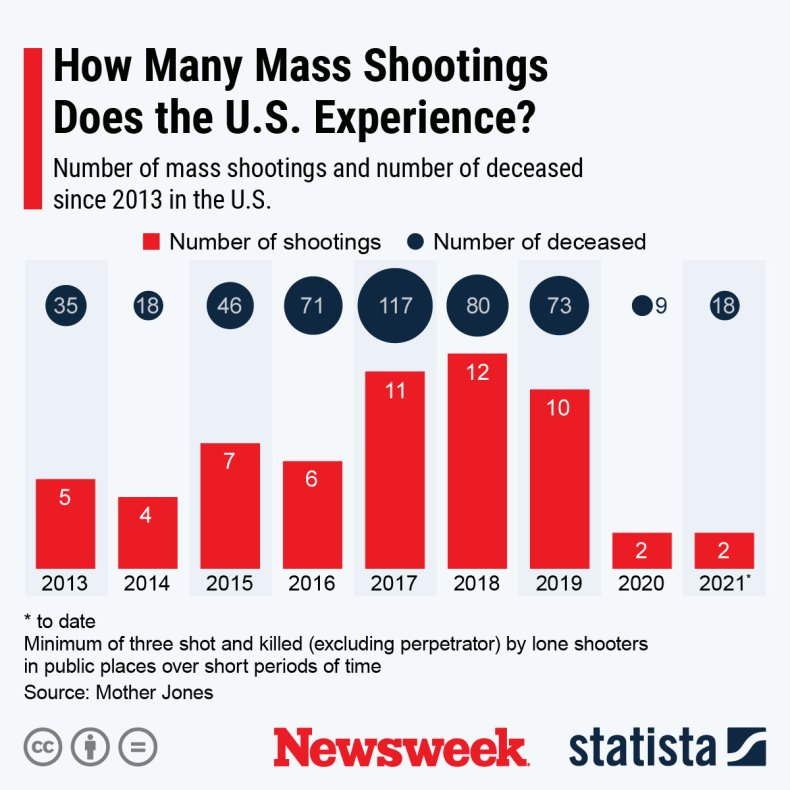 Statista: https://www.statista.com/chartoftheday/