Lauren Boebert's Top Aide Resigns After 68 Colorado Officials Request Probe Into Her Actions
Colorado Republican Congresswoman Lauren Boebert's new communications director, Ben Goldey, has resigned after dozens of elected officials in the lawmaker's district asked for an investigation into her actions following last week's failed insurrection at the U.S. Capitol.
Boebert has faced mounting backlash since the January 6 riot that left five dead, including a Capitol police officer. Critics have accused the lawmaker of spreading false information about the 2020 election, and some have alleged that she revealed House Speaker Nancy Pelosi's location to rioters during the siege by tweeting: "The Speaker has been removed from the chambers."
"Following the events of January 6th, I've decided to part ways with the office. I wish her and the people of Colorado's Third District the best," Goldey said in a statement to Axios on Saturday.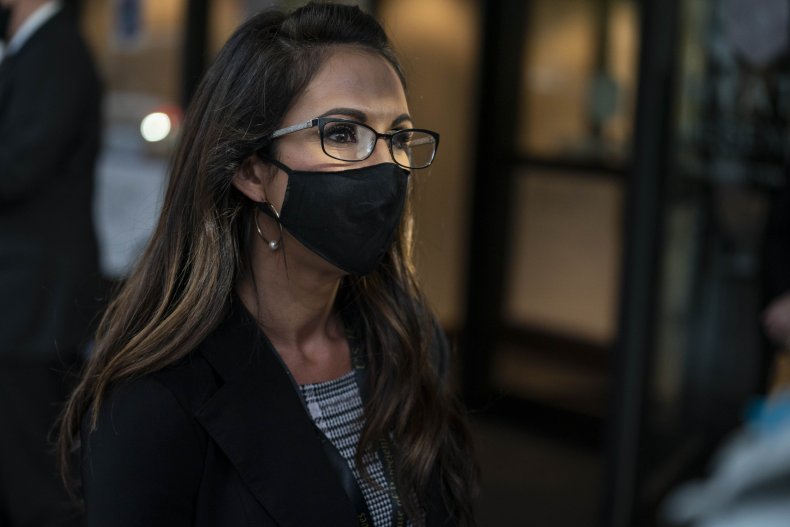 In a statement to Newsweek, Jeff Small, Boebert's chief of staff, said, "The office does not comment on internal personnel matters with individual employees. Rep. Boebert has hired a powerhouse team, filled all staff positions in her office and hit the ground running."
The top aide to Boebert had only been in his role for less than two weeks. Goldey served as the Department of Interior's press secretary and under Senate Majority Leader Mitch McConnell before joining Boebert's team.
In a Wednesday letter to Pelosi, 68 elected officials in Colorado's 3rd Congressional District asked for an investigation into Boebert, and condemned the lawmaker "based on her association with the right wing groups that supported the insurrection of the Capitol building."
"There is deep concern about her actions leading up to and during the protests that turned into a violent and deadly mob," the letter read.
Boebert, who has spoken in favor of the QAnon conspiracy theory, railed against Democrats in a defiant statement following calls for her resignation in the wake of the siege.
"We should take Democrats at their word when they say never let a crisis go to waste. Their hypocrisy is on full display with talks of impeachment, censure, and other ways to punish Republicans for false accusations of inciting the type of violence they have so frequently and transparently supported in the past," Boebert said.
This week, New York Democratic Congressman Sean Maloney accused lawmakers of helping with the insurrection, without naming Boebert. Rumors have also begun circulating that Boebert's mother could have been among the violent mob that stormed the Capitol building as lawmakers were convening to certify President-elect Joe Biden's win.
Boebert condemned Maloney's "baseless conspiracy claims" and denied her mother's alleged involvement in a statement to The Daily Sentinel on Friday.
"Yesterday, on national television, Congressman Sean Maloney made false and baseless conspiracy claims about me that led to death threats and hundreds of vile phone calls and emails," she said, adding that the rumors about her mother are "categorically false."
"During the riot, my mother was barricaded inside of my office alongside my staff until the all clear was given by Capitol Police," Boebert added.
This story has been updated with comment from Boebert's chief of staff.