Teen Vogue Writer Lauren Duca Tells Billy Graham to 'Have Fun in Hell,' Sets Twitter Abuzz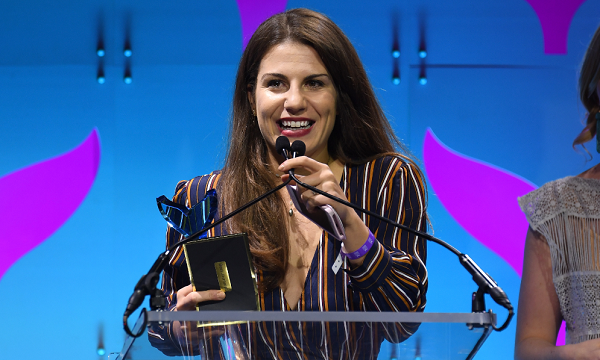 Conservatives are really ticked off at Teen Vogue columnist Lauren Duca. Why? Because she wished recently departed Billy Graham—the right wing's most beloved evangelist pastor—a good time in hell shortly after news of his death broke on Wednesday.
Duca, who has contributed to Vice, Complex, New York Magazine, The New Yorker and several other publications, took to social media to pay her respects—or lack thereof. "The big news today is that Billy Graham was still alive this whole time," she wrote. "Anyway, have fun in hell, bitch."
A North Carolina native, Graham, 99, died Wednesday following a battle with hydrocephalus and Parkinson's disease.
Graham was perhaps one of the most famous ministers ever, appearing on television, radio and internet shows across the globe. His colloquial, nonpartisan Christian messages led Graham to become one of the most popular—and wealthiest—preachers in the U.S. He earned the title "America's Pastor," as well as an estimated $25 million. He served as counsel to several U.S. presidents including Dwight D. Eisenhower, Lyndon Johnson, Richard Nixon, Ronald Reagan, George H.W. Bush and George W. Bush.
But despite his renowned legacy, Graham faced controversy in the past. He was caught on tape spewing anti-Semitic rhetoric in a White House conversation with Nixon, and he condemned members of the LGBTQ+ community.
A Fox News article published on Wednesday said it was unclear why Duca "wasn't a fan" of Graham, but the writer noted it was Graham's malicious ideals and theories that resulted in her lack of sympathy for his death.
"Billy Graham called being gay 'a sinister form of perversion' and floated the idea that 'AIDS is a punishment from God,'" she wrote. "If hell is real, that's exactly where he's headed."
Duca's comments set Christian conservatives raging on Twitter, and several people unleashed their fury on the writer following her tweet. The scrutiny was so extreme, Duca said some conservatives were even sending her death threats via email over the tweets.
She was unmoved by their antics, to say the least, and didn't bother offering an apology. Instead, Duca offered the following response: "'Respect the dead' only applies to people who weren't evil pieces of shit while they were living, thanks."