The Pool: How Lauren Laverne and Sam Baker Worked Out What Women Want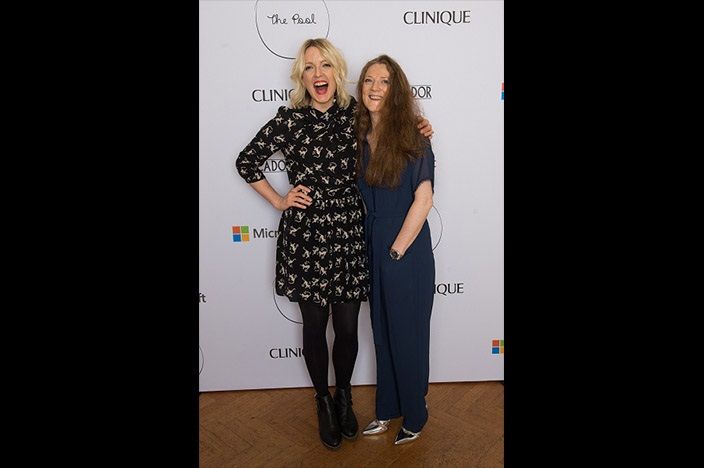 What do women want? That was the question that drove the creation of The Pool, a smart, witty and softly feminist website which tackles everything from periods to politics. The brainchild of BBC Radio presenter Lauren Laverne and Sam Baker, a former editor of Cosmopolitan and Red, it recently celebrated its first birthday and is now read by over half a million users a month. An impressive achievement in a crowded space.
Designed to help busy women combat the feeling of information overload so many websites suffer from, The Pool has a system of "content drops"—different types of articles are published at different times of the day in a regular cycle. It's a fresh concept that has proved popular, and the inception of which Laverne partly credits to her radio background—comparing it to a daily radio show where you know what time it's on and what it covers, but have no idea of the guests or the subject matter.
In the male-dominated media industry, Laverne and Baker are an inspiring female double act, tackling tech issues head-on, building a team of exciting new voices and accepting that the industry in which they both forged successful careers has changed almost beyond recognition. The numbers of people forking out every week for their favourite magazine has dwindled dramatically, more people watch BBC Radio 1's YouTube channel than listen to its breakfast show and there are fears of an "ad blocking epidemic" with reports suggesting that 30 percent of British web users will have ad-blocking software installed by the end of 2017.
The Pool does things differently, with an innovative business model the pair have spent the past year perfecting. While they both admit there have been tough times along the way, and confess the need for the occasional "date night" outside the office, they clearly have no regrets about taking the plunge together.
Newsweek: Where did the idea for The Pool originate from and how did you first meet?
Lauren Laverne: Someone had dropped out of doing the February cover for Red magazine in 2012, so Sam, jokingly, asked on Twitter if anyone wanted to do it. I'd had a baby that week but thought "why not?" The photoshoot was about eight weeks after I'd given birth—during the brief period when I had boobs that are now immortalised in a very flattering photograph.
Sam Baker: Lauren then ended up writing a monthly column for the magazine. After I left Red in 2013, she got in touch and said she was thinking about starting her own production company but didn't think it made sense in the changing media landscape. I was thinking about what was out there for smart, urban women—less of a certain age, more of a certain mindset. Magazines were in decline, broadcasters didn't know what their place was, the internet was exploding but many women felt like it was exploding all over them. Meanwhile, we had all developed an almost umbilical relationship with our smartphones.
Sam, you come from a print background—how much have you had to learn about how a digital publication works?
SB: The print publications that have been successful are the ones which put the reader first and are born out of a direct need—we employed that same technique. Neither of us were reading magazines anymore, nor were any of our friends. Editors went out of fashion. People wanted to choose for themselves—for example deciding which of the over 900 articles about Prince to read. Personally, I don't want to have to plough through 900 odd articles to find a good one. Of all the people we spoke to before the launch only one said, "Why would I need this? I read 35 blogs a week." Everyone else said, "I don't have the time or inclination to read 35 blogs a week."
The Pool has a strong, independent female voice. Do you think the glossy print magazines such as Cosmopolitan are struggling because they look old fashioned and out of touch with modern feminism?
LL: I grew up as an avid reader of glossy magazines and remember them all fondly from Just Seventeen to Red. I never felt that conflict. I have friends who are writers—several of them began their careers on the glossies and the now defunct teen magazines such as Smash Hits. There are lots of writers who are really important feminist voices who started out that way.
SB: The glossy magazines were a training ground for people from all backgrounds who wanted to get into journalism. My generation of editors all came up through teenage magazines such as Mizz—all those titles are gone now.
Do you think creating a new title from scratch gave you the freedom to reach a new audience who are equally happy talking about politics as they are periods?
SB: There's always been this idea that if you're interested in fashion then you can't be interested in feminism. If you're into politics, then you can't be into lipstick. When I was at university, I would have bought Cosmopolitan and called myself a feminist but that was a long time ago. On The Pool we just want to cover all the issues that the women, and the men, we know are interested in.
Which of the stories you have covered in the past year are you most proud of?
LL: I've had some great responses to my own pieces but it's those written by our in-house team that I am most proud of. We've grown from a team of two to 14 people within a year—hopefully there will be more to come. Caroline O'Donoghue, our wonderful social media tsar, has written some great pieces, including one about her experience of dating an older man which was inspired by the Adam Johnson case.
SB: Another staff member, Marisa Bate, wrote movingly about her mum's stalker recently on the back of the revelation by Lily Allen [of her seven-year stalker ordeal], as well as an amusing piece about doing Dry January. This office was awful during Dry January!
LL: I hadn't had the experience before of finding new writers and helping them develop their voice before; I didn't know how exciting that would be.
Who do you see as your main competitors?
SB: In some ways we're competing with everyone and nobody. If you are standing in the queue to buy a sandwich at Pret a Manger and have three minutes to spare, you could play Candy Crush, browse Twitter or read The Pool.
How do you measure success?
SB: We gave ourselves the target of 500,000 monthly unique users by the end of year one and we hit it. People also spend around five to six minutes reading some of our pieces which is great. When we celebrated our first birthday a few weeks ago, lots of people on Twitter said that they couldn't imagine their morning commute without us anymore.
What have been the biggest challenges you've faced?
LL: It's all been classic start-up stuff—needing more humans, more money, more sleep.
SB: One of the biggest things for me is being responsible for paying people's salaries. Even if you think you've been a good boss and championed your team, you've still never had to pay their salaries at the end of month. So, for me, the financial side of running a business is huge but also amazing.
With the rise of ad blockers reducing digital revenues, it is hard for publishers to know which business model to adopt. Your content is all free so how does the site make money?
LL: We have tried to make our own business model. Which is a bit tricky because you have to constantly explain it to people.
SB: I was a on a panel at a digital media conference recently where someone said that you are 476 times more likely to die in a plane crash than you are to intentionally click on an online advert. It might not be completely true but there is nothing more guaranteed to make me click off a website than annoying pop up adverts. Our position was that we were not going to have the insane scale, at least not to begin with, so what's the point of being a minnow and playing with the shark? What we do have is a high quality audience, which is hard [for advertisers] to find as they are not captive in magazines anymore. We went to Clinique first and suggested an annual brand partnership—they have some display advertising in our email, but the focus is on content we create for them. For us, it's all about bringing the brand into the conversation rather than interrupting it.
This is being hailed as the year of video for the publishing industry and it is predicted to make up 90 percent of the content on Facebook by the end of 2019. How big a part does it play in your strategy?
LL: I started my career in television so it's been interesting to watch the industry change. I was a musician first [in the 90s pop band Kenickie] and fell into telly. Then I discovered radio and knew I had found my thing. I hadn't really written anything until about seven years ago, although I always enjoyed moving between different types of media and learning new skills. Today those distinctions are melting. If BBC Radio 1 has more views on its YouTube channel than it has listeners to their Breakfast Show is it still a radio station? Yes, it's just that a radio station means something different now.
SB: We just want everyone to learn everything. All our staff have their own discipline but they also all know about search engine optimisation, analytics, video and podcasting.
LL: It's a question of how you see things—when I first did speech radio I thought it would be totally different to music radio, and was nervous about not having a track to cut to. What surprised me was how similar it is—creating a conversation between several people is a lot like making a mix. You let one person speak for a while, then move on to another at the right moment.
Lauren, you are now hosting Late Night Woman's Hour on BBC Radio 4. It seems similar in tone to themes of The Pool—has one fed the other?
LL: It's great when I go to Radio 4 and people say "I read this on The Pool, and loved it." It's exciting that we are part of the dialogue. I started the site a long time before Late Night Woman's Hour came along and I feel like my DNA is more in The Pool because Sam and I came up with the idea together.
What are the best and worst things about working together?
LL: Sam is an amazing editor. She goes above and beyond every day. She is the engine of this whole project, it wouldn't have gone anywhere without her...the only downside is that she works so hard.
SB: I do get a bit bad-tempered.
LL: Considering all you have to put up with you do better than you think.
SB: We always say that we don't see enough of each other... We keep saying we need to have date night. When the technology kept breaking [last Easter] and we were worrying about money, occasionally we would send each other a text saying: "Remember why we started this."
LL: We have never pretended to be anything other than a start-up and anyone who hears that word knows what that means. The team works very hard, there is not enough of you, money is tight—but as long as it is those things that are difficult then that's OK.