Actress and model Lauren London has teamed up with sports label Puma on a collection honoring London's late boyfriend, the rapper Nipsey Hussle. The Marathon Clothing x Puma's collection, titled "Hussle and Motivate," debuted on social media on Thursday, January 23, and will reissue key pieces from a previous collaboration between Hussle and Puma.
A promo photo shared on Instagram and Twitter features London posing with Hussle's friends, YG, J. Stone, and Pacman Da Gunman.
Another photo, which was captioned "#HussleAndMotivate," sees London wearing a white shirt that says: "We (The Marathon Clothing) honor the endurance and unwavering faith of those that never quit. Our products represent their testimony. Life is a marathon."
London and Puma released a promotional video for their "Forever Stronger" campaign on December 10, which was captioned: "Lauren London is proud to join forces with PUMA to support her on this next chapter of her journey. This piece was a creative vision Lauren wanted to bring to life to signify the continuation of her marathon alongside PUMA. Forever Stronger."
Puma told Newsweek: "To continue honoring the vision and legacy of Nipsey Hussle, PUMA and The Marathon Clothing are reissuing their debut collection together.
"After first releasing in September 2019, PUMA will re-issue key pieces from the collection for fans and supporters including co-branded tracksuits and t-shirts featuring checkered patterns and TMC motifs, as well as PUMA's signature California sneakers in black and white iterations."
A spokesperson for Puma added: "In correlation with the news of the reissue, PUMA and TMC have released a new campaign featuring several of Nipsey's closest friends, family, and aspiring artists."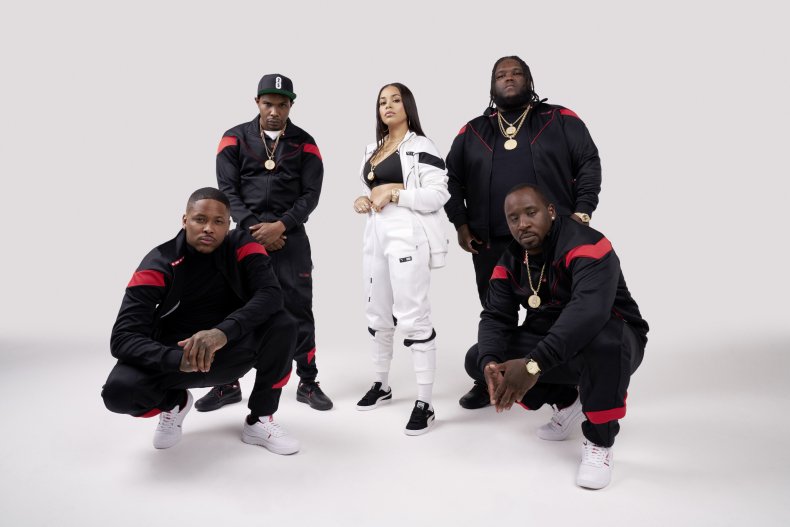 Where to buy Lauren London's The Marathon Clothing x Puma Collection
Lauren London's Puma X TMC collection will be released on February 1, 2019, at select retailers and on Puma.com, and you can sign up for Puma's mailing list to be alerted when the collection becomes available. According to Puma, prices will range from $40 to $100.
Nipsey Hussle and Puma previously collaborated on a collection, which was released in September 2019 and made available online on The Marathon Clothing website. The collection features T-shirts, pants, track pants, sneakers, hoodies, and outerwear, and prices range from $39.95 for T-shirts to $119.95 for jackets.
That collection sold out quickly, but new items are now available to pre-order on the TMC website ahead of their release on February 1. London's collection will reissue key pieces from the original Hussle and Puma collaboration.
The TMC website states that: "100 percent of net proceeds from the sale of the PUMA x TMC Collection will go directly to the Neighborhood "Nip" Foundation, an organization dedicated to empowering the South Los Angeles community and neighborhoods alike across the globe."
Nipsey Hussle and Lauren London had been in a relationship since 2013 and have a son together, named Kross Ermias Asghedom, who was born in August 2016. Hussle, born Ermias Joseph Asghedom, was shot dead outside his clothing store on March 31, 2019, aged 33.
His album, Victory Lap, which was released in February 2018, was nominated for Best Rap Album in the 61st Grammy Awards.
Hussle will be honored with a tribute by YG, Roddy Ricch, Kirk Franklin, DJ Khaled and John Legend at the 62nd Annual Grammy Awards. The Grammys will air on CBS on Sunday, January 26, at 8 p.m. ET.
This article has been updated with a comment from Puma and with more information that the collection is made up of reissued pieces from the debut collection.