Lauren London Remembers Nipsey Hussle on Father's Day: 'Today We Celebrate You'
Nearly three months after the tragic death of Nipsey Hussle— born Ermias Joseph Asghedom—the late rapper and philanthropist's girlfriend Lauren London took the time Sunday to honor his memory on Father's Day.
"One of the reasons I fell in love with you–your fatherhood," London captioned an Instagram photo of the couple with their 2-year-old son Kross. "Today we celebrate you. Love you, Ermias."
Two weeks after his death in March, London spoke during at Nipsey's memorial service, saying she felt him "everywhere."
"Never was I prepared for anything like this so bear with me," London told the crowded auditorium. She then shared a text she wrote earlier in the year to Nipsey while he was sleeping.
"Ermias, I want you to know that I feel real joy in my heart when I'm around you. I feel safe around you, protected, like a forcefield around me when you're around. I'm totally myself when I'm around you," she read.
"I feel him everywhere," London continued after reading the text. "As he said before, the marathon is never over."
London previously addressed Hussle's shocking, untimely death via an Instagram post of a portrait of the late star, saying she was "lost for words." The post garnered over 6 million likes, with numerous celebrities voicing their condolences in the comment section.
"I am completely lost I've lost my best friend," London wrote. "My sanctuary. My protector. My soul....I'm lost without you. We are lost without you, babe. I have no words."
Hussle suffered multiple gunshot wounds March 31 while standing outside of his Marathon Clothing Company store on Los Angeles' Slauson Avenue. The crime was allegedly committed over a "personal matter."
Hussle's suspected killer, Eric Holder, was identified the same night as the fatal shooting and was taken into police custody days later. Holder was indicted by a grand jury for one count of murder, two counts of attempted murder and assault with a firearm and one count of possession of a firearm by a felon last month, according to a USA Today report.
The 29-year-old has pleaded not guilty to all charges and is currently being held on bail of $6.53 million. Holder is expected back in court for a pretrial hearing this month.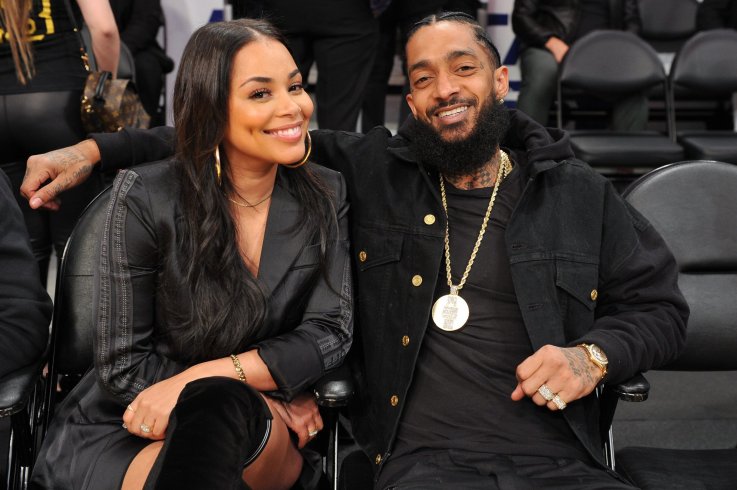 Lauren London Remembers Nipsey Hussle on Father's Day: 'Today We Celebrate You' | Culture