After Parents of Slain University of Utah Student File $56 Million Lawsuit, Police Chief Retires
After heavy scrutiny and the filing of a $56 million lawsuit, University of Utah Police Chief Dale Brophy announced he will retire in the fall.
After 25 years in law enforcement, and six at the University of Utah, Brophy announced Tuesday he would retire to pursue other opportunities. He said the "timing is right" and credited the move with opening a new chapter for himself and a path forward for the department.
Brophy's last day will be October 15, a year after Lauren McCluskey, 21, a student-athlete, was allegedly shot and killed by her ex-boyfriend Melvin Rowland, 37. In the weeks leading up to her murder, Lauren contacted the university's police multiple times about Rowland's increasingly erratic behavior.
After her death, the department was criticized for how it handled the situation and what it could have done to prevent the student's death. In June, Lauren's parents Jill and Matthew McCluskey filed a lawsuit, and it named Brophy as one of the defendants.
"Lauren's death arose from a set of circumstances that should have alerted the University and Individual Defendants to the fact that one of their students was in extreme peril of being seriously harmed or killed as a result of domestic violence or dating violence," the lawsuit stated.
As head of the department, the lawsuit claimed Brophy failed to properly train officials and employees, leaving them unequipped to handle the situation that caused Lauren's death. For example, the officer assigned Lauren's case worked Tuesday through Friday, which meant there were three days where her case was not worked.
Along with recommending additional training, an independent investigation found a number of areas the department needs to improve. Among them were checking corrections information, which would have revealed Rowland was on parole for second-degree felony enticement of a minor over the internet and third-degree felony attempted forcible sexual abuse.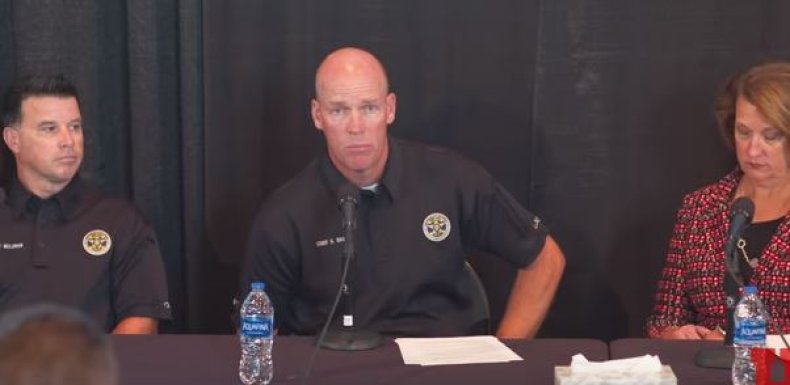 On October 10, Jill McCluskey requested a campus security officer escort her daughter when she went to retrieve her car from Rowland. The previous night Lauren broke up Rowland after learning his real age and that he was a registered sex offender. From the time they broke up until she was killed on October 22, Lauren contacted public safety more than 20 times, according to the lawsuit.
Lauren was on the phone with her mother when Rowland confronted her in a parking lot outside her residence hall. An altercation ensued, during which Lauren dropped her phone, which prompted her father to call the Salt Lake City Police Department, relay what Jill heard on the call and explain he thought his daughter was in trouble.
Rowland allegedly forced Lauren into the back seat of a car and shot her seven times. Police found her body in the backseat of a vehicle in the parking lot and Rowland shot himself after police confronted him.
The university announced in December it would implement changes based on the investigation, including using law enforcement databases and increasing mandatory training.
The lawsuit also named the University of Utah as a defendant and President Ruth Watkins said in a statement that the school will respond through the appropriate channels. While Watkins said there were differences in how the parties would characterize some of the events leading to Lauren's death, she said they agreed campus safety needed to be a priority.
"We continue to address the recommendations identified by the independent review of the university's safety policies, procedures and resources, and we are making ongoing improvements designed to protect our students and our entire campus community," Watkins said in the statement.
On Tuesday, Watkins said in a statement that Brophy's retirement was "keeping with" the school's intent of making changes to improve campus safety. In the coming weeks, the school will embark on a national search for a director of public safety.