Dozens Of Hawaii Tourists Arrested Taking Lava Photos, Selfies In Restricted Kilauea Volcano Eruption Areas
Tourists in parks across Hawaii face fines of up to $5,000 and have been threatened with potential jail time for trying to get close-up pictures of fast-moving lava from the eruption of the Kilauea volcano.
At least forty tourists to Hawaii's Big Island have been arrested since the May 3 eruption of Kilauea, the Department of Land and Natural Resources told Hawaii News Now. Most of the tourists, and even some full-time Hawaiian residents, were arrested on loitering charges as they tried snapping selfies and traditional photos of the lava flows bursting from the volcano. Hundreds of wire service photos show lava loiterers walking on hardened igneous rock to observe intense bursts of fire and gas from the lava streams.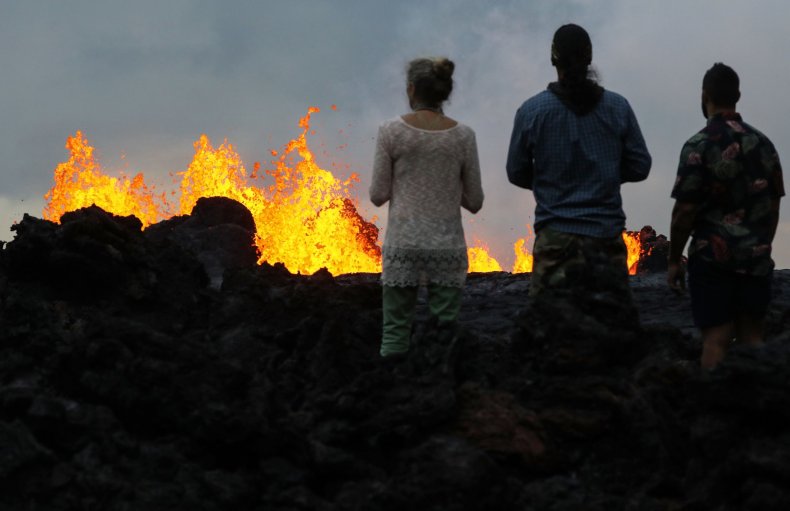 Online arrest records show that some people were hit with trespassing citations for going around police barricades and forging through zones with dangerous gas emissions to snap photos of Madame Pele at work.
Officials from the Department of Land and Natural Resources cited a dozen arrests in the past 10 days alone, as a 100-foot wide river of lava emerged from a new fissure in the volcano. Lava has already covered more ground than it did during the last major eruption in 1955, according to the Hawaii Volcano Observatory. "Standing waves" of lava seen oozing from Kilauea have been flowing at speeds of 17 mph, far faster than the average human running speed of about five or six mph.
Arrests were made in several Hawaiian parks including Paakikii, Mackenzie State Recreational Area and Lava Tree State Park. New DLNR guidelines were established since May's eruptions to enhance punishments for people caught disregarding emergency evacuation orders or loitering in lava zones. People caught in the east rift zone areas and cited by DLNR officials can be fined up to $5,000 and can be given up to a one-year jail sentence. Before last month's punishment enhancement, DLNR officials told Hawaii News Now they'd issued nearly 40 citations.
"I find there is a need to strengthen the enforcement tools available to county and state emergency management officials in controlling public access to dangerous areas and associated evacuation efforts as a result of the failure of the public to comply with instructions and orders issued by officials," Hawaii Governor David Ige said in a statement.
The Hawaiian Volcano Observatory notes that the Kilauea volcano on the Big Island has been "erupting" since 1983, but that seismic activity spiked in late April and culminated with a 6.9-magnitude earthquake on May 4 that was the state's strongest since 1975.