LaVar Ball Just Out-Trolled Donald Trump in CNN Interview and Wished Him a 'Great Thanksgiving'
President Donald Trump has met his trolling match: LaVar Ball, the father of one of the UCLA basketball players released from detention in China last week.
Ball appeared on CNN Monday night to give an instantly meme-worthy interview about his supposed feud with the president over the release of his son LiAngelo Ball and two other players arrested on suspicion of shoplifting in China.
Ball has refused to thank Trump, who personally took credit for getting the players released by speaking to President Xi Jinping. In response, Trump tweeted he "should have left them in jail."
Questioned by CNN's Chris Cuomo Monday night, Ball, the maverick father to LiAngelo and the Los Angeles Lakers' Lonzo Ball, essentially trolled the president on live television.
The whole 22-minute interview is a bizarre highlight reel, that has to be seen to be believed (watch the whole thing above).
But among the highlights, Ball said: "If I was going to thank anybody, I'd thank President Xi [Jinping]. He's the president of China. Somebody can make a suggestion," he added, referring to Trump, "and somebody could do something. You got people that make suggestions and you got people that do things."
Ball and Cuomo's conversation got more heated as the CNN anchor pressed Ball on why he would not acknowledge the president's intervention in the release of the players. Ball, however, was not biting.
"How much intel do you have on the situation? Were you there?" Ball antagonized Cuomo.
Cuomo pressed on nonetheless, asking: "Do you think the president helped?"
Ball answered: "I don't know...I didn't see him talk. I ain't going to say nothing I don't know, I don't see and I don't hear. If he said he helped, that's good for his mind."
"If you help, you shouldn't have to say anything. If I helped you shouldn't have to...I don't walk around saying, 'I helped you now, come on, give me some love.'"
Ball said he was bewildered that "with all this stuff going on" in the world Trump is so concerned that "a father didn't say 'thank you.'"
He added: "There's a lot of other things going on. Let him deal with his political affairs, let me handle my son...let's just stay in our lanes."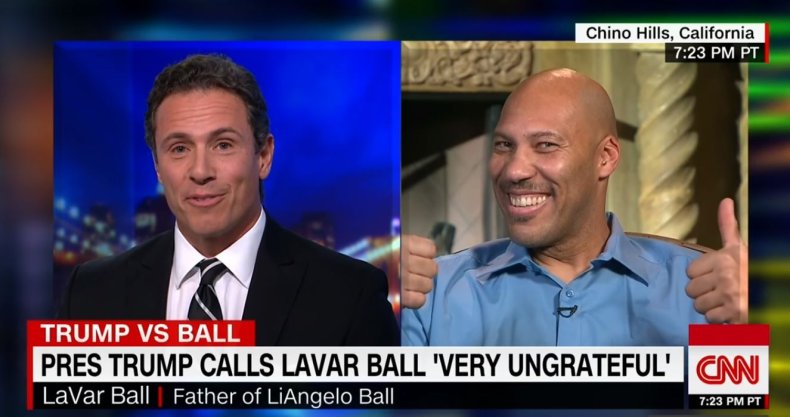 Cuomo caught on to Ball's troll game, saying: "You're very clever...I see your big smile on your face."
Asked again why he won't say thank you to Trump, Ball said: "If someone does something for you then I'll say thank you. I would've said thank you if he'd have put him on his plane and took him home. Then I would have said, 'Thank you, Mr. Trump, for taking my boys out of China and bringing them back to the U.S.' There's a lot of room on that plane."
Cuomo asked if Ball meant he wouldn't thank the president because he didn't personally bring them home on his own plane, at which point Ball gave an answer with more riddles than a Dr. Seuss book. "Well, I'm just saying, that's how I say thank you. You might say thank you a different way. You might say thank you like it's any kind of word."
Ball then delivered his killer blow: "Did you thank the doctor for bringing you into this world?"
The interview ended with the greatest sign-off of the year—Ball delivering a message to the president.
"Tell Donald Trump to have a great Thanksgiving, because big baller is," Ball said emphatically with a grin.