Laverne Cox Transforms the Audience at the GLAAD Awards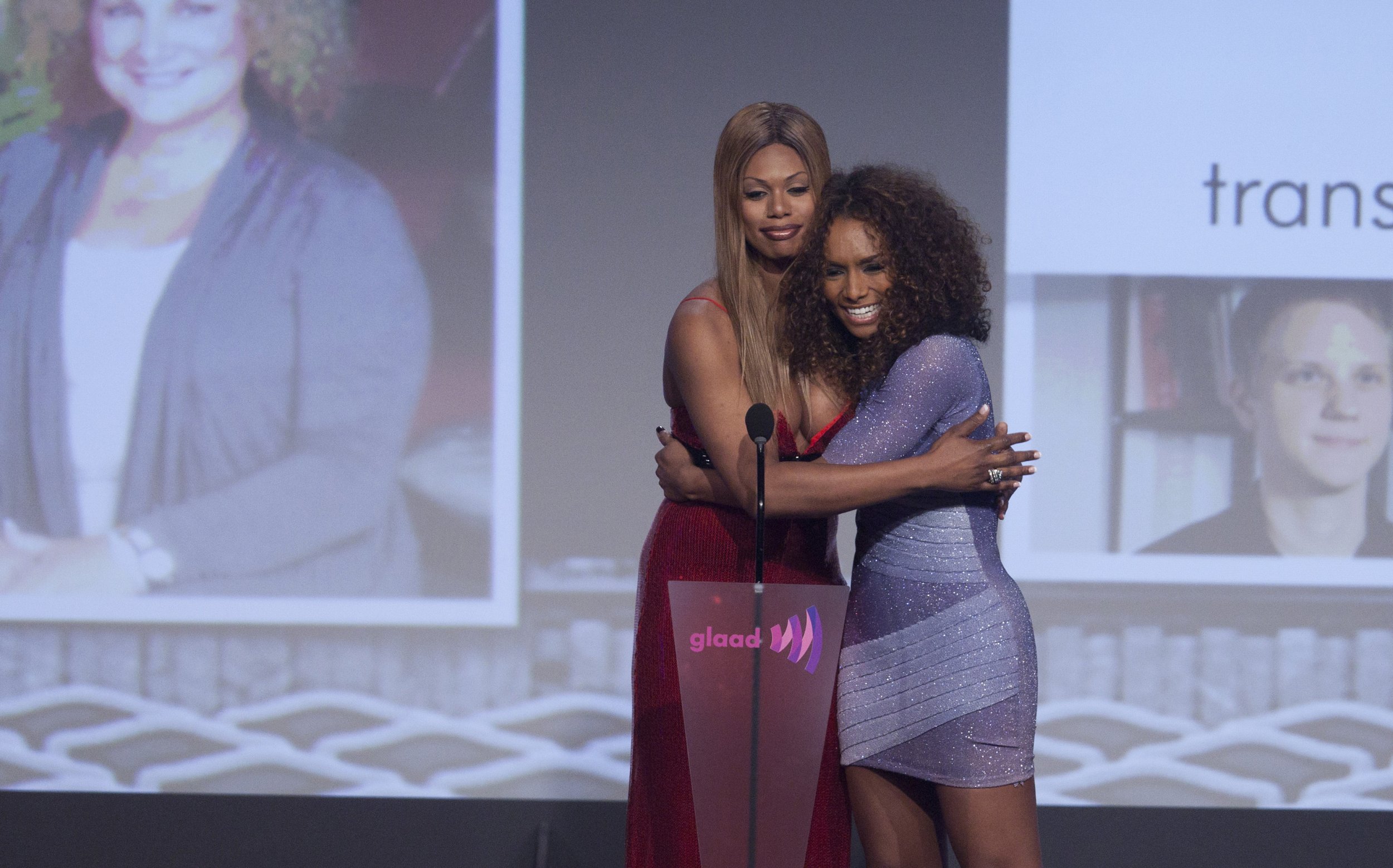 Laverne Cox remembers her first red carpet experience. It was 2005 and she was on the rug at the Tribecca Film Festival, standing before the paparazzi. "I was in acting school and they gave some of the students the chance to walk the carpet," she recalls. "Someone told me to pose in their direction." She vogued for the lens and then the photographer said, "Thanks, I'm just testing my camera."
She continued her walk down the carpet, quietly.
Things have changed dramatically for Laverne Cox since then. Starting as a contestant on VH1's reality seriesI Want to Work For Diddy. (where she didn't win a job with the rap mogul) she has gone on to produce, write and star in VH1's Transform Me, solidifying her role as a transgender advocate and bonafide TV star. Her breakthrough role as trans hair dresser Sophie on the hit Netflix women-in-prison series Orange is the New Black has brought her to a completely new level of fame.
Cox has chosen to use her status as a means of educating others about transgender issues. Fresh off a speaking engagement tour of over 44 universities across the United States, Cox continues tirelessly in her advocacy role, opening up to countless strangers about her experiences growing up and promoting trans awareness. Her efforts were acknowledged when GLAAD (Gay and Lesbian Alliance Against Defamation) decided to honor her at its 25th annual Media Awards in Los Angeles.
The Stephen F. Kolzak Award (named for the late Hollywood casting director who fought against homophobia and for AIDS awareness in the entertainment industry) is presented each year to an openly LGBT individual in the media whose words or example promote the same values. Sir Ian McKellen, John Waters and Ellen DeGeneres are past recipients. Ms Cox is the first transgender female to be honored; Chaz Bono (2012) was the first transgender male to receive the award.
"I just can't believe I'm here," she says. "It's surreal." Cox is in her bungalow room at the Beverly Hilton, unpacking after her flight from New York to Beverly Hills. The hotel management has sent her a bottle of champagne by way of welcome.
"I don't feel any different," Cox says. " I still feel like any other person who has issues and struggles."
When a fan approached her by the pool, Cox took the time to listen. "Sometimes there are moments where I can't stop and take a photo with someone, and I feel awful, but I always try."
Before the event Cox strives to take it all in stride: "I'm going to have fun, and rock these gowns tomorrow." She's excited to be working with a stylist for the first time, and will be wearing a stunning red Zac Posen gown on the carpet with a pair of Jimmy Choos', and then a vibrant green Monique Lhullier gown during the actual awards ceremony.
"I'm a little starstruck that I'm going to be in the same room as J-Lo," she admits. Jennifer Lopez is being honored that same evening with the Vanguard Award, given to those who help promote equal rights for the LGBT community.
The morning of the awards, Ms. Cox tries to relax for what lies ahead with a massage and pedicure. This before a full hair and makeup team primps her for primetime. She's just getting acclimated to all of the frenzy that comes with being the guest of honor. When asked what's on her mind beforehand, she says it's more a matter of who.
Cox is thinking about Monica Jones, an African-American transgender college student, who was found guilty on April 11th of "manifesting prostitution" in Arizona "She was in a certain neighborhood and arrested by the police," says Cox. "This is purely based on suspicion that if there's a trans woman in a certain neighborhood there's an assumption that she is a prostitute. She was walking, and just by being trans, found guilty. I need to talk about Monica tonight."
As she continues with her preparations Cox is unaware that GLAAD has flown her mother, Gloria Cox, from Mobile, Alabama, to surprise her onstage after she's accepted her award.
"We talked about me coming out here, but it didn't seem realistic at the time and it was last minute," says Cox's mother. It was GLAAD that made the arrangements and footed the bill. "I'm happy I get to surprise her."
"We had to have her mother be here." said Rich Ferraro, Vice President of Communications at GLAAD. "We really pushed for Laverne to get this honor. This is her time and her moment." GLAAD has worked more than ever in the last year with the transgender community, making the "T" in LGBT more prominent with help from Cox.
This time her walk down the carpet is no acting exercise. Everyone wants a photograph of her, everyone wants an interview. And after she has obliged them, many reporters shyly ask if she'll pose with them for selfies.
During the awards her mother proudly watches from the backstage green room, beside celebrities such as Rita Moreno; Lupita Nyong'o; GLAAD spokesperson Wilson Cruz; host and comedian, Ross Mathews; and award presenter, Ellen Page. After famously coming out at an LGBT youth conference in Las Vegas this past Valentine's Day, Page says that Cox had inspired her to do so, even calling her one of her heroes.
After being introduced by Page, Laverne Cox gives an inspiring speech.
"I think it's important for people to tell diverse stories," she says, referring to how her role on Orange is the New Black has impacted viewers. "I don't think Jenji Kohan when she was writing the show came up with the idea that she was going to change the way transgender people were represented on TV. I think she said, 'I just want to tell human stories.' I think that should be the goal for everyone, that we tell diverse stories…each and every one of us has the capacity to be an oppressor. I encourage each and every one of us to interrogate how we might be an oppressor, and how we might be able to become liberators for ourselves and each other. "
Before exiting the stage her mother joins her and the entire audience gives a standing ovation as they embrace.
Cox only stays a few minutes at the after party before she returning to her room where the celebration continues. She orders french fries, chocolate cake and champagne for her friends and they debate whether or not she'll be able to carry the heavy award with her in carry-on luggage.
"Do you think they'll consider this a possible weapon?" she asks, not realizing that when it comes to her cause, Cox is her own weapon.
She and her mother talk about the Beyonce concert they attended together; Cox was mobbed, as if she was the star. "Security didn't know what to do," she says.
Some people still don't.