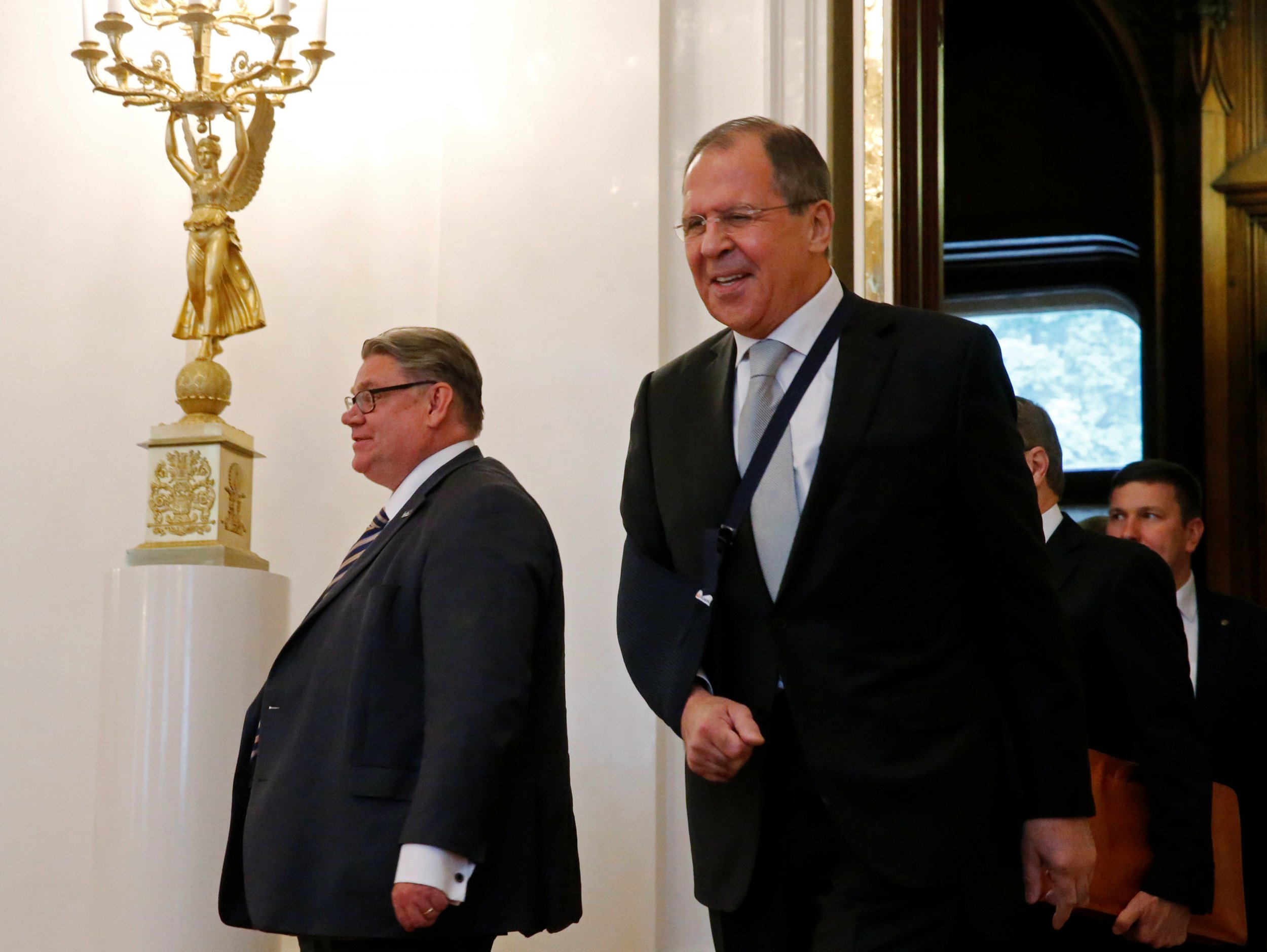 Russian Foreign Minister Sergey Lavrov boldly stated that Russia "would never attack any member state of NATO," but said the alliance's eastern expansion remains a threat.
Russia's top diplomat spoke after a meeting with his Finnish counterpart Timo Soini on Monday, commenting on the ongoing annual military drills in the Baltics and Poland. While Russian officials have, more often than not, heightened tensions with statements on NATO, calling NATO allies "targets" for Russia and reiterating Russian nuclear might, Lavrov issued a statement of assurance.
"I am convinced that all serious and honest politicians know perfectly well than Russia will never attack a member state of NATO. We have no such plans," he told Russian state news agency RIA Novosti. "I think that NATO knows this perfectly well but they are using the occasion so as to deploy more kit and battalions as a guarantee that the U.S. will watch over all this territory."
Although NATO maintains that they have never made permanent deployments to Eastern Europe and only increased rotational presence of military personnel to countries which ask for this presence, Lavrov reiterated the Kremlin's negative view of NATO actions near it.
"In our security doctrine it is clearly stated that one of the main threats to our safety is the further expansion of NATO to the east," Lavrov said. "I want to underline we do not treat the mere existence of NATO as a threat, but the way in which the alliance functions in practice."
The Foreign Minister accused the alliance of using the immediate aftermath of Ukraine's pro-European revolution in 2014 "to think up a new purpose for the alliance".
NATO countries and Ukraine have accused Russia of annexing Crimea and reinforcing separatist rebels in eastern Ukraine. Russia argues that local pro-Russian forces are behind all three pushes to separate from Ukraine.
NATO is expected to announce the introduction of a multinational, rotational force, intended to periodically move through Eastern European allies, performing training exercises. The size of this force has not been confirmed and it is unclear if further assurance measures will be introduced to the region.
Lavrov reiterated his previous statements that Russia will mirror NATO's eastern reinforcement with adequate measures on its own western flank. Lavrov recently warned Sweden, who, like Finland, is not a NATO member, that a push towards NATO membership would likely see Russia redeploy forces near to its northwest.
Prior to Russia's aerial campaign in Syria, interceptions by European allies of Russian jets and bomber aircraft flying without warning and without transponders on spiked to a record high, particularly in the Baltic.
The alliance is set to outline its strategy for the upcoming two years at a summit in Poland in July, where details of potential new deployments will be made official. The Polish government has already announced they are expecting four battalions to be rotated through Poland and the Baltics.