Sergey Lavrov Says He's Fine in Video Amid Hospitalization Reports
Russian Foreign Minister Sergey Lavrov has dismissed reports that he was hospitalized after arriving in Indonesia's resort island of Bali for this week's G-20 Summit as a "political game."
Indonesian officials were cited by news agency The Associated Press on Monday as saying that the official had been taken to hospital after suffering a health problem, and that he was being treated on the island.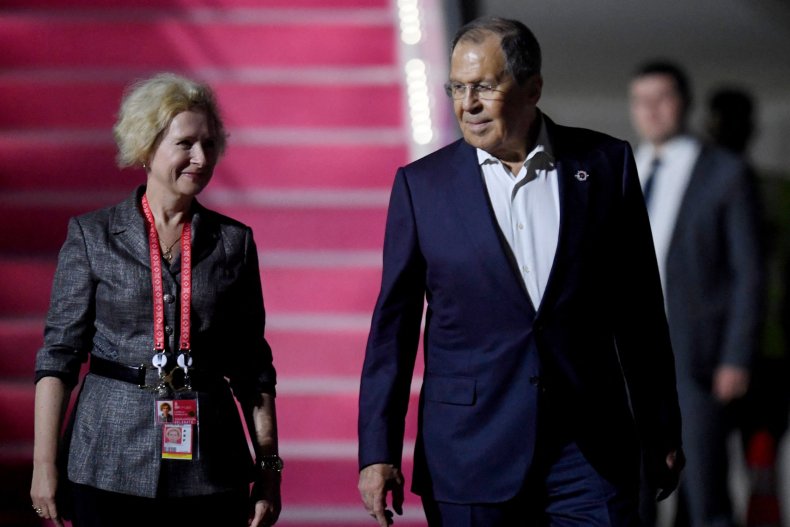 According to AP, two people said Lavrov, 72, was being treated for a heart condition.
However, Maria Zakharova, a spokesperson for Russia's Foreign Ministry, issued a statement denying that Lavrov had been hospitalized.
"This, of course, is the height of fakery," she wrote on her Telegram channel. "Sergey Viktorovich [Lavrov] and I are reading the news wires and cannot believe our eyes."
Lavrov was also filmed in a video denying the reports. He arrived in Bali on Sunday to lead the Russian delegation at the gathering of the world's 20 largest economies.
In a video filmed and posted by Zakharova on her Telegram channel, Lavrov dismissed the claims that he had been taken to hospital with a heart condition as false reporting by Western journalists.
Sitting outdoors on a patio in a T-shirt and shorts, and reading some documents, Lavrov responded to the news by saying that the media has been reporting that Russian President Vladimir Putin "is sick" for a decade.
"This is such a game that is not new in politics," he said.
"Western journalists should be honest, write the truth more often, and not limit themselves to their reports only from one point of view which they broadcast on all issues where the Russian Federation, which is ignored, is involved," Lavrov continued.
"A huge hello to everyone," he added.
Bali Governor I Wayan Koster told Reuters that Lavrov had visited Sanglah Hospital in Bali for a brief "check-up," but that he was in good health.
"He was in good health and after the check-up he immediately left," the governor said.
Zhakarova and Lavrov did not mention whether the minister had visited a hospital or received treatment.
Newsweek has contacted Russian and Indonesian authorities for comment.
Russian officials confirmed last week that Putin would not be attending the G-20 Summit.
Kremlin spokesperson Dmitry Peskov told reporters Monday morning that Putin will not be going to Bali to the G-20 summit because "circumstances dictate the priority of the president being in the Russian Federation," Russia's state-run Tass news agency reported.