Lavrov, White House Disagree on Whether Election Interference was Discussed During Meeting With Trump
After a Tuesday afternoon meeting with President Donald Trump, Sergey Lavrov contraindicated the official White House readout of their meeting, which said they spoke to one another about election interference. Lavrov said that they hadn't discussed the topic during the meeting.
"We haven't even actually discussed elections," Lavrov told reporters at the Russian Embassy in Washington, D.C. When pressed, according to Politico, Lavrov appeared to indicate that he'd brought up a discussion he'd had with Mike Pompeo with Trump.
This is in dispute of the White House's official readout of the meeting, which states that Trump warned Lavrov away from "any Russian attempts to interfere in United States elections."
This also contradicts President Trump's tweet about the meeting. On Tuesday he sent a tweet which read:
"Just had a very good meeting with Foreign Minister Sergey Lavrov and representatives of Russia. Discussed many items including Trade, Iran, North Korea, INF Treaty, Nuclear Arms Control, and Election Meddling. Look forward to continuing our dialogue in the near future!"
Lavrov met with Secretary of State Mike Pompeo earlier that afternoon, during which election interference was apparently raised. Pompeo said during a press conference that he told Lavrov he found the alleged interference in the 2016 election "unacceptable."
"I was clear. It's unacceptable, and I made our expectations of Russia clear," Pompeo said. "The Trump administration will always work to protect the integrity of our elections. Period. Should Russia or any foreign actor take steps to undermine our democratic processes, we will take action in response."
"We have highlighted once again that all speculations about our alleged interference in domestic processes in the United States are baseless," Lavrov said at the conference. "There are no facts that would support that. We did not see these facts. No one has given us this proof because it simply does not exist."
Lavrov was asked by a reporter why he did not "simply read the Muller report," and Lavrov replied, "We read it. There is no proof of any collusion," he said, speaking through an interpreter.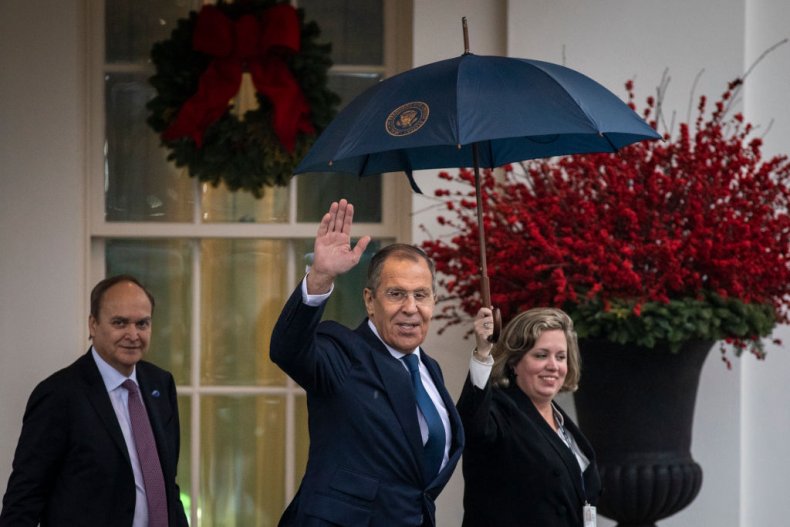 The meeting between Trump and Lavrov mainly focused on foreign policy, and the two politicians discussed such matters as Iran, trade, North Korea and nuclear arms control. Trump allegedly said that he told Russia to solve their conflict with the Ukraine, and urged them to take part in U.S. efforts in Iran and North Korea.
The meeting was closed to the press, and was Lavrov's second meeting with Trump in the Oval Office, and his first visit to Washington since 2017.