Law Enforcement Officials Condemn Trump's Border Agents in Portland: 'It's the Ultimate Powder Keg'
Current and former federal law enforcement officials are condemning the Trump administration's use of elite paramilitary border guard units to deter protesters in Portland, a move they said skirts protocol, threatens national security and further escalates violence.
Three current officials from the Department of Home Security and various levels of law enforcement who requested anonymity because they were not authorized to speak on the matter and one former federal law enforcement official said they were angered by the move and told Newsweek that the DHS exploited a loophole to deploy combat-ready forces such as Customs and Border Protection's Border Patrol Tactical Unit (BORTAC) and Special Response Team (SRT) to Oregon's largest city, where protests have raged for nearly eight weeks since George Floyd's death in police custody in Minneapolis.
These units, akin to special operations forces, typically deal with high-risk missions involving immigration, drugs and terrorism. In Portland, they have been tasked with investigating crimes against federal property, a job outside the scope of their roles. Such investigative work typically falls under the purview of the FBI and the Department of Justice.
To send troops to Portland, Trump would have to invoke the Insurrection Act, the way former President George H.W. Bush did in 1992 during the Los Angeles riots after the police officers accused of beating Rodney King were acquitted. That move, however, would likely be politically unpopular. Trump instead chose to use federal agents, who have jurisdiction across the country and can be deployed accordingly.
Clad in camouflage and equipped with high-tech gear, however, BORTAC and SRT can look like military personnel, and one DHS official told Newsweek that gives the appearance that Trump is using them in a similar capacity.
"So this is an end-run because he couldn't use the military because this isn't an insurrection—he's using forces not meant to deal with protests in a U.S. city," the official told Newsweek under the condition of anonymity because the individual was not authorized to speak to the media.
"The whole thing makes my head spin."
A Customs and Border Protection spokesperson told Newsweek that BORTAC and SRT were specifically chosen to work with the Federal Protective Services in Portland because of their special mobile field force training, which includes crowd and riot control techniques, as well as less-than-lethal munitions banned for local law enforcement use by Mayor Ted Wheeler.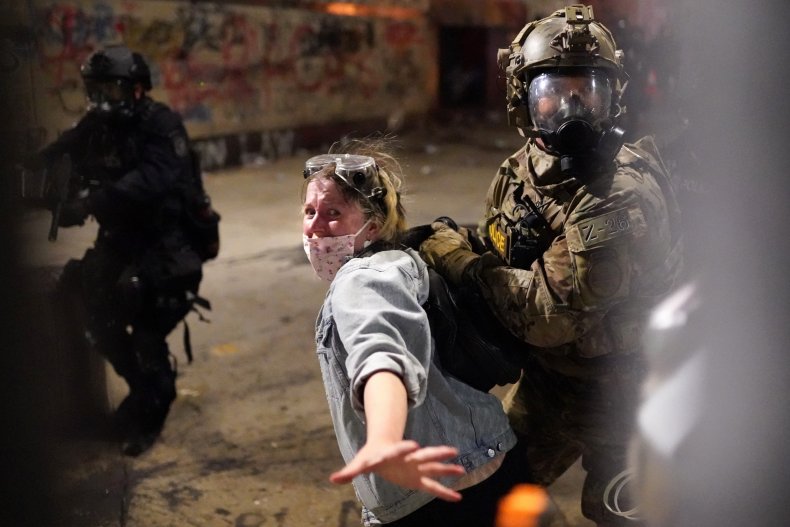 DHS Secretary Chad Wolf also defended the techniques of BORTAC and SRT, declaring at a Washington press conference Tuesday "we will not retreat" from crowds accused of arson, destruction and assaulting officers in Portland. He was joined by Customs and Border Protection Acting Commissioner Mark Morgan and Federal Protective Service Deputy Director of Operations Richard Cline in extolling the efforts of federal law enforcement agents, whom all three said were well-qualified for their duties in Portland.
"The fact that we are there is because local officials are not taking action," Wolf told reporters.
Unswayed by criticism, including from local leaders such as the mayors of Portland, Atlanta, Chicago, Kansas City and Washington, D.C, Trump has vowed to deploy other federal agents elsewhere. On Wednesday, he announced a "surge" of government forces including those of the DHS that do not necessarily not include BORTAC or SRT in Chicago to quell gun violence, although Mayor Lori Lightfoot has warned residents to keep an eye out for DHS and Border Patrol agents.
Erroll Southers, a former FBI SWAT team member and assistant chief of the Los Angeles World Airports Police, told Newsweek that such mass mobilizations across the country should not be used without congressional review.
"To me, it's like a roving band, it's like a roving militia that is going to go to 'troubled city to troubled city,' usurping the authority of the local law enforcement agencies who know those cities and most people and do this every day, under the guise of law and order and public safety undermines the entire public safety infrastructure of America," Southers said.
"What would happen if a municipal police department stood between protesters and the DHS gang?" he asked.
Trump's acts also opened the possibility for heightened conflict, a law enforcement official who formerly served as the commander of a federal task force told Newsweek. For example, Trump sent units to Portland's streets against the will of its mayor.
"Wolf is politicizing DHS by using its members as an occupying army," the official said.
Southers warned that BORTAC and SRT actions, while well within the scope of law enforcement, have the potential to turn deadly when employed by federal forces with such intensive training, no local community ties and greater legal protections. Qualified immunity, for example, shields government officials from most civil suits, making it difficult to take legal action against them.
"They are setting up a conflict by using disproportionate force and testing the bounds of qualified immunity," the law enforcement official added. "If this continues it is only a matter of time before one of the agents, who are not trained in de-escalation or managing large protests, kills someone and tests the limits of qualified immunity."
Those conditions—an angry crowd mixed with overwhelmed, tactically-trained forces with no community ties—create conditions ripe for civilian disaster, the officials who spoke to Newsweek said. They warned it was only a matter of time before things turned dangerous.
"You're going to have these BORTAC guys go into a major city and they're going to be confronted with a federally lawful, deadly use of force situation," a third official involved in federal law enforcement official told Newsweek.
"It's the ultimate powder keg."