New Jersey Law Firm Manager Sexually Harassed Pulse Nightclub Shooting Survivors, Suit Alleges
Two survivors of the 2016 Pulse nightclub shooting in Florida have filed a suit against a New Jersey Law firm and manager, alleging the employee sexually harassed them and used them to find other clients, NJ.com reported.
Javier Nava and Brian Nunez claimed that John Groff, the office and marketing director at Conrad J. Benedetto in Vorhees, New Jersey, quickly reached out to them after the shooting.
The lawsuit says Groff told Nava and Nunez that "they had viable legal causes of action based on their presence," at the nightclub during the shooting by Omar Mateen, which killed 49 people.
The suit alleges that after last year's Las Vegas shooting, Groff requested Nava and Nunez take a trip to Nevada and California to find new clients. During the expenses-paid travel, Groff allegedly sent suggestive texts to Nava, Nunez and other shooting survivors. A screenshot of text messages shows that Groff allegedly wrote "Come on pa, just once, between us. Confidential just want to satisfy both of us," to Nava. The suit also accused the manager of threatening "to withhold money for lodging, transportation and food" when Nava and Nunez rejected his advances.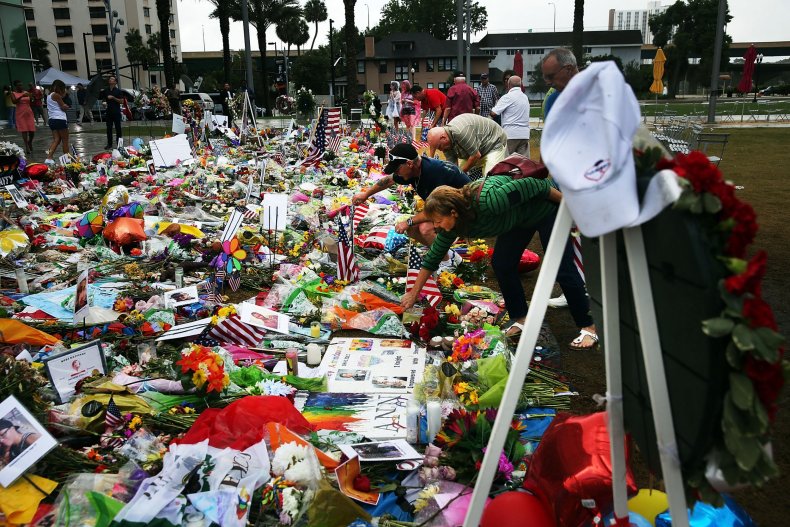 Groff denied the claims levied in the suit.
"I worked with Javier Nava and Brian Nunez to give them an opportunity to find healing with other people who were the victims of mass shootings. At no point during our interactions—which were always friendly and informal—did Javier or Brian give me any sense that they had a problem," Groff said in a statement. "I believe this legal complaint is full of incorrect facts and serves as nothing more than an attempt to destroy my professional reputation. I look forward to the opportunity to correct the record and prove that this lawsuit has no merit."
Groff also sent NJ Advance Media a text he said was from Nunez. "Hey John, again thank you for the great trip and opportunity to get away," the text read.
The firm also issued a statement saying that the suit has "factual inaccuracies" and "takes communications out of context."
In a New York Times article published earlier this year, mass shooting survivors describing their experiences with the firm. They said they felt their stories were being used as promotions to help the company recruit more clients. The Times also viewed screenshots that showed Groff had sent sexual messages to Nava.
Lawyer Conrad J. Benedetto told the Times his firm "treated all of its clients with professionalism and respect."
A lawsuit filed in December 2015 alleged Groff had agreed to offer legal services in exchange for sex with a client and his girlfriend, according to NJ.com. The suit was settled, but the Times reported that it helped raise awareness about Groff's prior convictions for passing bad checks and "theft by deception."