Law and Order? Joe Biden, Donald Trump Both Claim They Will Keep Americans Safe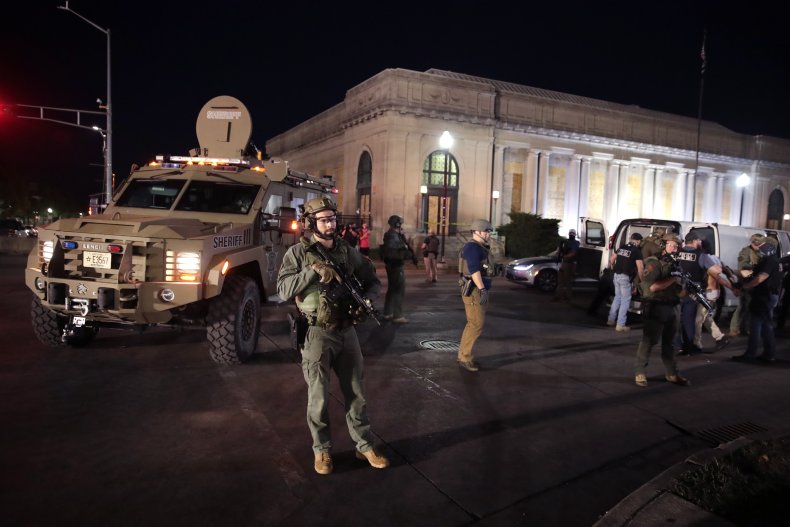 Amid fiery protests across the country, both Donald Trump and Joe Biden are addressing the "law and order" issue—with very different messages.
In a speech this afternoon, Biden sought to lay the blame for the civil unrest right at the feet of President Trump.
"The current president wants you to live in fear, advertising himself as a figure of order," Biden said during a blistering speech in Philadelphia. "He isn't and he's not been part of the solution thus far—he's part of the problem."
For his part, Trump has sought to link looting and destruction during protests over police brutality and racism to Biden and other Democratic leaders. His supporters went on the attack before Biden's speech.
"Biden's coming out of his basement today to pretend like he's spoken out against violence for months," Trump campaign adviser Jason Miller told reporters. "There's a reason police organizations are lining up to support president Trump over Joe Biden."
Trump's campaign wants to paint him as the "law and order" candidate—echoing a similar plan he used in his campaign four years ago. Trump has repeatedly urged cities and states to ask for assistance from federal authorities to quell unrest linked to protests over racism and police brutality.
"You won't be safe in Joe Biden's America," Miller said.
Biden, meanwhile, said he's the candidate who can unite the country and begin the recovery from the coronavirus and economic crisis.
"Does anyone believe there will be less violence in America if Donald Trump is reelected?" Biden said. "We are facing multiple crises–crises that, under Donald Trump, keep multiplying."
Many clashes have turned violent as cities are rocked by protests.
Biden blamed Trump for not reining in the self-proclaimed militia members who have taken to the streets to confront the protesters, often with deadly consequences.
"He may believe mouthing the words law and order makes him strong," Biden said, "but his failure to call on his own supporters to stop acting as an armed militia in this country shows you how weak he is."
Biden's speech today follows a period in which he has largely stayed away from the campaign, dating back to the first explosion of the Covid-19 pandemic in the Spring. During a scaled-back Republican National Convention last week, speakers took turns bashing Biden, while he only held a few virtual appearances.
With just two months remaining until the election, the race in the battleground states appears to be tightening. On June 25, the poll-tracking site realclearpolitics.com showed Biden with a lead of 6.2 percent in the battleground states, when all the qualified polls were averaged. The site shows that margin has narrowed to 2.7 percent today, well within the margin of error of most polls.
Monthly Gallup surveys show that concerns over both crime and racism have grown when people were asked to identify the most important problem facing the country today. The August survey found crime registered at 4 percent, while racism registered 10 percent. Racism was 3 percent in March, while concern over crime was less than one percent.
Trump has hammered cities and states led by Democrats, blaming them for violence and crime, and he's won endorsements from several law enforcement groups, including those in battleground states like Pennsylvania and Arizona.
"President Trump supports law enforcement, is pro-safety and anti-crime," Butler County, Pennsylvania Sheriff Michael Slupe told reporters on a call organized by the Trump campaign Monday. "The people who are protesting now are not Trump supporters, they are Biden supporters."
Biden drew a clear line between protesting and lawlessness.
"Rioting is not protesting. Looting is not protesting. Setting fires is not protesting," he said. "None of this is protesting. It's lawlessness–plain and simple."
Trump is slated to travel this week to Kenosha, Wisconsin, where a white police officer shot Jacob Blake, a Black man, in the back seven times. Black survived the shooting, which was caught on video, prompting another wave of protests that grew after the death of George Floyd, who died after a Minnesota police officer pinned him to the ground with a knee on his neck for nearly five minutes.
White House Press Secretary Kayleigh McEnany told reporters that Trump's current plan for the trip is to meet with law enforcement and business owners who have been impacted by the protests. She said he doesn't currently plan to meet with Blake's family.