The 'Law and Order' Message Donald Trump Campaigned on May Not Work in November, Experts Say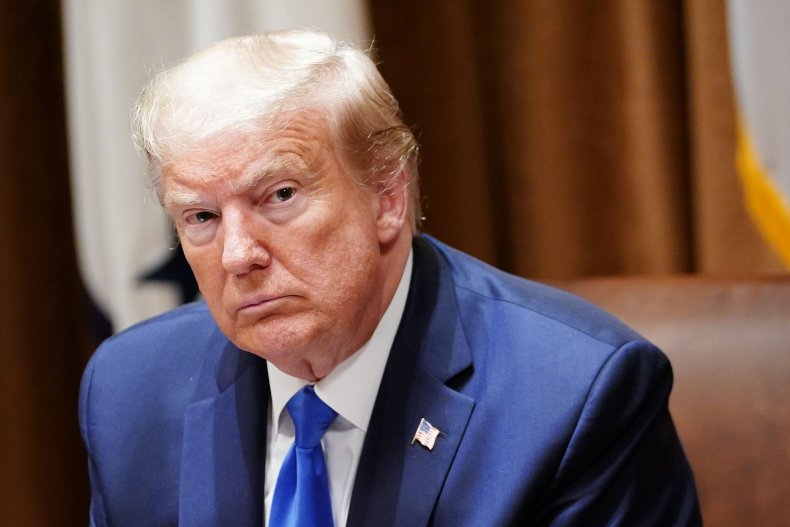 As protests—sometimes fiery and violent—beset cities across the country, President Donald Trump is turning to a familiar theme, repeatedly calling for "law and order" amid the unrest sparked by the killing of an unarmed black man in Minnesota.
"LAW & ORDER," Trump has not-so-subtly tweeted or retweeted in all capital letters at least six times since Sunday, his first comments after the death of George Floyd, who is seen on video pleading for air as a white officer kneeled on his his neck. Four officers involved have been arrested and charged in Floyd's death.
"I am your president of law and order, and an ally of all peaceful protesters," Trump said Monday during an address from the Rose Garden as protesters were cleared from outside the White House gates.
The message echos one Trump campaigned on four years ago.
"We must maintain law and order at the highest level or we will cease to have a country," Trump told a rally crowd in Virginia Beach, Virginia, in July 2016. "I am the law and order candidate."
"He tapped into that in 2016," Amy Dacey, executive director of the Sine Institute of Policy & Politics at American University, told Newsweek.
The pivot to a familiar topic that Trump is comfortable talking about comes as recent polls show Trump trailing Democratic rival Joe Biden. A Monmouth University poll released this week found Biden up 11 points, and The New York Times reported Thursday that Trump's campaign is "beginning to worry about his standing in states like Ohio and Iowa that he carried by wide margins four years ago."
But it's unclear how much that message will resonate this time around.
Crime didn't register even one percentage point on a May Gallup survey that tracks issues most important to American voters in 2020, while the novel coronavirus was the biggest concern among 40 percent of respondents. Government/poor leadership ranked next-highest at 24 percent.
Trump hasn't unveiled any specific plans for what he means by "law and order" other than embracing a more militaristic style of handling the protests and even suggesting military troops be used to patrol cities amid riots and looting.
The "law and order" playbook, at least in the messaging way, has been a familiar one used mostly by Republican candidates through the years, perhaps most famously by Richard Nixon and Ronald Reagan, two Republicans Trump has spoken fondly of.
But Dacey noted that it's often effectively used by outsiders—not incumbents.
"'Law and order' is more about questioning current practices," she said. "Gaining back control over things."
During an interview this week with former White House Press Secretary Sean Spicer, who now hosts a show on Newsmax, Trump directly singled out Biden and contrasted their approaches to crime.
"He's so weak on crime, we'll never stop it," Trump told Spicer.
Biden's campaign didn't immediately respond to Newsweek's request for comment. He has repeatedly stressed publicly a healing, unifying message in contrast to Trump's "law and order" theme.
"Law and order" is often seen as having racial connotations and less traditionally embraced by Democrats.
"We must and will get to a place where everyone, regardless of race, believes that 'to protect and serve' means to protect and serve them," Biden wrote in a piece posted to Medium Sunday. "Only by standing together will we rise stronger than before. More equal, more just, more hopeful—and that much closer to our more perfect union."
Dacey, the political scientist, said the distinctions are important and show a fundamental difference between the two candidates.
"Biden's speech the other day was in more of a traditional empathetic style, trying to move forward and unify," she said. "President Trump can be very reactionary."