Begun as a Law & Order spin-off, Law & Order: Special Victims Unit has become the longest-running primetime U.S. live-action series in the history of television, consistently delivering disturbing storylines and mind-blowing plot twists.
The popularity of the show has led some of TV's biggest stars to make guest appearances as victims or villains ...or in some cases, even cadavers. Some big names have also made pre-superstardom cameos in the earlier seasons.
As the 22nd season comes to an end, we look at some of the famous faces that have popped up in the NYPD's 16th precinct.
Robin Williams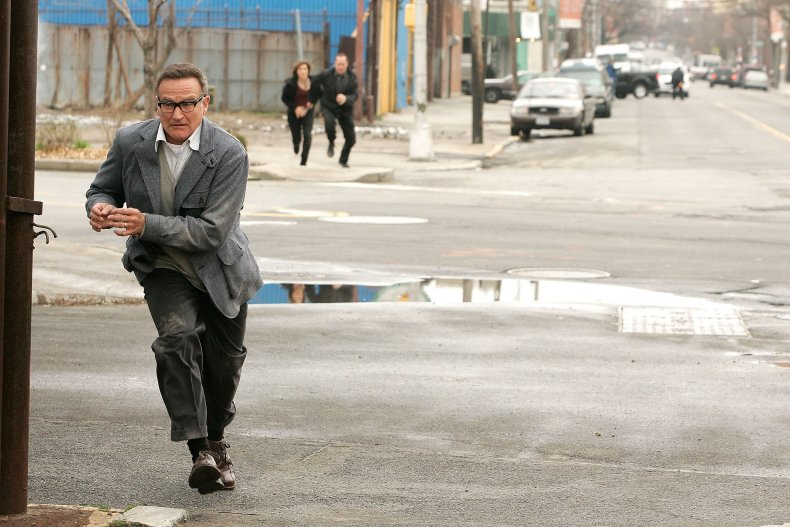 Robin Williams may have been known for his legendary comedic roles, but the late actor took on a darker part in the season nine episode "Authority," which aired in 2008.
Williams plays Merritt Rook, a man who calls people pretending to be a police officer and convinces them to carry out criminal acts, a storyline based on the 2004 strip search phone call scam.
The actor was cast when his friend Richard Belzer, who played Detective John Munch, told producers he was a fan and wanted to appear on the show.
Williams was nominated for the Primetime Emmy Award for Outstanding Guest Actor in a Drama Series following his performance.
Alec Baldwin
Alec Baldwin made his primetime TV return post 30 Rock with a guest appearance in the season 14 episode "Criminal Stories", which marked Mariska Hargitay's directorial debut.
Baldwin starred as a newspaper columnist who wants to interview the SVU squad, and makes things very difficult for the team.
The role was interesting considering Baldwin had recently announced he was retiring from public life, taking aim at the media, columnists and tabloids.
Cynthia Nixon
Three years after the last episode of Sex and the City, Cynthia Nixon gave an award-winning performance in the season nine SVU opener, "Alternate".
She played Janis Donovan, a mother falsely accused of abusing her daughter, who was also faking Dissociative Identity Disorder to cover up a murder.
The actress won the Primetime Emmy for Outstanding Guest Actress in a Drama Series for the role.
Bradley Cooper
Prior to his Oscars nominations, Bradley Cooper made appearances in both SVU and Trial By Jury in 2005 playing Jason Whittaker, a charming lawyer who represents a wealthy family (headed up by Angela Lansbury) who are accused of being involved in the rapes of illegal immigrants.
Of course, Whittaker knows more than he's letting on. After starring in the season six SVU episode "Night", the story concluded with a Trial By Jury crossover episode "Day".
John Stamos
John Stamos starred as a 'reproductive abuser' who had fathered 20 children in the season 12 episode "Bang".
The episode marked the first time Stamos met Caitlin McHugh, who was also guest starring on the episode, and while she was dating somebody else at the time, sparks flew four years later when they met again.
The couple married in 2018, and Stamos told People of their first meeting: "I played a guy who was so egotistical that he thought he should spread his progeny, so he had like 60 kids or something. He was poking holes in condoms and stuff. And Caitlin, ironically, was one of the girls that I was trying to fool and have a baby with."
Serena Williams
Serena Williams has made many cameo appearances as herself in TV shows and films over the years, but she showed off her acting chops in the season five SVU episode "Brotherhood."
The tennis player played a young woman whose pictures were found on a revenge porn site, which were set up by a fraternity pledge master who is found dead in a water tank.
James Brolin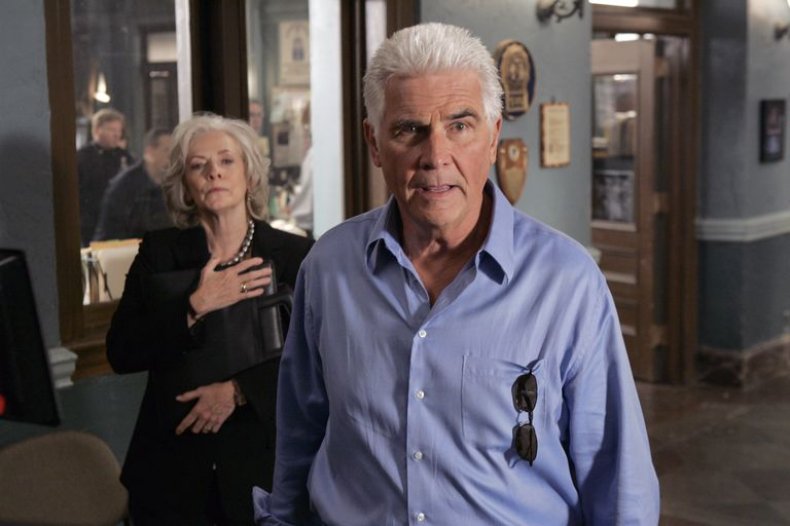 Brolin starred in the season 10 episode "Lunacy" as astronaut Dick Finley, who had murdered his competition to get closer to another moon mission.
However, the situation is even messier as Finley was a role model and old friend of Stabler's, leading to conflicting feelings when he begins to become suspicious of Finley after turning to him for help.
Debra Messing
Will & Grace star Messing starred in the season 12 episode "Pursuit" as Alicia Harding, a TV host trying to get justice for her sister who was abducted years ago.
While we're sure Messing's acting abilities and star power came into her casting, she has a connection with the cast, as she is close friends with Mariska Hargitay in real life.
Hilary Duff
There was a lot going on in the season 12 episode "Selfish", what with the apparent references to the Casey Anthony trial and a sharp turn into a vaccination debate - and that's before we get to Lizzie McGuire star Hilary Duff's cameo.
Duff played a young and irresponsible mother who is suspected of killing her daughter, but it is later discovered that the little girl actually died from encephalitis, after contracting measles.
Milo Ventimiglia
Post Gilmore Girls but pre-This Is Us, Milo Ventimiglia starred in the season five episode "Escape".
His character Lee Healy was believed to have been sexually abused by his stepfather as a child, but in a typically SVU twist, he was found to have been in an incestuous relationship with his cousin.
Amanda Seyfried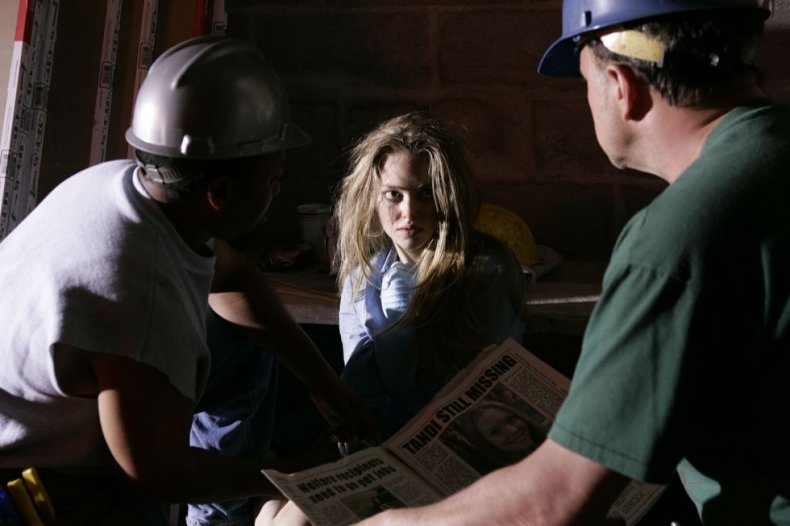 Four years before starring in Mamma Mia!, Amanda Seyfried starred as a 16-year-old girl who has been raped in the season five SVU episode "Outcry".
The press and police begin to doubt the teenager's story that she was raped by three uniformed men as her story changes repeatedly, but after the SVU unit begins to suspect her stepfather was involved, it emerges that the victim is trying to protect her family for a different reason.
Whoopi Goldberg
EGOT winner Whoopi Goldberg starred in the season 17 episode "Institutional Fail", as Janette Grayson, an overwhelmed caseworker who encouraged her employees to fabricate records of home visits to get out of work.
However, this led to her glossing over red flags in the case of a young girl who was being abused by her family, and after the girl's death, the SVU team intervened with a charge of manslaughter.
Goldberg had previously starred on an episode of Law & Order: Criminal Intent.
Jennifer Love Hewitt
In the memorable season 12 episode "Behave", Jennifer Love Hewitt starred as Vicki, who has been repeatedly raped by the same attacker since she was 16.
Despite Vicki being able to identify her attacker, evidence has been misplaced, poorly stored and even destroyed, meaning her rapist could end up walking.
The distressing episode was inspired by the backlog of rape kits in the United States.
James Van Der Beek
Probably as far from Dawson's Creek as you can get, James Van Der Beek starred in the season 13 SVU episode "Father Dearest".
Van Der Beek played Sean Albert, a man who takes advantage of young girls searching for their biological fathers after being conceived through sperm donation.
The actor received positive reviews for his very creepy performance.
Sarah Paulson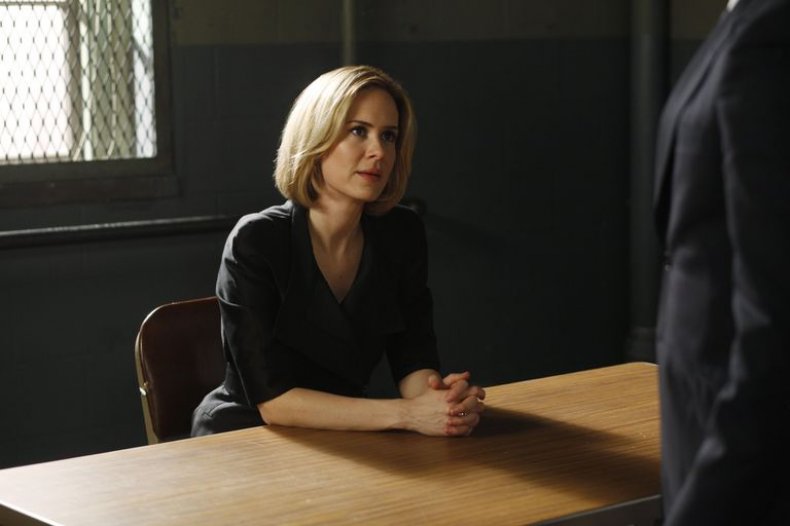 Sarah Paulson's first ever acting credit was in a 1994 episode of Law & Order, and before she starred on American Horror Story, she returned to the franchise for the season 11 SVU episode "Shadow".
In the episode, she played the daughter of wealthy parents who have been murdered. However, this is SVU, so her claims of innocence and being stalked are hiding something much darker.
Marcia Cross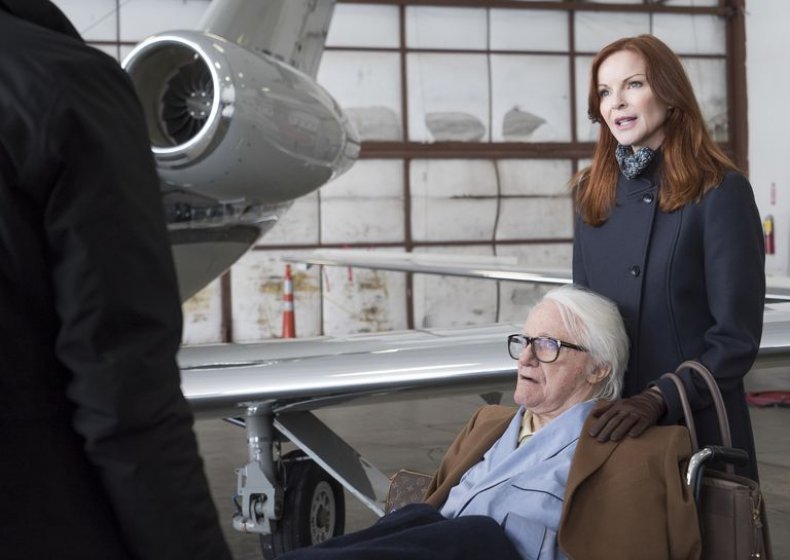 Marcia Cross is best known for playing a desperate housewife, but in the SVU season 16 episode "December Solstice", she was a bit more unhinged.
She played Charmaine Briggs, the sixth wife of famed writer Walter Briggs, who was suffering from dementia.
Charmaine secretly dosed him with Viagra so they could engage in sexual trysts and she could become pregnant - and when he died, carried out an erectile procedure so she could extract his sperm from him.
Patricia Arquette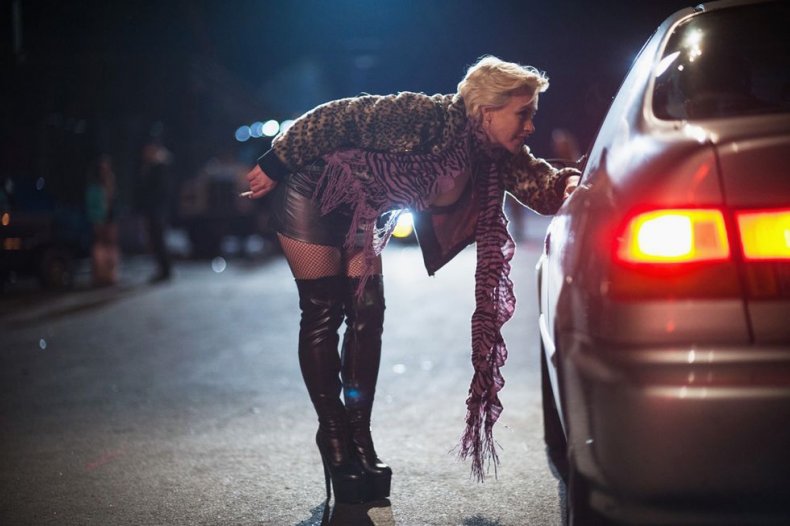 Patricia Arquette starred in the season 14 episode "Dreams Deferred" as Jeannie, a sex worker who ends up being kidnapped by an armed and dangerous John who goes on a killing spree.
The SVU team attempts to save Jeannie's life - and convince the FBI that she is a victim.
Anne Meara also stars as Jeannie's mother in the dramatic episode.
Questlove
One of the more innovative celebrity cameos in SVU, Questlove made an appearance in the season 16 episode "Criminal Stories" not as a crook or a testifying victim, but as a dead body.
The Roots drummer told Us Weekly in 2013 that it was his "fantasy to play a dead body on Law & Order," resulting in him being booked to play the corpse of a man killed by a gunshot.
Chloe Sevigny
In the season 13 episode "Valentine's Day", Sevigny played a woman, Christine, who is video chatting with her husband, who is abroad, when he witnesses her being held at gunpoint and kidnapped.
However, after Christine herself shows up to pick up the ransom money, the SVU team start to turn suspicious about whether she is a victim.
Sevigny told HuffPost IN 2012 that she took the role because, well, everyone else had been cast on SVU, saying: "Every time I go to the theater, every Playbill I see, every actor has an SVU credit and I wanted one. So that's kind of how it happened. My friend Natasha did an episode and we were talking about it while she was there and I said, 'I kind of want to do one. Why don't you say something to the producers and see if they'd be interested in having me do an episode?'
"So she did and I had my manager call and say, 'Chloe really wants to do an episode' and they said, 'We'll see what we have in the pipeline.' And they came back with this, so that's how it happened."
Mischa Barton
After leaving The O.C., Barton went from playing troubled teen Marissa Cooper to a pregnant teenage sex worker in the season 11 episode "Savior".
She plays Gladys Dalton, who is brought in to testify against a religious fanatic who is suspected of murdering prostitutes, but an even bigger plot twist lies in store.
After Gladys gives birth, she flees and leaves Benson with power of attorney over the baby.