'Law & Order SVU' Appears to Be Tackling Depp-Heard Trial in New Set Photos
Law & Order Special Victims Unit looks set to take on the Johnny Depp and Amber Heard court battle with a story line centered around what looks like an explosive courtroom drama.
New set photos from the long-running crime show hint that the series is gearing up for its own take on the celebrity blockbuster trial.
Mariska Hargitay was photographed filming the show on August 4 in New York City alongside actress Julia Goldani Telles of Bunheads fame.
The photos show Hargitay as Captain Liv Benson escorting Goldani Telles' (as yet unknown) character out of a courthouse surrounded by people holding placards with slogans like: "Team Austin," and "I Stand With Austin." Another placard reads: "Team Kelsey."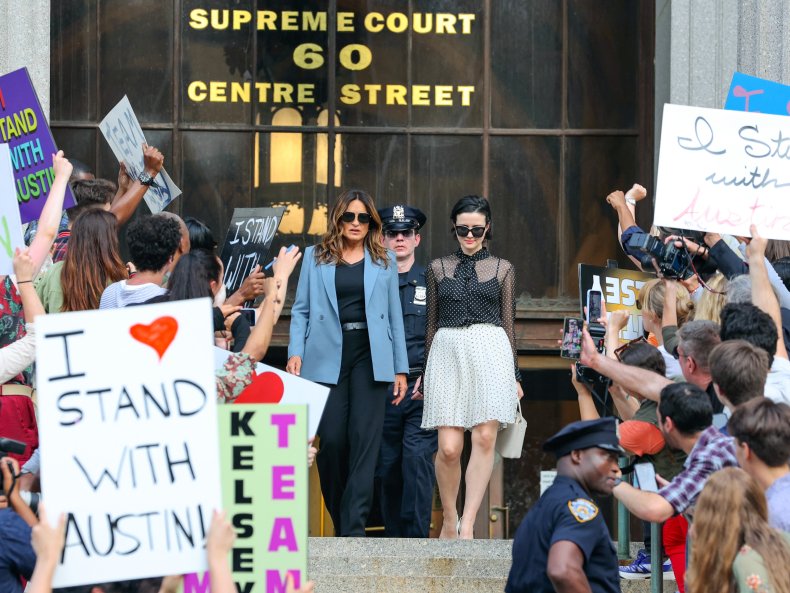 Sound familiar? Law and Order SVU is undoubtedly garnering inspiration from Depp and Heard's recent multi-million dollar defamation trial, which was at the center of a media frenzy.
During the trial in Fairfax, Virginia, several Depp supporters were photographed outside the courthouse with similar signs. The phrase "I stand with Johnny Depp" has also been a popular social media hashtag.
Law & Order SVU is due to return to screens for its 24th season in September on NBC and it's no surprise that recent current events seem to be making their way into the show.
The synopsis for the upcoming season reads: "Capt. Benson and her NYPD squad fight for justice in cases ripped straight from the headlines."
The Depp-Heard trial continues to be the subject of ongoing coverage with the legal proceedings of the former married couple back in the spotlight this week after more than 6,600 pages of court documents were unsealed.
Depp was enjoying a newfound career boost and surge in popularity after the trial but now documents that were not shown in court have been published online containing a plethora of new revelations—and they do not show Depp in a favorable light.
The revelations include Depp refusing to wear a mask during Heard's deposition, Depp's texts to Marilyn Manson about Heard and his attempt to use Heard's stint as a stripper against her in court.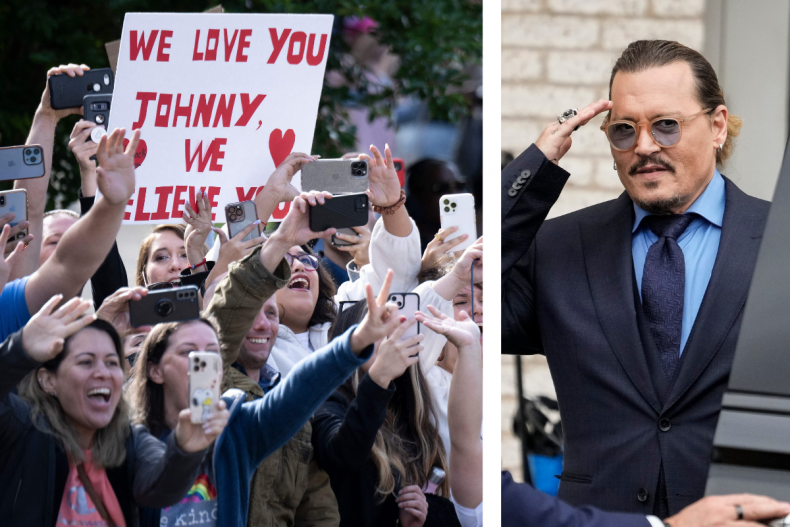 Following the televised trial in Virginia that concluded in late May, the jury ruled largely in Depp's favor on June 1, awarding him $10 million in compensatory damages and $5 million in punitive damages. Heard, who had counter-sued for $100 million for nuisance, was awarded $2 million in compensatory damages by the jury.
The punitive damages against Heard were later reduced from $5 million to $350,000 under a Virginia law that caps such damages.