Law Student Busted After Etching Notes on Pens to Cheat in Exam
A law professor has revealed the extreme lengths one student went to as he tried to cheat in an exam.
Yolanda de Lucchi, a professor of law at the University of Malaga in Spain, shared two images to Twitter of 11 blue Bic pens with tiny notes etched along the length of them.
The pens were confiscated from a student "a few years ago" during an exam on "criminal procedural law" and they only resurfaced while De Lucchi was recently tidying up her office.
Unfortunately, as this particular student should probably have already known, crime doesn't pay, and the scheme was rumbled, resulting in serious consequences.
De Lucchi told Newsweek the student was ultimately forced to repeat the entire year of the course due to his attempted deception, though she still reckons the culprit is "probably a lawyer today."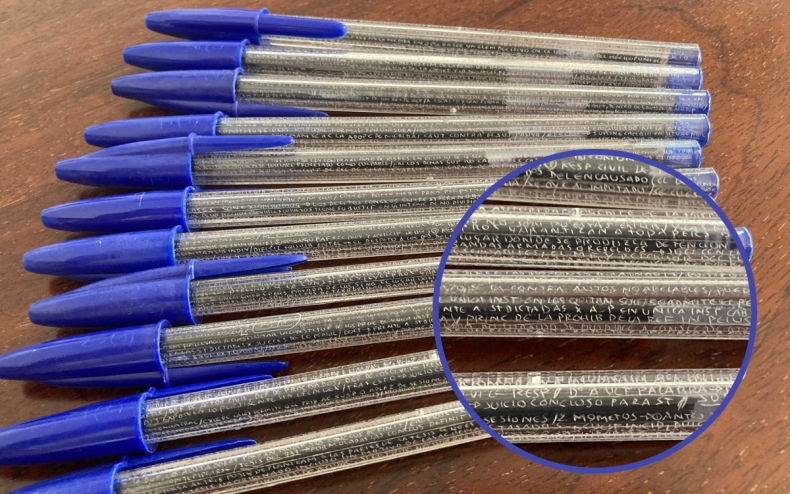 It's often said that "cheats never prosper," but that doesn't seem to be putting that many people off trying their hand at a little academic deception, if figures compiled by the International Center for Academic Integrity (ICAI) are to be believed.
According to the ICAI's ongoing research, an average of around 60 percent of university students have admitted to cheating in some form.
In that sense, the cheat featured in De Lucchi's tweet appears far from an outlier. However, his painstaking approach to circumventing the rules were perhaps what caught the eye of many on social media.
At the time of writing, De Lucchi's tweet had been retweeted over 25,000 times, earning more than 286,000 likes in the process.
De Lucchi gave Newsweek a little more insight into the details behind the viral tweet. "He wore a shirt with a pocket and hid the pens in it," she said. "Each pen was marked with the lesson number so he only had to take out the precise pen for each topic."
De Lucchi remembers being stunned at the sheer scope and detail of what was written on the pens. "All the content of a very wide subject was written on them," she said.
The university professor added that she had shared the images to highlight to the students of today the "handcrafted" and often "laborious" approaches taken by pupils trying to game the system before technological advances allowed for more sophisticated methods.
While the strategies have changed over the years, De Lucchi said unfortunately issues of this kind remain a concern at her university. However, she was keen to stress that steps are being taken to address what is an ongoing issue.
"In Spain it is quite common to cheat in exams and it is a bad practice that is starting to bother other students," she said. "So we are starting to have anonymous reports on those students who are cheating."