Law Students on TikTok Are Throwing Out Their Textbooks After Amy Coney Barrett's SCOTUS Hearing
Law students are finding Amy Coney Barrett's SCOTUS hearing particularly exhausting after she claimed that she couldn't "apply the law to a hypothetical set of facts," a major aspect of law school exams and the bar exams.
On Tuesday during Coney Barrett's hearing, Minnesota Senator Amy Klobuchar asked whether or not it was illegal to intimidate voters at the polls, under federal law. The SCOTUS candidate did not directly answer the question, since it was a "hypothetical situation."
"I can't characterize the facts in a hypothetical situation, and I can't apply the law to a hypothetical set of facts," Barrett responded. "I can only decide cases as they come to me, litigated by parties on full record after fully engaging precedent, talking to colleagues, writing an opinion. And so I can't answer questions like that."
This response appeared to resonate with law students, who decided that they don't need their textbooks anymore. Some started creating TikTok videos of their reactions, tossing their textbooks into a garbage bin.
"Law students on TikTok have been watching the hearings and are fed the f*** up. LOLOL. They've had it," one user tweeted with a compilation of TikToks.
"I can't apply the law to a hypothetical set of facts," Coney Barrett says at the start of the compilation. Law students look up, shocked from their textbooks, and decide to get rid of their heavy textbooks.
"Don't need these," one girl says as she tosses her textbooks into the trash. "Definitely don't need this one," she continues, tossing a book titled The Law of Democracy out.
Another student looks stressed out, and the video ends with a student asking her law school for a refund in the wake of Coney Barrett's remarks.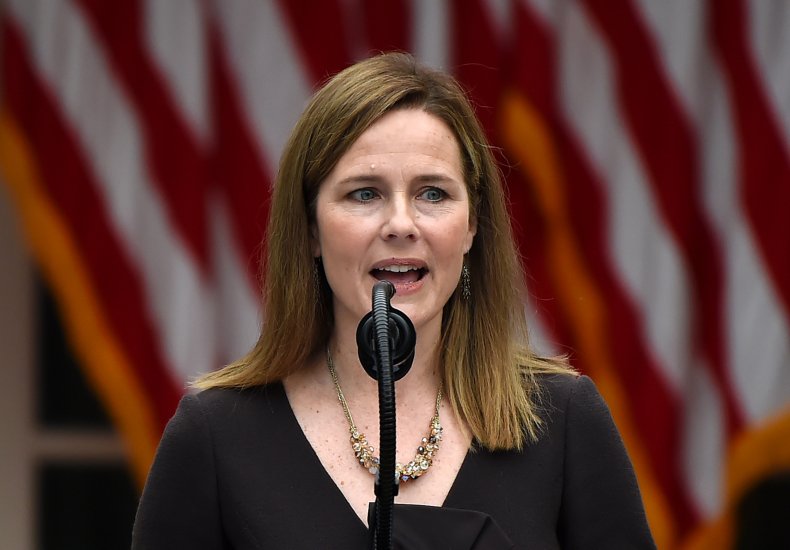 Other Twitter users responded to Coney Barrett's statement, appearing shocked about how she claimed she "couldn't apply the law to a hypothetical set of facts."
"'I can't apply the law to a hypothetical set of facts.' You do that on the bar exam. Makes me wonder if like Trump on the SATs, she had someone else take her exam," one user said. "That was literally law school, that's all we did. Hypos were the exams. I hate this so much," another said.
"And what about the Bar Exam? I mean if you can be a Supreme Court justice without applying the law to hypotheticals let's just chuck the bar exam outright," a third proposed.
"Who are you gonna take legal advice from, the law professor from a distinguished school who's also a federal judge and about to join SCOTUS? Nah, give me the law students of TikTok!," one user wrote, starring the TikTok compilation.
Coney Barrett's SCOTUS hearings will wrap Thursday evening.