Lawmaker Disciplined for Performing Plastic Surgery During Video Call Legislative Meetings
A lawmaker is facing disciplinary action after she attended two legislative meetings via video call while also performing surgery.
Terri L. Hill, 62, is a member of the Maryland House of Delegates representing the state's 12th District and was first elected in 2015. She is also a licensed plastic surgeon and has maintained a practice in Ellicott City, just outside of Baltimore, since 1991.
On Friday, Hill said that she had signed off on a consent order from the Maryland Board of Physicians, agreeing to submit to disciplinary action for her "unprofessional conduct in the practice of medicine," the Associated Press reported. She will be fined $15,000 and reprimanded.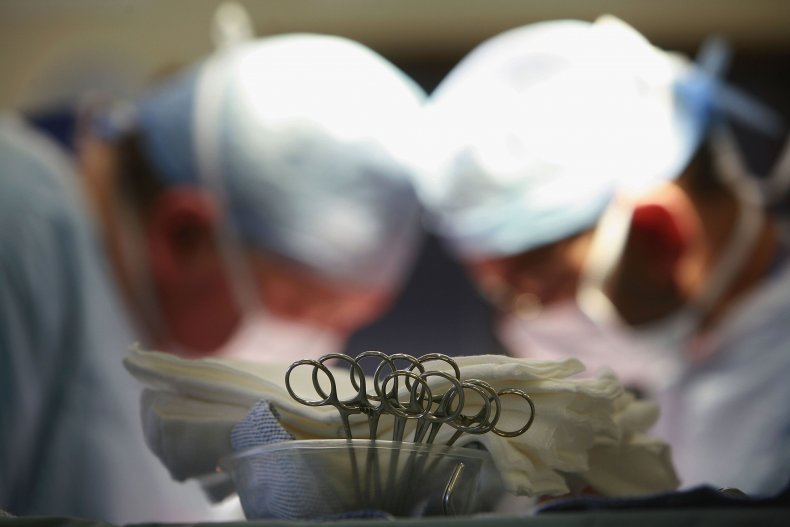 The Maryland Board of Physicians first opened its investigation into the delegate after complaints were made in March, citing coverage from the Baltimore Sun that discussed her attending virtual meetings from an operating room.
"She was positioned under the surgical lights, focused downward, and would occasionally shift, reach for surgical instruments, or adjust the lights," the board's report said.
The board noted that Hill and other staff members "occasionally moved surgical equipment and blood-stained towels so that they were briefly visible on the video feed." It also highlighted one particular instance in which Hill took part in a voting session while wearing "a surgical gown, facemask, and surgical cap."
Hill said in her own statement that the infractions were the result of her attempting to balance her political and professional responsibilities amid the ongoing COVID-19 pandemic. By her own admission, however, she did not maintain that balance as best she could.
"I have worked hard to continue fulfilling my professional obligations to both my patients and my constituents during the pandemic," Hill wrote in a statement sent to Newsweek. "At times, balancing these responsibilities was challenging. I always took care to protect my patients' privacy, guard their safety, and provide them the best of care, facts the Board's investigation did not contradict. As a physician and professional, I always look for ways to improve my practice. Sometimes this includes accepting constructive criticism from others. I accept the Board's decision that I could have done better."
During the board's investigation in April, Hill stated that the two instances occurred in February and March, respectively. In the former meeting, she appeared for less than three minutes to discuss a bill for which she was a sponsor. In both cases, she claims to have gotten permission to multitask from her patients.
Despite those claims, the board's findings showed that the patient in February, who was receiving major abdominal surgery, was not actually asked for consent by Hill or given notice about her attending the meeting.
"Patient 1 also said that it was a little discomforting that attention was taken away from her during the surgery," the report stated.
For the March surgery, major abdominal and back preoperational forms did not note that the patient consented to Hill attending a meeting. The patient, however, told the board during an inquiry that they had been made aware of the situation and gave consent just prior to the operation starting.
Updated 11/01/2021, 2:52 p.m. ET: This story has been updated with the full statement from Terri L. Hill.