Lawmaker Flips the Bird at End of Speech Targeting Federal Government
One Iowa lawmaker ended a recent speech in a bizarre way as he flipped off Democrats in an obscene gesture.
Republican Representative Bobby Kaufmann, who represents Iowa's 73rd District, attended a rally hosted by the Convention of States movement on January 25, 2022. While there, he delivered a message to his detractors that was met with thunderous applause.
"When it comes to these gun-grabbing, freedom-hating, over-regulating, civil liberty-violating tyrants," said Kaufmann, "here's my message."
Kaufmann then proceeded to throw his hands up in the air and flipped the bird, leaving the stage after thanking the audience. In a conversation with Newsweek, Kaufmann clarified to whom the obscene gesture was targeted.
"Those comments were directed at the federal government," he said on a phone call. "I stand for hundreds, thousands of people in the state of Iowa that feel that the current federal government is the government of open borders, rampant crime, and out-of-control inflation."
Kaufmann also addressed critics who might believe that there were other ways of addressing the federal government.
"Political correctness doesn't always solve issues that are that significant," he explained. "So, that was me speaking for those hundreds of thousands of Iowans that feel that our federal government is out of control and needs reigning in. Political correctness does not always get that message across appropriately."
The rally was held in support of the Convention of States movement. According to its official website, the movement stands behind Article V of the U.S. Constitution, which can be brought if "34 states...call the convention and 38...ratify any amendments that are proposed." Kaufmann commended the size of the rally, saying that there were several hundred attendees.
"It was a pretty large rally for an Iowa Capital rally," he said.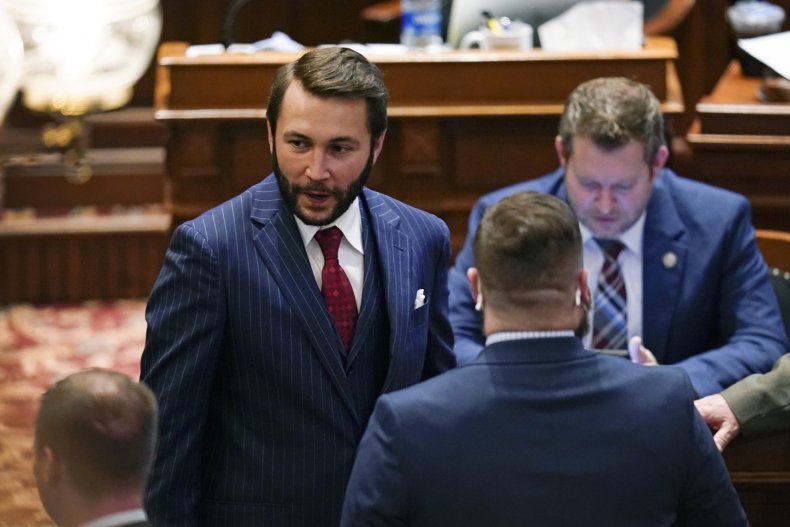 Other speakers at the rally included former U.S. Senator Rick Santorum and other Iowa lawmakers.
Flipping the bird has a bipartisan history of usage in political protest. In 2017, Juli Briskman flipped off the passing motorcade of former President Donald Trump, the photo of which resulted in her losing her job, according to CNN. Two years later, Briskman was elected to the Loudon County board of supervisors for the 2019 Virginia elections.
"There's no doubt that that photo and me getting unjustly fired from my position at work kicked off my drive and kicked off my desire to become active politically," she had told CNN at the time of her election. "That day that I got fired I went home and signed up to work the polls during the statewides in 2017."