Lawmaker to Miss Anti-Vaccine Mandate Rally He Helped Organized After Catching COVID-19
A North Dakota rally that will protest against COVID-19 vaccine mandates will, ironically, miss a critical guest after he contracted the virus.
Republican Representative Jeff Hoverson confirmed the news on Facebook, saying that he was quarantining and also taking the deworming drug ivermectin. The treatment, which has been touted by conservatives as an alternative for vaccines, has not been officially approved due to a lack of evidence that it can help alleviate COVID.
"This ivermectin is keeping me out of the hospital," Hoverson told the Associated Press. "It's making me better."
Although he will not be able to attend the rally, Hoverson said that three of his teenage children will be in attendance.
North Dakota is one of the states that has joined a federal lawsuit challenging COVID-19 mandates proposed by President Joe Biden. Governor Doug Burgum and other politicians in the state's Republican leaders have been vocal about their disapproval of mandates.
This has not been the first time the Republican representative has made headlines. Hoverson had previously proposed legislation that would repeal mask mandates across the state, as well as make providing abortion care a felony. Furthermore, he protested a prayer by a Hindu cleric and was unable to board a flight in October after a confrontation with a security agent.
The North Dakota Legislature is currently in a five-day special session.
For more reporting from the Associated Press, see below: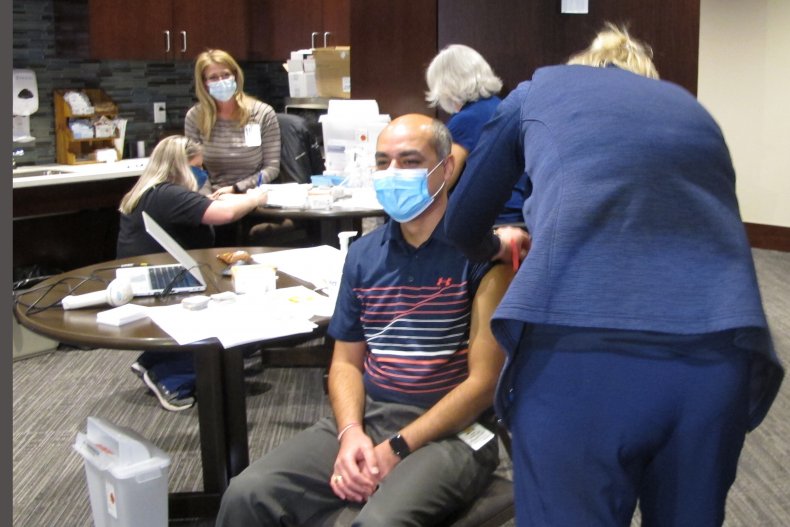 Hoverson, a pastor, told the Associated Press that he was diagnosed last week.
Ivermectin is designed to fight parasitic infections.
The Legislature returned to Bismarck Monday for a session during which a bill to prevent vaccine mandates will almost certainly gain approval.
Hoverson is among the most far-right legislators in the GOP-controlled Legislature.
As a freshman legislator two years ago, he defended his protest against a Hindu cleric by saying he didn't "want to be compelled to pray for a false god."
North Dakota is part of a lawsuit filed by Missouri that claims that OSHA's vaccine mandate for private businesses with over 100 employees violates states' rights.
"This mandate is unconstitutional, unlawful, and unwise," Missouri Attorney General Eric Schmitt said in the court filing.
Alongside Missouri and North Dakota in the lawsuit are Alaska, Arizona, Arkansas, Montana, Nebraska, New Hampshire, South Dakota and Wyoming. Other lawsuits filed by coalitions are also pending, with Biden being listed as a defendant in all of them.
Despite these lawsuits, the Biden administration is confident that the new mandate will be enacted nationwide.
"I'm quite confident that when this finally gets fully adjudicated, not just a temporary order, the validity of this requirement will be upheld," said White House Chief of Staff Ron Klain while speaking to Meet The Press.