Lawmaker Tells Florida Mom 'No Book' Made Him Gay as State Debates LGBT Topics in Schools
Amid Florida's debate over the discussion of LGBT-related topics and teaching materials in schools, one lawmaker called out remarks from a parental rights advocate for claiming that books in school libraries are convincing children to become gay or transgender.
"As a gay man, to sit here in committee, to hear that—There was no book that I read that brought me to who I am," state Senator Shevirn Jones said during Tuesday's education committee hearing. "And even your children—I don't care what you may try to do to think that you are protecting them...the one thing you are obligated to do, like my father and mother did, is to love them for who they are.
Jones' remarks came in response to the claims of several parents at the hearing, like Karen Moran, who was with a group called BEST SOS America.
On Tuesday, Moran read from a book titled It Feels Good to Be Yourself: A Book About Gender Identity, which she claimed there are 112 copies of at Palm Beach County Libraries. Newsweek's search on the library system turned up no results.
"It's causing gender confusion with our kids and it should not be in our libraries and we should not be funding this and we should get all these books out," Moran told the committee, of which Jones is the vice-chair.
"This bill is a great method to get these books out and make people aware of what's going on," she said about Senate Bill 1300, which the hearing centered on.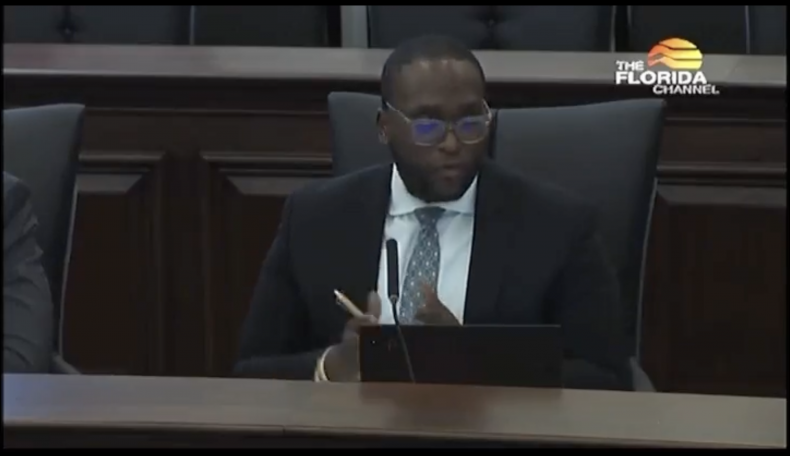 While the bill would mandate a review process of teaching materials, it is aimed at capping the salaries of local school board members so that those figures don't exceed what state lawmakers make.
Addressing the room, Jones, who is the first openly gay Black person elected to the state legislature, said he did not want to wade into the politics of the issue but simply wanted to remind those at the hearing to "lead and speak with love."
"I'm not going to speak about the politics of this because all of that is going to go out the window eventually," he said. "My ask is that, as you all speak, just realize there are individuals who hear you and might be in the shoe of someone that your words are hurtful towards."
"It's not me because I'll be fine," he added. "I'm a grown man and can take care of myself and my colleagues love me and such but I want to just put it out there to you all that as you go and you advocate—please do advocate for your children, I support that—but be careful in how you advocate to make sure you're not harming anyone."
Although Jones stopped short of instructing parents to move their kids out of public schools as a solution to their unhappiness with the books available in their districts, some of his colleagues, like Democratic state Senator Tina Polsky, did not hold back.
"You have a choice. If you don't like what you see in the schools... then don't go. Then homeschool your kid," she said at the hearing. "If you want them insulated so much that they shouldn't learn about the outside world, you can homeschool or you can send them to a religious private school with voucher money. We have made that immensely available."
Relative to other states, Florida has a wide range of school choice programs, including vouchers, tax-credit scholarships and education savings accounts for students to use at a private school in the state.
At the end of the hearing, SB 1300 advanced on a party-line vote