Lawmaker Uses Sea Turtle Eggs to Illustrate His Stance on 'Pre-Born' Humans
U.S. Senator Steve Daines, a Republican from Montana, invoked protections for "pre-born" sea turtles while arguing against a bill that would protect abortion rights by codifying Roe v. Wade.
Democratic Senate leaders plan to force a vote to codify Roe following last week's leak of a draft decision indicating that the Supreme Court's conservative majority is poised to overturn the landmark abortion-rights decision. While speaking out against the bill from the Senate floor on Tuesday, Daines compared federal laws to protect the eggs of endangered sea turtles to the human reproductive-rights legal landscape under Roe.
"If you were to take or destroy the eggs of a sea turtle," Daines said while standing next to a poster pitting images of sea turtles "vs." human babies, "the criminal penalties are severe....Why do we have laws in place that protect the eggs of a sea turtle or the eggs of eagles? Because when you destroy an egg, you're killing a pre-born baby sea turtle or a pre-born baby eagle."
"Yet when it comes to a pre-born human baby, rather than a sea turtle, that baby would be stripped of all protections in all 50 states under the Democrats' bill we'll be voting on tomorrow," he added. "Is that the America the left wants?"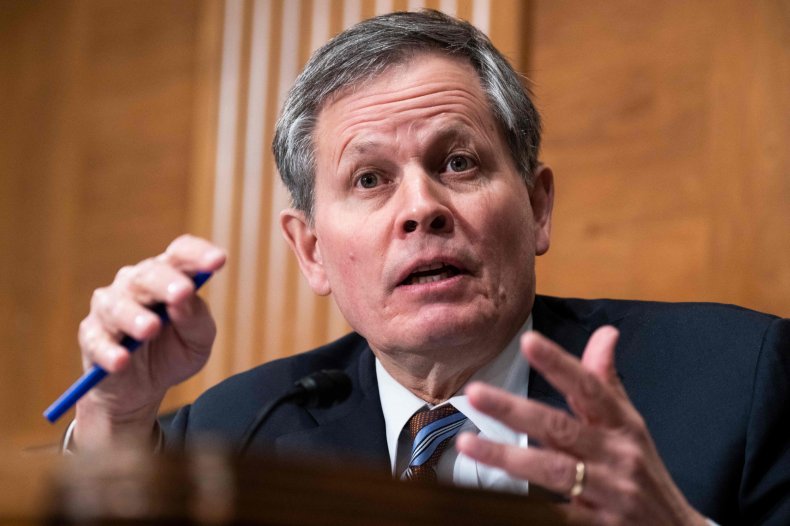 A clip of Daines' speech was shared on social media, quickly sparking backlash from several Democrats and progressives who objected to the Republican senator comparing humans to the federally protected egg-laying animals.
"Among other things, because sea turtles and eagles don't have constitutional rights as equal citizens of the United States," Democratic strategist Emmy Bengtson tweeted in response to Daines asking why protections existed for the animal eggs. "But hey, apparently women don't either."
"Humans aren't sea turtles or eagles," tweeted Nina Turner, a former Democratic Ohio state senator. "The GOP has lost their damn minds."
"When sea turtles are attacked something is actually done and people are held criminally responsible," tweeted California Democratic congressional candidate Eric Garcia. "Women on the other hand are called liars and get their Human Rights taken away."
"GIVE SEA TURTLES ACCESS TO ABORTIONS," comedian and actress Martha Kelly joked in a tweet.
In a statement to Newsweek, Daines Press Secretary Rachel Dumke said that "the Senator is making the argument that under the Democrats' radical abortion bill, baby sea turtles would have more protections under the law than baby humans."
"That is a fact," Dumke added. "If the liberal elites and far Left cared as much about unborn human babies than they do about baby sea turtles, America would be better off."
The Senate is expected to hold its vote to codify Roe on Wednesday. The legislation has little realistic chance of passing due to the partisan split in the chamber, with Democratic Senate Majority Leader Chuck Schumer instead hoping to force lawmakers to go on the record regarding their stance on the controversy and potential imminent reversal of the decision.
"This week's vote is not an abstract exercise; this is as real and as high stakes as it gets," Schumer said from the Senate floor on Monday. "Senate Republicans will no longer be able to hide from the horror they've unleashed upon women in America. We will see where every single senator stands."
Update 05/10/22, 9:20 p.m. ET: This article was updated with additional information and background.