Lawmakers Grill Scott Pruitt, Trump's Pick to Head EPA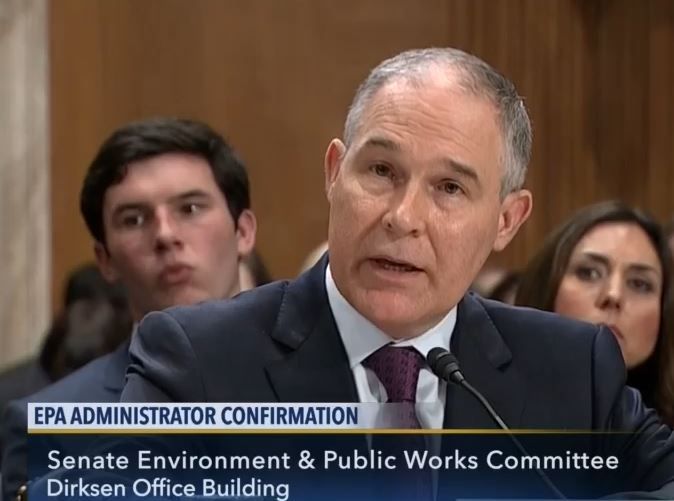 Scott Pruitt, the attorney general of Oklahoma nominated by President-elect Donald Trump to lead the Environmental Protection Agency, has often outraged the environmental community: by expressing doubt that humans cause climate change; suing the EPA 14 times; and even claiming on his LinkedIn page that he is "a leading advocate against the EPA's activist agenda."
It might come as no surprise, then, that his confirmation hearing hasn't exactly gone smoothly—and he's said very little to reassure those who are concerned about his close alliance with oil companies and the fossil fuel industry, and his potential for gutting environmental laws. Also as expected, most of the Democrats involved in the hearing asked him pointed questions and expressed skepticism about his record, while most of the Republicans showed support.
Democratic Senator Tom Carper of Delaware brought up Trump's statement that he would "dismantle the EPA in almost every form," mentioned the lawsuits Pruitt has brought against the agency, and pointed out that the Oklahoman had defunded the environmental protection unit in Oklahoma.
"That's why you have the kind of concern you see here today," Carper said, regarding protesters who interrupted the proceedings at several points. He also castigated Pruitt for not responding to questions the senator had sent to him in writing.
Carper asked Pruitt to confirm that he'd had been involved in cases against the EPA's rules to regulate mercury, to which he said he had. After Carper's time expired, Pruitt noted, "I believe there are air and water quality issues that cross state lines," and he said that the "EPA's role is extremely important."
Sheldon Whitehouse (D-R.I.) took Pruitt to task for his doubts about carbon dioxide causing global warming and ocean acidification. He mentioned that ocean acidification is already harming those who harvest oysters and shellfish, and how big of a problem asthma is for children. "There's nothing in your career [to suggest you] would care" about these people, he told Pruitt.
Whitehouse then brought out a chart showing what companies and entities—including Exxon Mobil, Devon Energy and Koch Industries—have donated to his campaigns. "Devon Energy, Exxon Mobil, have all maxed out" their contributions to various accounts, haven't they? Whitehouse asked. Pruitt did not deny it, but said he was unsure of the exact amounts.
Pruitt appeared unprepared for a question from Maryland Democratic Senator Ben Cardin about what Pruitt regarded as a safe level of lead in the water. "That's not something I've reviewed or know about," Pruitt said. "That's something I would be concerned about…but not something I've researched." The EPA doesn't consider any level of lead in the water to be safe, based on the "best available science."
In 2014, Pruitt sent a letter to the EPA on his office's letterhead that was entirely written by Devon Energy. Democratic Senator Jeff Merkley of Oregon brought this up, saying that "you took an oil company's position—how can you represent that as the opinion of the people?"
Pruitt didn't have an answer for that, but said he had "consulted with other environmental officials in the state" in drafting the letter.
Later, Vermont Democrat Bernie Sanders grilled Pruitt over his views on climate change. He noted that "97 percent of scientists who have published in peer-reviewed journals believe that it's real and already causing devastating problems in our country and around the world."
"Do you believe climate change is caused by carbon emissions from human activity?" Sanders asked.
"The climate is changing and human activity contributes to that in some manner," Pruitt said. Sanders further dug in, reminding him that scientists overwhelmingly say it's mostly caused by humans. "What's your personal opinion," he continued, about climate change?
"My personal opinion is immaterial," Pruitt said.
Sanders then went on to mention the "record-breaking number of earthquakes" that have occurred recently in Oklahoma, many of which have been shown to be caused by fracking, and asked Pruitt what he'd done as state attorney general in response.
"I've acknowledged I'm concerned," Pruitt said, but apparently he hadn't taken any actions.
"You've acknowledge you're concerned," Sanders said. "If that's the kind of administrator you're going to be, you're not going to get my vote."
Most of the Republican senators, however, expressed support for Pruitt, and many noted that they approved of the Oklahoman's opposition to what they see as the EPA's overreach.