Lawmakers Have Found Their Strategies for Impeachment Hearings—and They're Sticking to Them
By the end of the House's first public impeachment hearings that played out Wednesday, lawmakers made it clear how they plan to handle future televised proceedings.
Their questions to witnesses, statements made on the dais and answers to reporters signaled that members of both parties were satisfied with their respective performances and believed they have the key to success moving forward.
Democrats will continue to paint the picture of a president who abused his power by pressuring a foreign counterpart to initiate politically motivated investigations and engage in a quid pro quo by withholding U.S. military aid.
Republicans, on the other hand, will further dig into the claim it's impossible a quid pro quo could have occurred because the aid was eventually released and will cast aspersions on the credibility of witnesses, most of whom do not have firsthand knowledge of the allegations.
Acting U.S. Ambassador in Ukraine William Taylor and Deputy Assistant Secretary of State for European and Eurasian Affairs George Kent further implicated President Donald Trump in a quid pro quo, testifying there was a coordinated effort by Trump and others for the Ukrainian president to investigate the Bidens and a 2016 U.S. election interference conspiracy theory before receiving $400 million in military assistance and a White House visit.
The next public impeachment hearing on Friday will feature ousted U.S. Ambassador to Ukraine Marie Yovanovitch. Her testimony will be followed by eight more witnesses next week, some of whom do have firsthand knowledge.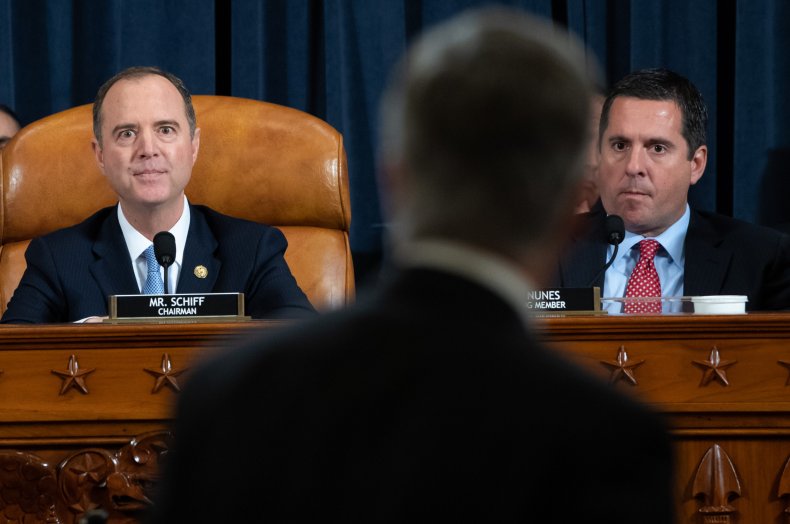 "I think that you're going to kind of continue to see things going in the same direction, to be honest," Rep. Brad Wenstrup (R-Ohio) told Newsweek of he and his GOP colleagues' strategy.
Calling into question the credibility and knowledge of witnesses such as Taylor and Kent, both of whom were not on the July 25 phone call and have not spoken with Trump or acting Chief of Staff Mick Mulvaney about the aid, was "a strong point to be made," Wenstrup said. "Hearsay is not admissible, media reports are not admissible, and you really want to get to the facts of the matter, and the facts that we do know is that they got the aid in a timely fashion."
At the end of the day, he added, "It only matters what you do."
Democrats have tried to call in firsthand witnesses who've had conversations with Trump before and after the summer phone call, such as Mulvaney and former Secretary of State John Bolton. But the White House has blocked several current and former officials from testifying or handing over documents to impeachment investigators.
"That's their call. These are close advisers to the president," Rep. Jim Jordan (R-Ohio) told reporters. "The long history of our country is they don't have to testify. We'll see what the court says about Bolton."
During the hearing, several Republicans, most notably Jordan, questioned the accuracy of the witnesses' claims. Jordan told Taylor that he "had to be wrong" in saying it was his understanding aid would be withheld until a pledge to conduct investigations was made and said it was unbelievable he was one of Democrats' "star witnesses."
"I don't consider myself a star witness for anything," Taylor responded. "I'm not here to take one side or the other, or advocate for any particular outcome... My understanding is only coming from people I talked to."
Democrats, meanwhile, saw Republicans' arguments as moot. The GOP's criticism of the witnesses' credibility, Democratic members said, was a representation that it's proving difficult to defend Trump against allegations of wrongdoing.
Responding to Jordan during the hearing after the staunch Trump defender griped about the lack of firsthand witnesses and not being able to hear from the whistleblower, or the person "who started it all," as Jordan said, Rep. Peter Welch (D-Vt.) shot back: "I'd be glad to have the person who started it all to come in and testify. President Trump is welcome to take a seat right there."
"I don't think it's a great attack because if they had something that would challenge the evidence, they would attack the evidence," Rep. Peter Welch (D-Vt.) later told reporters. "They're serving a function to their supporters to give them another way of looking at it, but they're not addressing the plain sight: this call by the president."
Rep. Jackie Speier (D-Calif.) accused Trump of committing "bribery" because "if you, in your official capacity, ask someone to do something for you of value, and in return you will do something in your official capacity, that's bribery." She further said they already have first-person information from Trump's July phone call.
"There's all kinds of circumstantial evidence to prove that what he laid out, was actually happening," Speier said. "I think the testimony today of these two foreign service officers was pitch perfect. It really was perfect as opposed to the phone call the president had."
Rep. Eric Swalwell (D-Calif.) also labeled Trump's conversation with his Ukrainian counterpart as "firsthand knowledge."
"We're telling all parts of the story because the stakes are high, and not every witness is going to have direct contact with President Trump. But the call record itself is the foundation for all of this," the former 2020 presidential candidate told Newsweek. "What other witnesses did because of directives from the president—whether it was directly to them or through other agents—I think, is relevant."
Taylor emphasized to lawmakers the importance of U.S. military aid to Ukraine. "More Ukrainians would undoubtedly die without the U.S. assistance," the diplomat said in his opening remarks. He did not draw a direct line from withheld aid to Ukrainian deaths, but Taylor stated it allows "Ukrainian military to deter further incursions" into the country by Russia.
"They told the story of something that the call record cannot tell," Swalwell said, "which was how important the security assistant was to the Ukrainians who are on the front lines."