Lawmakers Nix Arizona-style Election Audit in Utah, a State Trump Won Heavily
A push in Utah by supporters of former President Donald Trump to conduct an audit of the 2020 presidential election was shot down by the state's legislature.
During a legislative committee meeting in Salt Lake City on Wednesday, a small group of pro-Trump protestors asked lawmakers to approve a statewide audit of the election. The meeting was supposedly formed to be a hearing on "election integrity," according to the Salt Lake Tribune.
This is despite the fact that former President Trump actually won the state of Utah by over 300,000 votes.
However, the idea was quickly shot down by the chair of the committee, state Rep. Karianne Lisonbee. A member of the Republican Party, Lisonbee said that the legislature "cannot call for an audit."
"We're here to discuss safe and secure elections and legislative ideas for that," she continued.
Lisonbee also stated that any attempted inquiry related to an election audit in Utah would likely not be considered before the new legislative session, which begins in January.
Despite this, the Tribune said that the committee listened to over one hour of comments from the former president's activists. The majority of them spoke about their belief in widespread voter fraud while continuing to call for a statewide audit.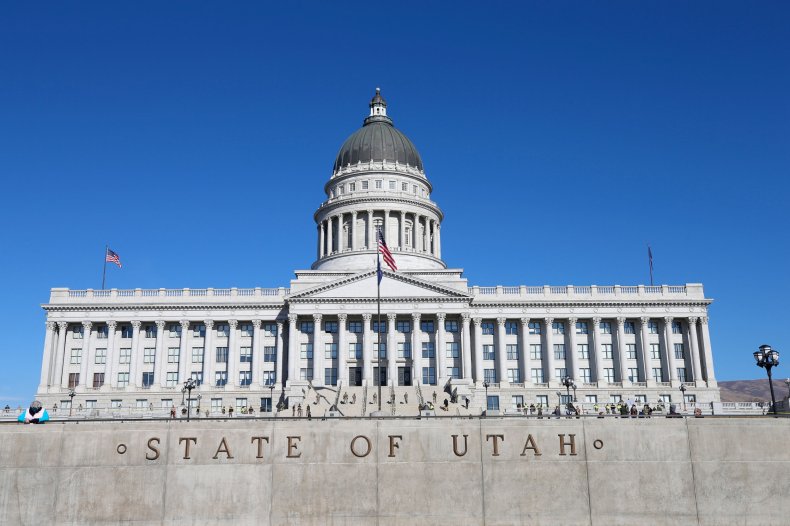 The public was not the only group requesting an election audit, though. Two members of Utah's legislature, GOP state Reps. Phil Lyman and Steve Christiansen, have reportedly also stood behind the idea of an independent audit. Raw Story reported that the pair had previously visited a symposium led by Mike Lindell, the CEO of MyPillow and a prominent backer of Trump.
The congressmen have reportedly requested personal data on thousands of Utah voters, according to the Tribune. This includes voters who had previously requested that their contact information remain private.
However, this request had been denied despite Christiansen telling the Tribune that the information would only be "[analyzed] for political purposes." However, the Utah election office said that state officials are not allowed to mix their political and official duties, hence the denial.
After the meeting, a few hundred Trump supporters gathered with banners and signs outside of the Utah State Capitol building. There, they were seen "chatting among themselves and trading conspiracy theories," the Tribune reported.
One of the commonly heard theories involved intrusion of the 2020 election by China.
At one point, Christiansen addressed the crowd, pledging to continue pushing for an audit. "I believe there was fraud in the 2020 election. I can't prove it, which is why we need to have an audit," Christiansen stated.
Christiansen had also gone on a podcast Tuesday hosted by former Trump chief strategist Steve Bannon, where he again claimed that there had been widespread voter fraud.
However, this claim has received pushback from Utah Gov. Spencer Cox and Lt. Gov. Deidre Henderson, who reiterated that there was no evidence that the 2020 election in Utah had been unfair.
"We recognize some voters have legitimate questions about our elections and we invite all citizens to be involved in our local elections to see the process first-hand. But make no mistake: There is absolutely no evidence of election fraud in Utah," the governor and lieutenant governor said in a joint statement.
Newsweek has contacted state Rep. Lisonbee's office for comment.