Lawmakers Push for Awarding Capitol Police Officer Eugene Goodman Congressional Gold Medal
A bipartisan trio of lawmakers have put forward legislation to grant U.S. Capitol Police Officer Eugene Goodman the Congressional Gold Medal for his actions and bravery during the violent insurrection carried out by President Donald Trump's supporters last week.
Hundreds of pro-Trump rioters stormed the nation's Capitol on January 6 as Congress convened to certify President-elect Joe Biden's election victory. Some in the mob wanted to hang Vice President Mike Pence and harm or kill other lawmakers after the president told them to march to the Capitol and "fight like hell" at a nearby demonstration earlier in the day. Five died in the violence.
Videos and photos circulated widely of Goodman, who is Black, risking his life to hold off the crowd and lead them away from an area of the Capitol near vulnerable lawmakers. As the mob was overwhelmingly white, with many in the crowd carrying Confederate flags and other racist symbols, the optics of the Black police officer protecting lawmakers resonated with many who saw the photos and videos.
"The actions of Officer Goodman were heroic and represent the best of law enforcement," Representative Nancy Mace, a South Carolina Republican, said in a Thursday statement. "When he was the only thing standing between Members of Congress and the violent mob, he quickly and selflessly redirected their fury upon himself so those Members could escape. Thanks to his valor, we are here today."
Mace was joined by Democratic Representatives Emanuel Cleaver of Missouri and Charlie Crist of Florida in putting forward the bill to grant Goodman the prestigious award.
"He's a hero!" Crist said in a statement. "The United States Capitol was under attack by armed, violent extremists, and this man, Officer Eugene Goodman, was the one thing standing between the mob and the United States Senate."
Cleaver praised Goodman for being willing to put himself in "harm's way" to defend lawmakers. "If not for the quick, decisive, and heroic actions from Officer Goodman, the tragedy of last week's insurrection could have multiplied in magnitude to levels never before seen in American history," the congressman said in a statement.
A video posted by Huff Post reporter Igor Bobic shows Goodman distracting a mob of rioters and then leading them up a staircase away from lawmakers. Other photos of the police officer, who previously served in Iraq with the U.S. Army, were shared widely on social media.
Bernice King, the daughter of the late Civil Rights champion Dr. Martin Luther King Jr., praised the officer via Twitter after the insurrection. "Thank you, Officer Eugene Goodman," King tweeted on January 10.
Senator Bob Casey, a Pennsylvania Democrat, praised Goodman for "saving lives" through his actions.
"Last Wednesday, I was inside the Senate chamber when Officer Eugene Goodman led an angry mob away from it at great personal risk. His quick thinking and decisive action that day likely saved lives, and we owe him a debt of gratitude," Casey tweeted on Monday.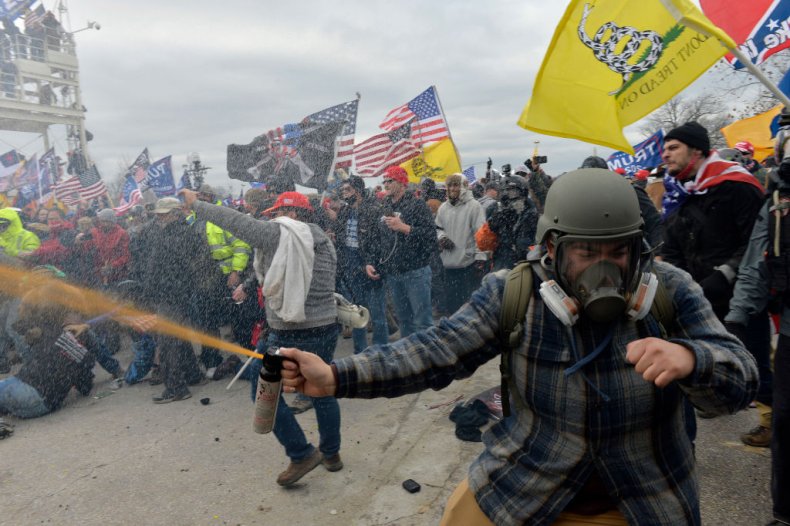 Newsweek reached out to a press representative for Speaker of the House Nancy Pelosi for comment but did not immediately receive a response.