Lawmakers Want to Preserve U.S. Capitol Glass Broken During Riot for Future Generations
Two Democratic lawmakers have called for the glass that was shattered in the U.S. Capitol building during the January 6th riots to be preserved for posterity.
As the building—damaged by supporters of former President Donald Trump—is being repaired, Reps. Dean Phillips (D-MN) and Andy Kim ( D-NJ) say that the broken glass from the Rotunda doors opposite the Library of Congress should be kept for future display.
In a letter addressed to House Speaker Nancy Pelosi and chair of the house committee on administration, Zoe Lofgren, the Democratic lawmakers noted that the building already wears the scars of its history.
These include a bullet hole in a House chamber desk from the 1954 attack by Puerto Rican nationalists, as well as the chisel marks on the columns in the crypt left by those enslaved by early Americans to build the Capitol.
"Just as these reminders of our complicated past remain, so too must some of the damage caused by the insurrectionists on January 6th, 2021," the letter said.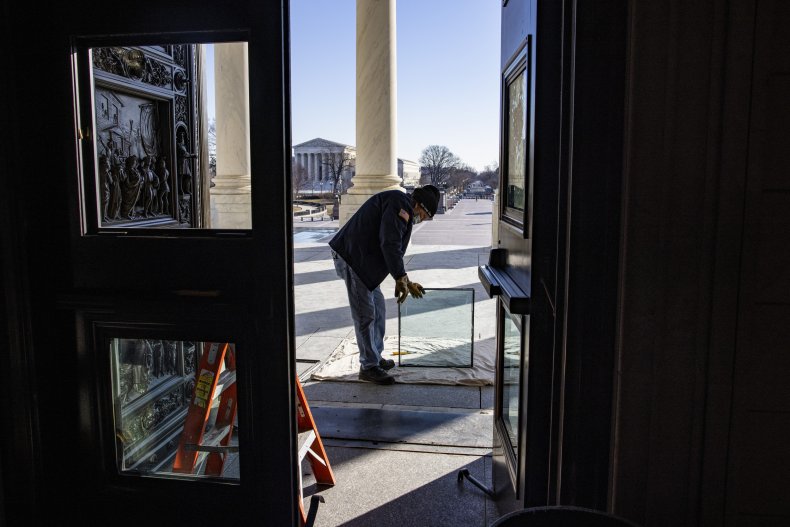 "We believe these items must be preserved as a symbol to those who remain, and to educate future Americans about the fragility of our union and the preciousness of our democracy."
Glass from the windows of the Capitol's East Front doors have been replaced but the old glass has been preserved. The office of the Architect of the Capitol said in a statement to The Hill that it was "looking at options to display a collection from January 6."
Trump faces a single charge of inciting his supporters to storm the Capitol. Lawmakers viewed distressing footage of the violence played by Democratic impeachment managers who wrapped up their case against Trump on Thursday.
They say he was the primary driver of the mob and the violence that left five people dead. Democrats face an uphill battle to get a conviction, which requires a two-thirds Senate majority, or at least 17 GOP lawmakers to take their side.
On Friday, Trump's attorneys will make their case. It will focus on whether Congress can convict a president no longer in office and whether Trump's calls to march on the Capitol were protected by First Amendment rights to free speech.
However, regardless of whether Trump is acquitted, Phillips and Kim say that the glass panes should serve as a reminder of the "fragility of our democracy."
"It is our hope that these vestiges of the attack will remind all who view them of our individual and collective duty to defend truth and give pause to those who would inflame the passions of our countrymen at the expense of our nation," the letter said.
Newsweek has contacted Pelosi's office, the house committee on administration, and the Office of the Architect of the Capitol for comment.
The graphic below provided by Statista outlines how the impeachment process works.