Lawsuit Argues Recall Process Violates Constitution by Excluding Newsom From Candidate List
A lawsuit filed on August 14 against California Secretary of State Shirley Weber argues the state's process to recall its sitting governor violates the idea of "one person, one vote" protected by the U.S. Constitution.
Attorneys representing two California voters filed the lawsuit in the Western Division of the U.S. District Court for the Central District of California one month to the day ahead of next month's recall election.
Last month, Weber's office released a final list of 46 candidates who qualified to challenge the sitting California governor, Democrat Gavin Newsom, in the September 14 recall election. Mail-in recall ballots are already on their way to voters throughout the state.
Voters will be asked to answer two questions on their recall ballot. The first question asks whether they want to remove Newsom from office. The second asks who among the 46 recall candidates they would want to replace Newsom if he is recalled.
If more than 50 percent of California voters return their ballots in favor of removing Newsom, he will be replaced by the candidate who receives the greatest number of votes.
Newsom is not listed as an option on the ballot's second question since he is the official targeted by the recall effort. The process blocking Newsom from being included on that list is outlined in the California Constitution.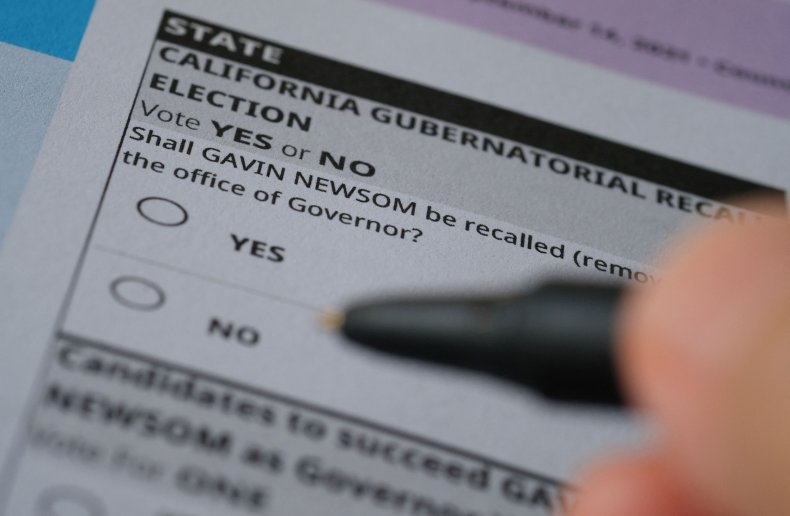 This is the process with which the lawsuit filed last week contends. According to a copy of the lawsuit obtained by Politico, the state's rules governing recall elections make it possible that the sitting official could be removed after receiving more votes in favor of keeping them in office than their eventual replacement.
"Although Gov. Newsom could receive more votes against his recall on issue 1, still a candidate who seeks to replace him and who receives fewer votes could be chosen to be Governor," the lawsuit says.
The lawsuit argues this possibility is a violation of the Equal Protection and Due Process clauses of the U.S. Constitution's 14th Amendment.
California's recall process "flies in the face of the federal legal principle of 'one person, one vote,' and gives to voters who vote to recall the Governor two votes -- one to remove him and one to select a successor, but limits to only one vote the franchise of those who vote to retain him and that he not be recalled, so that a person who votes for recall has twice as many votes as a person who votes against recall," the lawsuit says.
"This is unconstitutional both on its face and as applied," it continues.
When contacted about the lawsuit, Weber's office told Newsweek it could not comment on pending litigation.
Some legal scholars have in recent weeks voiced concern about the state's recall process, according to Politico. Two law professors at University of California Berkeley penned an op-ed published by The New York Times last week that argued the California recall process is unconstitutional due to the potential for Newsom to receive more votes in favor of retaining him than a candidate who may ultimately replace him.
Only one other gubernatorial recall election has taken place in the state's history. That recall election of 2003 resulted in the removal of Democrat Gray Davis, who was replaced by Republican Arnold Schwarzenegger.
In the 2003 recall, Schwarzenegger was competing against more than 100 other recall candidates but received 48.6 percent of the votes cast. With 4,206,284 Californians choosing Schwarzenegger as their replacement governor, the Republican received a greater number of votes than the 4,007,783 cast by those who wanted to keep Davis in office.
There will be fewer candidates in next month's recall election, and both Newsom's campaign and the California Democratic Party have discouraged voters from picking amongst the candidates listed on the ballot's second question. In an August 15 tweet, the California Democratic Party advised voters to vote "no" for the first question and to "leave the second question blank."
Despite the state party's guidance, Weber's office has reminded voters they are able to answer both questions on the recall ballot regardless of how they vote on keeping Newsom in office.
With September 14 less than one month away, the lawsuit suggests putting a stop to the recall election or adding Newsom's name to the list of potential replacement candidates. Both suggestions are complicated by the fact that California voters have already begun receiving their mail-in ballots.
Updated 8/17 at 5:34 p.m. ET: This article has been updated to include a response from California Secretary of State Shirley Weber's office.