An Oregon horse has been named as the plaintiff in a lawsuit filed against his owner seeking $100,000 in damages over neglect.
The lawsuit was filed by the Animal Legal Defense Fund on the behalf of Justice, an 8-year-old Quarter Horse, on Tuesday in Washington County Circuit Court.
It alleges that Justice's former owner, Gwendolyn Vercher, 51, subjected the horse to negligence, leaving him 300 pounds underweight and afflicted with lice, court documents published by the Oregonian show.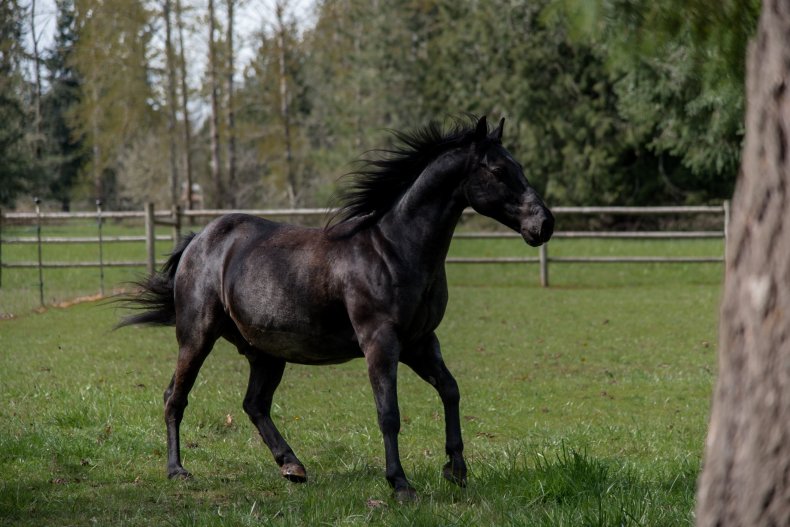 The lawsuit says Justice also suffered severe frostbite and a skin infection under Vercher's care. As a result of Vercher's mistreatment, Justice, who now lives at a horse rescue sanctuary in Troutdale, will need special care for the rest of his life, the lawsuit states.
The horse, who was previously named Shadow while under Vercher's care, was removed from her property in March 2017.
Sarah Hanneken, an attorney representing Justice, said state case law has shown animals have legally protected rights and as a result, the horse should be able to recover the costs of damages for pain and suffering in the same way a human victim would.
"Disregarding the requirements of Oregon law, [Vercher] denied Justice adequate food and shelter for months, abandoning him to starve and freeze," the lawsuit states.
Read more: Texas Research Facility Baboons Escaped from Was Investigated for Animal Abuse
"As a result of this neglect, Justice was left debilitated and emaciated. He continues to suffer from this neglect, including a prolapsed penis from frostbite. These injuries will require special and expensive medical care for the remainder of his life.
"The Oregon legislature clearly established an anti-cruelty statute for the safety and protection of animals," she said. "Victims of crimes can sue their abusers and animals are sentient beings that are recognized as victims under Oregon law. So with that premise, we've come to the conclusion that animals can sue their abusers and we're confident of our stance in this case.
"Oregon courts recognize both that animals are victims and that victims have a right to sue their abusers for the harms they have inflicted. Justice is asking the Court to take these well-established rules to the logical next step," the lawsuit says.
Oregon's anti-cruelty statute protects animals from abuse and neglect and those who neglect animals intentionally or knowingly, failing to provide minimum care, can face criminal charges.