Lawsuit Seeks Mandatory Face Masks at Tulsa Trump Rally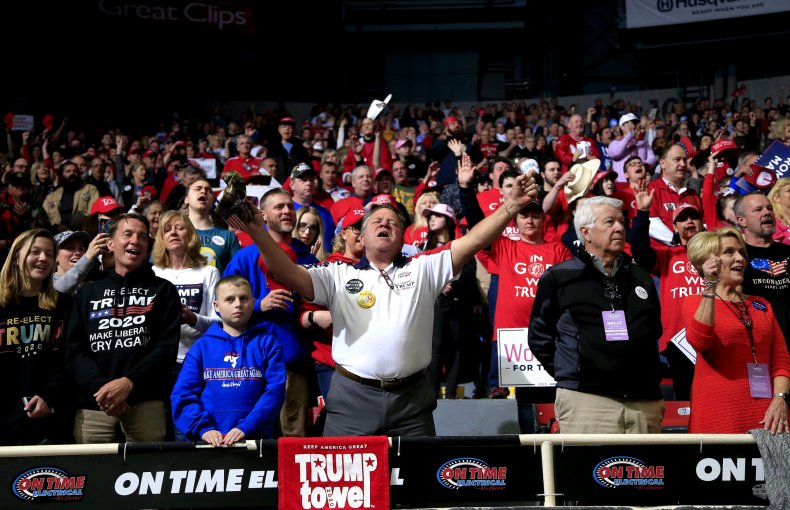 Attendees of President Donald Trump's campaign rally planned for Saturday in Tulsa, Oklahoma could be forced to wear face masks and adhere to social distancing guidelines if a lawsuit filed on Tuesday succeeds.
Two Tulsa attorneys filed suit against ASM Global, the management company of the venue staging the rally, on behalf of local groups and individuals. The complaint cites Oklahoma public nuisance laws and seeks a court order forcing mandatory preventative measures, while stopping short of attempting to block the rally from happening.
"Plaintiffs merely seek a court order requiring ASM Global to institute appropriate social distancing protocols for the June 20 event," the lawsuit states. "Including the mandatory use of face masks and social distancing rules for all guests and employees, as recommended by state, local, and federal authorities, and by every credible and qualified medical expert who has studied this issue."
"Simply put, this Court should order ASM Global to follow the same rules that any other individual or business desiring to host a mass-gathering indoor event in Tulsa County would be required to follow," it adds.
The Trump campaign said that over 1 million people have requested tickets for the rally, the first to take place since the COVID-19 pandemic began. It is slated to be held at Tulsa's BOK Center, which has a capacity of around 19,000. On Monday, the president suggested that rally organizers may also book a nearby convention center to allow for a total capacity of 60,000.
The campaign plans to take temperatures of attendees upon entry to the venue and provide free face masks and hand sanitizer, although using them is expected to be voluntary.
Those who register for the event online are compelled to sign a waiver absolving the Trump campaign of any legal liability if they contract the virus, noting the "inherent risk of exposure" in attending the rally.
On Monday, the president insisted that the media was engaging in "Covid Shaming" by reporting on potential risks to public health caused by holding the rally amid the pandemic.
"The Far Left Fake News Media, which had no Covid problem with the Rioters & Looters destroying Democrat run cities, is trying to Covid Shame us on our big Rallies," Trump tweeted. "Won't work!"
The lawyers who filed the lawsuit said they fear the rally will be a "super spreader event" during a Tuesday press briefing. They noted that Tulsa has recently seen a significant uptick in cases and said it was a "certainty" the event would lead to further COVID-19 cases if allowed to go ahead without instituting mandatory precautions.
"The risk is just absolutely unacceptable," said Clark Brewster, one of the attorneys who filed suit. "If we don't do something, who will?"
Newsweek reached out to the Trump campaign for comment. This article will be updated with any response.