Lawsuits Allege Baby Food Manufacturers Failed to Disclose Lead, Arsenic in Product
Baby food manufacturers are facing mounting class action lawsuits for allegedly failing to disclose that their products contain dangerous amounts of heavy metals.
Manufacturer Beech-Nut has recently been hit with at least four class action suits. A class action complaint filed last week alleges that the company's packaging failed to disclose that it contained "heavy metals or other unnatural ingredients that do not conform to the products' labels, packaging, advertising, and statements."
In addition to Beech-Nut, other manufacturers including Gerber, Hain Celestial, Plum Organics, Earth's Best Organic and Nurture Inc are facing similar legal actions. The companies were all named in a February 4 report from the House Oversight and Reform Subcommittee on Economic and Consumer Policy, which found that "commercial baby foods are tainted with significant levels of toxic heavy metals, including arsenic, lead, cadmium, and mercury."
The report claimed that "internal company standards permit dangerously high levels of toxic heavy metals," while noting that tests have shown that potentially dangerous levels of arsenic, mercury, lead and cadmium were present in at least some of the products tested.
A lawsuit filed against Gerber only days after the report was released accused the company of "deceptive and misleading" labelling of products that "contain heavy metals, including arsenic, cadmium, and lead at levels above what is considered safe for babies." The company is named in another similar class action suit filed by New York City mother Michelle Walls last week, along with Beech-Nut, Earth's Best Organic, Happy Family Organics and Plum Organics.
"For years, these baby food companies have known that their products contained high levels of toxic heavy metals," Walls' attorney Christopher Leung said in a statement. "That's unacceptable, and we intend to hold these companies accountable."
Newsweek reached out to Beech-Nut and Gerber for comment.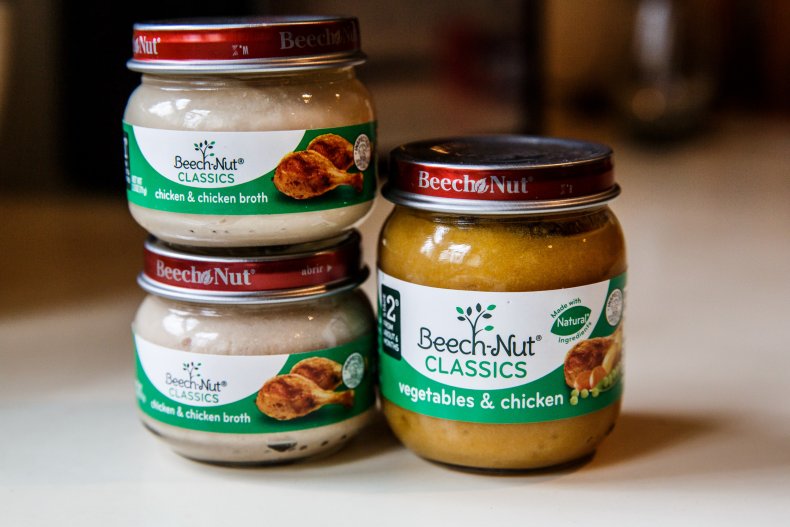 "Parents can rest assured our products are healthy and safe," a message posted to Gerber's website last week reads. "We meet or exceed all existing government requirements, and where they don't currently exist, we have established our own high standards based on the latest food safety guidance. Gerber foods receive thorough oversight at all levels of the growing and the production process... we will provide our full support and expertise to FDA as they develop science-based regulation."
While the Food and Drug Administration (FDA) has not set specific upper levels for heavy metals in baby food, the agency said on February 16 that "consumers should know that FDA scientists routinely monitor levels of toxic elements in baby foods" while suggesting that the total elimination of metals from any food was not a realistic possibility.
In response to the Congressional report, the FDA suggested limiting exposure to the elements by "feeding infants a variety of grain-based infant cereals," adding that "rice cereal fortified with iron is a good source of nutrients for infants, but it shouldn't be the only source and does not need to be the first one."
"Toxic elements, such as arsenic and lead, are present in the environment and may enter the food supply through soil, water or air," the FDA statement reads. "They cannot be completely avoided in the fruits, vegetables, or grains that are the basis for baby foods, juices, and infant cereals made by companies or by consumers who make their own foods. They also cannot be completely avoided by using organic farming practices."
"Our goal is to reduce exposure to toxic elements in foods to the greatest extent feasible and to further advance progress in this area through more research and enhanced collaboration among stakeholders," it continues.