Lawyer For Ahmaud Arbery's Family Wants to Know Who Left Mysterious Note at Shooting Site
On Wednesday, a mysterious note was left at the shooting site where 25-year-old Ahmaud Arbery was killed, and the lawyer representing his family wants to know who left it.
"Wow – an unsigned note left on the street corner where #AhmaudArbery was shot and killed," wrote Kelly Wiley of News4Jax. "The note read "Ahmaud, I am so sorry. I should have stopped them. I am so sorry.'"
Shortly after, the Arbery family's lawyer, S. Lee Merritt, responded to the tweet saying, "we need to discover who left this note!"
The anonymous note relates to the fatal February 23 shooting of Arbery while he was out jogging in Georgia's Glynn County. After a video of the incident surfaced on social media, cries for justice for Arbery began, leading to the Georgia Bureau of Investigation (GBI) making two arrests.
On May 6, the GBI said Gregory McMichael, a former law enforcement official, and his son, Travis McMichael, were arrested in connection with Arbery's death.
The men "were both charged with murder and aggravated assault. The McMichaels were then taken into custody and will be booked into the Glynn County Jail," according to a statement from the GBI. Additionally, on Monday, the Federal Justice Department stated that it would consider a request from Georgia's Attorney General Christopher Carr to determine if the McMichaels could be charged with a federal hate-crime.
According to a police report obtained by The New York Times, Gregory McMichael told the Gynn County Police Department that he saw Arbery running through a neighborhood near Brunswick, Georgia on February 23, and suspected that Arbery had been involved in reported burglaries nearby. McMichael then told police that he invited his son to join him in tracking down Arbery, but when they caught up to him, the situation escalated and two gunshots were fired before Arbery fell to the ground, according to the report.
Following the arrest of the McMichaels, many have urged Georgia law officials to take action against the man who filmed the video of Arbery's death, William Roddy Bryan.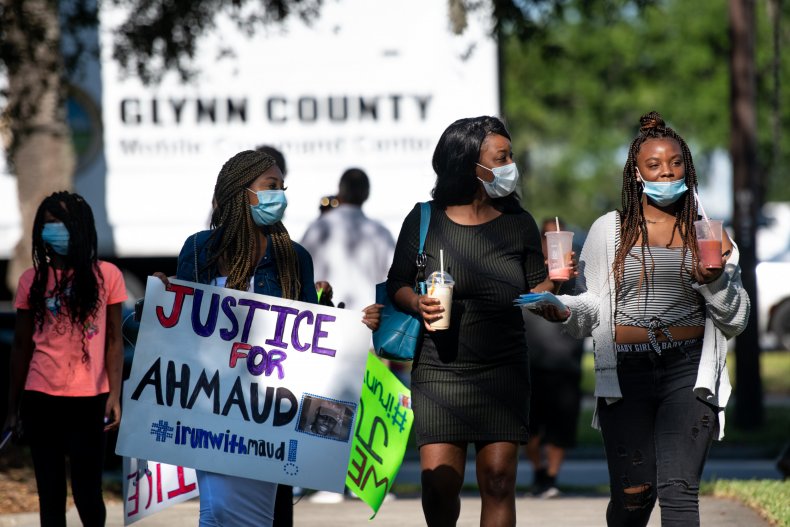 "Why would you videotape it? Why didn't he do anything to help? Why didn't he reach out right after the shooting? Why did he only come forward after the video was leaked?" Arbery's mother, Wanda Cooper-Jones, asked during a recent interview with Fox News.
Bryan has since responded, and during an interview with CBS News, he said that he was only trying to be a "good Samaritan," by filming Arbery's death.
"I had nothing to do with it," Bryan said. "I am trying to get my life back to normal, and it's been smeared for the last week. I was told I was a witness and I am not sure what I am."