Alleged Russian Spy Maria Butina's Lawyer Accused of Violating Court Rules by Speaking to Media
Alleged Russian spy Maria Butina's lawyer is being accused of violating court rules for speaking to the media about his client's case, according to reports.
Prosecutors submitted a letter to federal court Thursday that accused Butina's lawyer Robert Driscoll of violating rules that put limits on what defense lawyers can say. Lawyers are prohibited from making statements that could reveal evidence from the case.
"Despite this clear prohibition, the government has encountered multiple recent instances of you in the press commenting about the merits and evidence of this case," prosecutors at the U.S. Attorney's Office in Washington, D.C., wrote in their letter.
Butina is a 29-year-old Russian woman who recently completed a graduate degree at American University in Washington D.C. She has been accused of attempting to infiltrate Republican political circles through the National Rifle Association. A criminal complaint unsealed in July reveals that she is accused of conspiracy to act as an agent of the Russian government.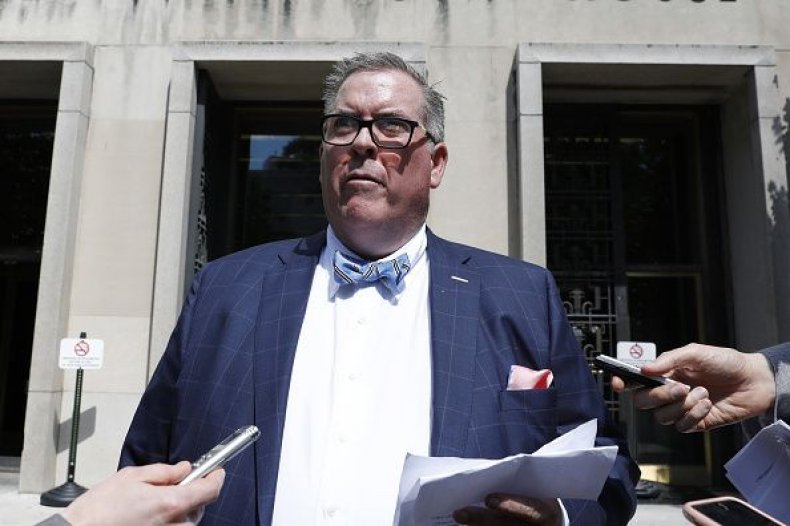 She has worked closely with a Russian man named Alexander Torshin, who is the deputy governor of Russia's central bank and a close ally of Russian President Vladimir Putin's. Butina allegedly helped arrange a meeting between Torshin and President Donald Trump's son Don Jr. on the sidelines of an NRA convention that took place during Trump's presidential campaign in 2016. She has also been linked to Paul Erickson, a Republican who claims to have worked as an adviser to the Trump campaign. Butina also reportedly bragged about putting members of the Trump campaign in touch with the Kremlin.
Driscoll has given numerous interviews to U.S. media over the past several months.
"Mr. Torshin and Maria met in a gun rights group in Russia. Their relationship has nothing to do with his position. They are friends, and they have thousands of messages and pictures of dogs and questions about, you know, picking up American toothpaste and things like that. So they're two friends who have communicated over time. And just when you look at the context of her time here and what she did, they're not the activities of a spy," the lawyer told NPR in July.
Butina has maintained her innocence and is pleading not guilty. She is being held in a jail in Virginia as her court case proceeds. Representatives of the Russian government have said that the charges against Butina are politically motivated, and have called for her to be released immediately.
The Russian Embassy in Washington posted on its Facebook page Thursday that Butina has been denied access in prison to an Orthodox priest.
"The list of blatant violations of her rights has been supplemented by the prison administration's refusal to let her see an Orthodox priest. It constitutes a violation of the freedom of worship. We have sent an inquiry to the prison's administration demanding discriminatory regimes in respect of the Russian nations be canceled," the embassy wrote.
"Once again we call on human rights organizations to pay attention to the intolerable situation with the Russian national and have their say on that matter. It's high time to say what they think about the flagrant violations of humanitarian norms in the United States," the post continues.