The attorney for Leonard Ridge, a Capitol rioter accused of bragging about his involvement, is asking a judge to assert less blame on his client than older defendants because some studies indicate his brain may not have been fully matured.
Ridge is one of the youngest defendants in the Capitol riot cases and his attorney Carina Laguzzi is hoping to keep him out of jail when he is sentenced on Tuesday. Ridge is accused of breaking down the doors to Senators Mitch McConnell and Nancy Pelosi's offices and bragging that he "made history" on January 6.
The now 20-year-old was only 19 at the time of the insurrection and Laguzzi is asking Judge James Boasberg to factor his youth into his sentencing. Ridge is facing up to a year in prison after pleading guilty to entering or remaining on restricted grounds and Laguzzi is hoping for probation.
In a court filing obtained by Newsweek, Laguzzi noted that some studies have found a person's brain is not fully mature until they're in their mid-20s. She added that the studies have prompted debates about what age a person should be held responsible for their actions and the United States Sentencing Commission has acknowledged age should be a factor.
"It stands to reason, therefore, a youthful offender such as Mr. Ridge cannot carry the same culpability as an adult with a fully matured brain," the court filing read. "Ergo, the same sentence [for] an adult in his similar situation as Mr. Ridge is not appropriate for this important reason."
Ahead of the riot, Ridge said Americans were "forever screwed" if they don't "stop" the stealing of the 2020 election because "if they can steal it once they can steal it the next time too." Ridge also posted videos and photos of himself inside the Capitol, according to court records, saying that he "made history" and that he saw an officer shoot Ashli Babbitt.
"Yeah man so epic I have a video of me fighting riot police in the capital [sic] building," Ridge wrote in one message. He told another user that he broke down the doors of McConnell's and Pelosi's offices.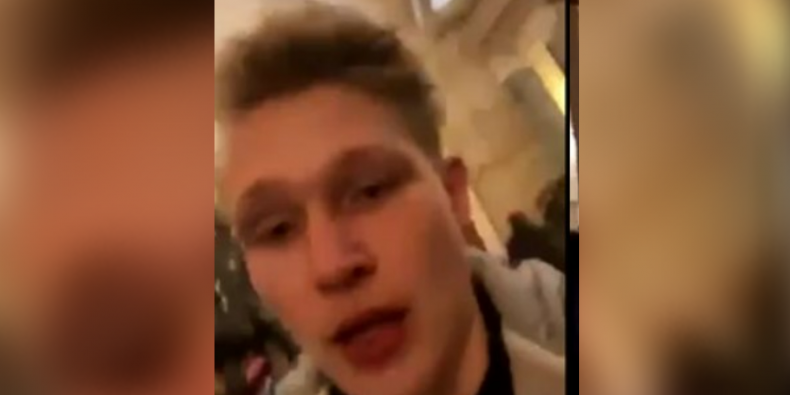 There's no surveillance video backing up Ridge's claim that he broke down senators' doors or fought with riot police, according to the government's sentencing memorandum. However, U.S. attorney Matthew Graves, acknowledged in the filing that Ridge "boasted" about his being part of the insurrection.
Despite his youthful age, the government is asking Boasberg to sentence Ridge to 45 days in prison, in large part as an act of deterrence against future riots. Prosecutors argued that Ridge's behavior was analogous to other rioters' behavior and noted those defendants also served jail time.
Boasberg has sentenced four defendants in the Capitol riot cases, so far. Two have received probation and two have received jail time, according to data reviewed by Newsweek. While the judge hasn't granted prosecutors' sentencing requests, always giving out less harsh sentences, defendants he's sentenced faced half the maximum jail time as Ridge.
Along with being younger than other defendants, Ridge's attorney argued his case is different than those who have already been sentenced. Unlike many defendants, who are well above high school age, Laguzzi said Ridge had to weather the pandemic as a high school senior.
On January 6, she wrote that people were "feeling the effects" of nearly one year of quarantine, noting that Ridge's home state of Pennsylvania entered an almost statewide lockdown on March 16. The pandemic meant Ridge, like many other high school seniors, had to miss out on most of his final year of high school, forcing him into virtual learning.
"Mr. Ridge especially suffered from the emotional aspect of suddenly being cut off from friends and major social events that he has looked forward to for four years including, prom, Senior Spirit Day and the senior year picnic," Laguzzi wrote.
Ridge's attorney also asked Boasberg to be lenient on her client because aside from his behavior on January 6, his interest in politics should be encouraged in an era when young adults "dream only of being 'influencers.'"
Had it not been for the pandemic, his young age and Facebook's allowance of misinformation to spread after the election, Laguzzi wrote that Ridge would not be facing a sentencing hearing on Tuesday.