Lawyer From Capitol Riot Says He Would Die in Fight For Freedom About Election Results
A Texas-based lawyer who was fired after footage of himself outside the Capitol during the riot went viral is reasserting his willingness to die in a fight for freedom over the results of the 2020 presidential election.
In December, Paul Davis replied to a tweet from former President Donald Trump calling to his supporters to the Capitol on January 6. "Never stop fighting Mr. President! Never give in no matter how ugly it gets! We are willing to die to preserve our freedom!" Davis tweeted.
When asked by Law&Crime about the now-deleted tweet, Davis said, "I support freedom. And if persecuted for that. I would be willing to die."
After being fired by his employer Goosehead Insurance, Davis filed a lawsuit asking a judge to block his arrest and a do-over of the 2020 election.
While he said that "nothing in that lawsuit seeks to reinstall Donald Trump as president of the United States," one of the demands is for a federal judge to install former cabinet members as "stewards" to vet the actions of President Joe Biden.
He echoed a similar sentiment heard from Trump lawyers Rudy Giuliani and Kory Langhofer, arguing that "this is not a fraud case."
On January 27, Trump appointee and U.S. District Judge Alan Albright found Davis' claims "without merit" and asked Davis to fix the claims or risk facing dismissal. The docket remains ongoing as Davis filed his response before the deadline.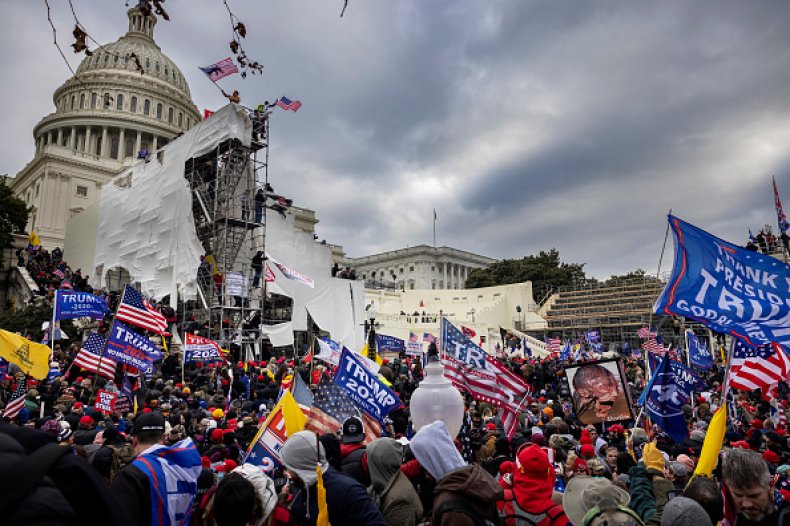 However, despite his optimism that he will get the chance to litigate his case, he is also battling his ability to practice law in the same jurisdiction that his suit was filed in.
A judge in the same judicial district referred Davis to the disciplinary committee over potential violations of the rules of professional conduct.
Davis received a letter, obtained by Law&Crime, penned by the chair of the committee David Gonzalez, who said he does not believe the referral to have come from Albright or the magistrate presiding over Davis' case. He did not reveal who made the inquiry.
The unspecified judge said Davis' appearance at the Capitol may have violated Texas Professional Rule 8.04, which prohibits members of the bar from committing a serious crime, engaging in fraud and misrepresentation or committing obstruction of justice.
In the notice, Gonzalez said an assigned subcommittee will hold a screening, after which they will decide whether the referral warrants disciplinary action. If this is the case, Gonzalez will designate a panel of the disciplinary committee.
Responding to the letter from Gonzalez, Davis once again repeated his unwavering commitment to his cause.
"I will not be intimidated by a baseless referral for my discipline. Neither will my clients or our legal team," Davis wrote.
"I will zealously fight for the rights of my clients, the rights of the American people, writ large, and my own Constitutional rights in the courts until I find a fair and just forum to grant the relief requested, or until it is clear that the American courts have completely abdicated their duty to uphold justice and defend the Constitution," he continued. "Even then, I will not go quietly until I draw my last breath."
Giuliani is also being investigated by the New York State Bar Association for his words at the rally that were "intended to encourage Trump supporters unhappy with the election's outcome to take matters into their own hands."
Davis has defended that he did not partake in the storming of the congressional building, stating that has never been to the Capitol building.
When the FBI showed up to his door asking for a statement, Davis wrote," I did not enter the interior of the U.S. Capitol building on January 6, 2021. In fact, I have never in my life set foot inside the U.S. Capitol building."
Newsweek reached out to Gonzalez for comment but did not hear back before publication.