Lawyer for 'QAnon Shaman' Argues Donald Trump Should Pardon 'Peaceful' Capitol Rioters
A lawyer for Jacob Anthony Chansley, the "QAnon Shaman" also known as Jake Angeli, has urged President Donald Trump to pardon his client and others who took part in last week's insurrection at the U.S. Capitol at Trump's "invitation."
Attorney Albert Watkins reportedly made the plea in a statement released Thursday, insisting that Chansley had personally been "peaceful and compliant" during the riot while highlighting his dedication to practicing yoga and eating only organic food.
Photos of Chansley inside the Capitol quickly went viral due in part to his memorable appearance, which included a horned fur hat, American flag face paint and no shirt. Chansley was arrested days later, but Watkins maintains that the charges against his client should become moot following a presidential pardon because he took part in the riot after accepting "President Trump's invitation to walk down Pennsylvania Avenue to the Capitol."
"Mr. Chansley is an American; he served honorably in the U.S. military," Watkins said, according to the Associated Press. "He has zero criminal history. He is a lover of nature, routinely practices meditation, is an active practicer of yoga and eats only organic food. He took seriously the countless messages of President Trump. He believed in President Trump. Like tens of millions of other Americans, Chansley felt—for the first time in his life—as though his voice was being heard."
Chansley was charged with knowingly entering or remaining in any restricted building or grounds without lawful authority, violent entry and disorderly conduct on Capitol grounds, demonstrating in a Capitol building, civil disorder and obstruction of an official proceeding. If convicted, he could potentially face decades in prison.
Watkins did not limit his appeal for a pardon to only his client, insisting that all "like-minded, peaceful individuals" facing legal repercussions for their involvement in the Capitol breach should be given pardons by the president before he leaves office next week.
"My client had heard the oft-repeated words of President Trump," said Watkins. "The words and invitation of a president are supposed to mean something. Given the peaceful and compliant fashion in which Mr. Chansley comported himself, it would be appropriate and honorable for the president to pardon Mr. Chansley and other like-minded, peaceful individuals who accepted the president's invitation with honorable intentions."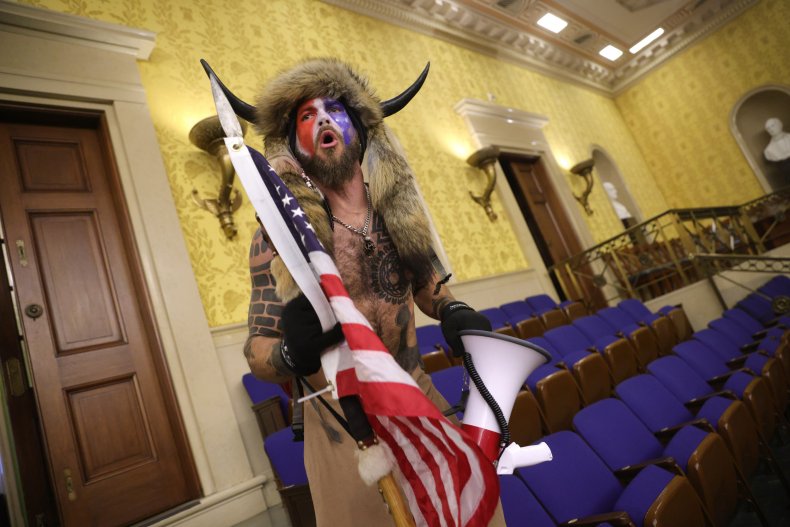 Despite being present at multiple pro-Trump demonstrations both before and after the election and being well known as a dedicated adherent to the pro-Trump QAnon conspiracy theory, the viral photos of Chansley were used as fake evidence by some online who were pushing false claims that the insurrection was carried out by members of Antifa instead of Trump supporters.
The baseless conspiracy theory that the "QAnon Shaman" adheres to claims, without a shred of evidence, that Trump is locked in an elaborate and secret war against a "deep state" controlled by Democrats and influential Hollywood figures who are otherwise heavily involved in child sex trafficking and sometimes eat babies.
The QAnon conspiracy has grown in popularity among supporters of Trump despite the fact that predictions from the purported government informant "Q," who posts anonymously online and could be more than one person, have repeatedly failed to come true.
There is no indication that Trump plans to pardon Chansley or anyone else allegedly involved in the insurrection. Due to the nature of the alleged crimes and the possibility that Trump could be convicted by the Senate following his second impeachment, some experts have suggested that the outgoing president may not be able to legally pardon the rioters.
Before Amazon booted conservative social media app Parler from its servers on Sunday over fears of inciting further violence, a fake post appeared on the app that falsely claimed Trump was "strongly considering" pardoning "all of the patriots" involved in the January 6 riot, which resulted in the deaths of at least five people. The Department of Justice confirmed that information in the post was not true in a statement issued January 9.
Newsweek reached out to the White House for comment.