Lawyer for Walter Wallace Jr's Family Expects Wrongful Death Lawsuit Will Be Filed as Protests Reach 3rd Day in Philadelphia
The attorney for Walter Wallace Jr.'s family says murder charges are not being immediately sought against police officers who killed the Philadelphia, Pennsylvania man but that a wrongful death lawsuit is likely to be filed eventually.
Wallace, a 27-year-old Black man, was shot dead by officers after his family called police for help while he had mental health issue on Monday, sparking protests that continued for three days after the death. Shaka Johnson, the Wallace family's attorney, said during a press conference on Thursday that the family is not calling for officers to be immediately charged but that he expects a wrongful death lawsuit will be filed at some point.
"I can tell you a wrongful death occurred. Whether we'll be the ones filing the claim, that remains to be seen, quite frankly," Johnson said. "A wrongful death occurred... if you caused someone's wrongful death, the logic flows that there will be a wrongful death suit to follow."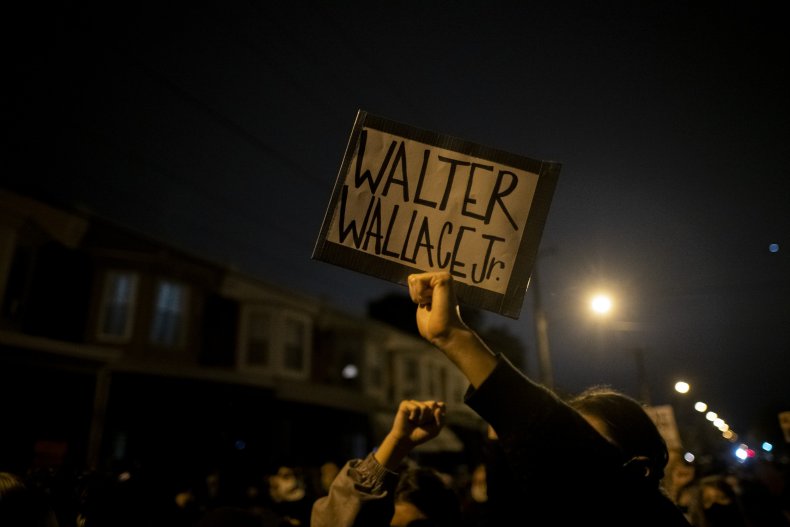 Johnson said that the family had reviewed police body camera footage of the incident, showing that Wallace, who was wielding a knife, had been shot by officers 14 times despite being "incapacitated" after the first shot. Wallace's father Walter Wallace Sr. questioned why officers "didn't use a taser" instead of a gun, according to The Philadelphia Inquirer.
Johnson said that the family was not calling for police to be charged with murder because officers "were improperly trained and did not have the proper equipment by which to effectuate their job."
However, he also suggested that the officers, acting in their capacity as first responders to a person under mental distress, had failed to do their jobs and instead participated in "murder" after the family called for help.
"Every call they are expecting three things: professionalism, experience and to have their issue remedied by those first responders," Johnson said. "They are not expecting murder, murder, murder on their city street at the hands of the people they call. Would you call a murderer to your house to help you? Of course, you wouldn't."
Johnson called for an "expansive investigation" of the incident to take place before any potential charges are filed, adding that if one happens "I think that we will arrive at the right decision."
Although Wallace's family have not called for police to be charged with murder, many of those protesting his death feel differently. The ongoing protests, which have been accompanied by hundreds of arrests, are the latest demonstrations centered on police brutality against Black people that have been raging throughout the country since shortly after the police killing of George Floyd on May 25.
Newsweek reached out to Johnson for comment.