Lawyers Challenging Appointment of Matt Whitaker To Acting Attorney General Ask The Supreme Court To Weigh In, Name Successor
Matthew Whitaker's appointment to acting attorney general after the departure of Jeff Sessions after the midterm elections has been met with many legal challenges. And now lawyers want the Supreme Court to step in and decide.
Attorney Thomas Goldstein filed the motion earlier this week on behalf of Maryland's attorney general challenging Whitaker's ascension to the top cabinet position. Sessions was essentially forced out of the position by Donald Trump, who often attacked the Alabama lawmaker after he recused himself from Robert Mueller's special counsel investigation.
Trump has long wanted a loyalist in the position who will shut down any scrutiny of his actions. Whitaker was Sessions's chief of staff since 2017, and was an opponent of Mueller's investigation.
Maryland Attorney General Brian Fosh argues that Trump's appointment of Whitaker is unconstitutional and that Sessions should be replaced by Rod Rosenstein, who was confirmed by the Senate and is currently serving as the deputy attorney general.
"Few positions are more critical than that of U.S. Attorney General, an office that wields enormous enforcement power and authority over the lives of all Americans," Frosh said in a statement.
According to a report by The Washington Post, it is unclear when the Supreme Court will be able to consider Goldstein's motion. But the attorney wants the bench to clarify whether Whitaker or Rosenstein has legal authority to fill the job. It could be one of the most high-profile cases to be heard by Donald Trump's new Supreme Court Justice Brett Kavanaugh.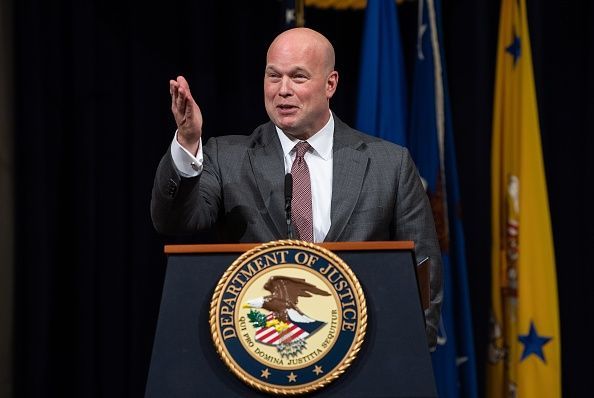 "This is the extraordinary case in which the identity of the successor is both contested and has important implications for the administration of justice nationally," the court filing reads. "This motion seeks to resolve the dispute."
Whitaker has been placed under scrutiny with his sudden appointment to the position. Trump is both quoted as saying that he is a "great guy" and highly respected, and that he knows him, and also later that he "doesn't know" him.
Whitaker's past statements have received a lot of criticism over the past few weeks. As a U.S. Senate candidate Whitaker once said that he could not support "secular" federal judges and that all judges should have a "New Testament" view of justice.
Before joining the Justice Department, Whitaker also wrote an op-ed column for CNN saying that Mueller's special counsel investigation into Trump and Russian election meddling had gone too far. He said that Rosenstein should "order Mueller to limit the scope of his investigation."
"It does not take a lawyer or even a former federal prosecutor like myself to conclude that investigating Donald Trump's finances or his family's finances falls completely outside of the realm of his 2016 campaign and allegations that the campaign coordinated with the Russian government or anyone else," Whitaker wrote.
Prepared to argue against Goldstein's filing, the DOJ's Office of Legal Counsel wrote a 20-page memo stating that past practice, court rulings and legal analysis helps to prove that Whitaker's appointment to the position is legal.
Lawyers Challenging Appointment of Matt Whitaker To Acting Attorney General Ask The Supreme Court To Weigh In, Name Successor | U.S.