Lawyers for Nick Sandmann Send Over 50 Letters to Media Organizations, Celebrities: 'They Know They Crossed the Line'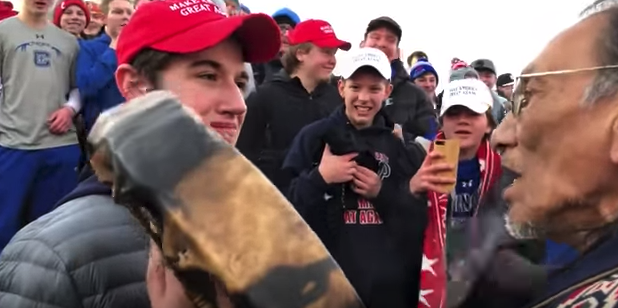 The attorneys that are representing the Covington Catholic High School student who went viral after engaging in a confrontation with a Native American have sent over 50 letters to media outlets, Catholic organizations, celebrities and individuals to begin the first steps to possible libel and defamation lawsuits.
The list, which was obtained by the Cincinnati Enquirer, shows 54 names and organizations on the list of possible lawsuits, including The New York Times, CNN, presidential hopeful Elizabeth Warren, actress Alyssa Milano, comedian Jim Carrey, and Times journalist Maggie Haberman. The Catholic dioceses of Covington and Lexington, as well as the archdioceses of Louisville and Baltimore, were also on the list, according to the Cincinnati Enquirer.
The Covington student, Nick Sandmann, and his friends went viral after a video of them wearing "Make America Great Again" hats while confronting a Native American beating a drum at an Indigenous Peoples Rally in January. Todd McMurty from Kentucky and L. Lin Wood from Atlanta Georgia are legally representing the Sandmann and his family, the Cincinnati Enquirer reported. The attorneys told the publication they sent the letters at the end of the day on Friday.
The legal counsel representing Nick and his family, Todd McMurtry and experienced libel and defamation lawyer L. Lin Wood of Atlanta, have said they will seek justice after he and his friends were accused of hatred and racism, according to the Cincinnati Enquirer.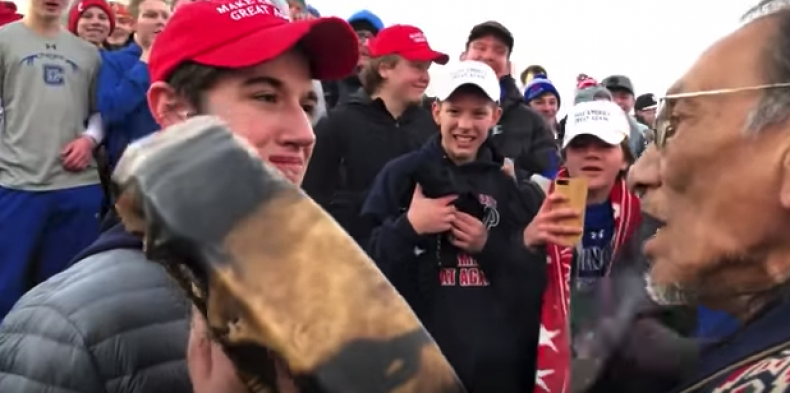 "They know they crossed the line," McMurtry told the publication. "Do they want 12 people in Kentucky to decide their fate? I don't think so."
In an interview with NBC's Today Show in January, Sandmann claimed he was not trying to be "disrespectful" and had every right to stand in front of Nathan Phillips, the Native American elder who was in the video.
"As far as standing there, I had every right to do so," Sandmann previously said. "My position is that I was not disrespectful to Mr. Phillips. I respect him, I would like to talk to him. In hindsight, I wish we could have walked away and avoided the whole thing."
In a previous statement, Sandmann has claimed that the video was spreading "misinformation" about the incident. He also claimed that African-American protestors, who identified as Black Hebrew Israelites, kept on saying "hateful things" to him and his classmates.
Since the video went viral, the Catholic school has received a lot of threats. A few days after the school reopened due to threats, a suspicious package was delivered to the school and it was evacuated. The Covington Police Department confirmed to reporters at the time that the package did not contain explosives and was taken away for further investigation.